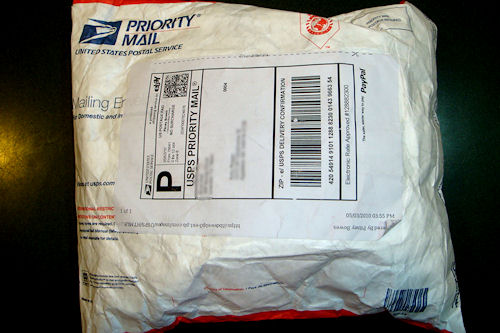 Lookie, lookie – I got a package in the mail!
It's kinda heavy. Who's it from?
Oooh – It's the Treasure Box I won from the Fluff Factory charity auction.
What's Fluff Factory? Fluff Factory is a community where WAHMs (Work at Home Moms) come together to discuss business, family, life events, to give and receive support, and to hold charity fundraisers twice each year. A Treasure Box is a collection of wonderful, exciting, fun, and surprising goodies all handmade by Fluff Factory WAHMs and donated to raise money for the charity auction. Each one was a little different, and it was hard to see all the items so I don't really know what's inside.
Let's open it and see!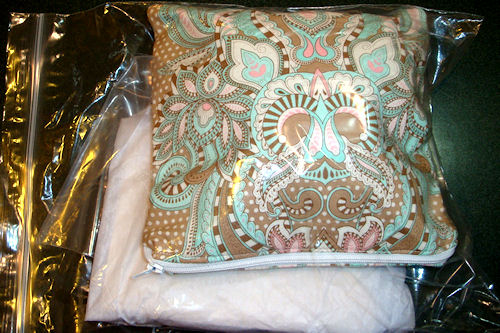 It smells divine and looks like there's a bunch of goodies inside… I can't wait to see what they are!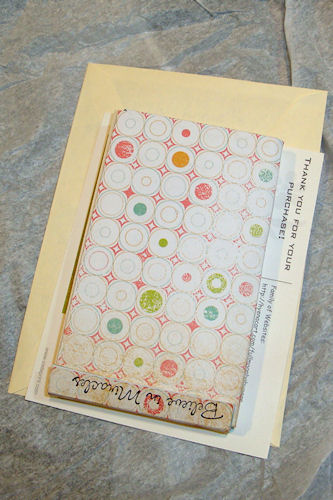 Let's start with the smaller, tissue-wrapped one… hmmmm, coupons maybe?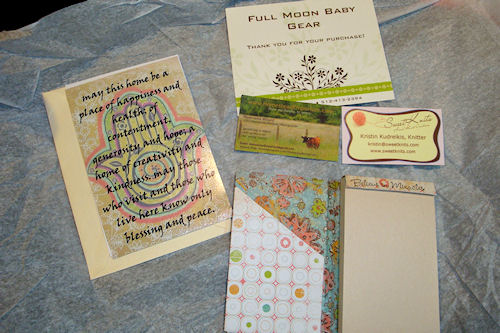 Ahhh, business cards and paper crafts.
Did you know that I used to be into stamping? I made hand-stamped Christmas cards for several years, along with birthday, anniversary and other cards. I started to get into scrapbooking but felt guilty making a scrapbook for Z-man when the older kids didn't have one. Then I started the diaper sewing business and all my creativity and time went there. Sometimes I miss stamping though.
But I digress…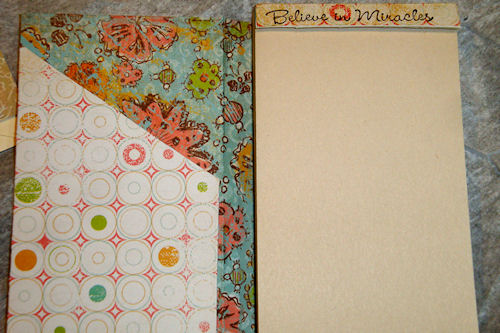 This is very pretty, and looks like something the daycare kids could make. It's a pad of paper with a printed cardstock cover, pocket on the inside, and piece to cover the binding. Looks to me like next year's Mother's Day project.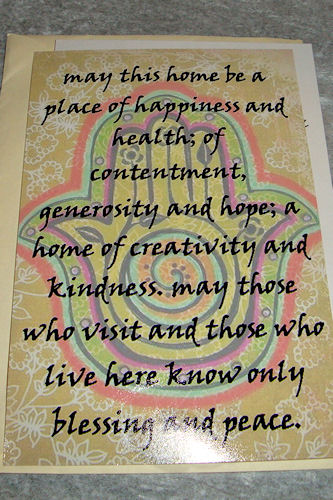 Nature Baby Knits created this Home Blessing Print, a very clever idea that I never would have thought to do. It's simply a graphic printed on photo paper. Another idea for the daycare files!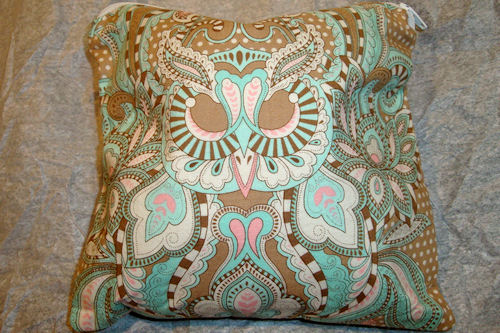 Now for the zippered bag, made by the Threaded Branch. (Rubbing hands together in anticipation)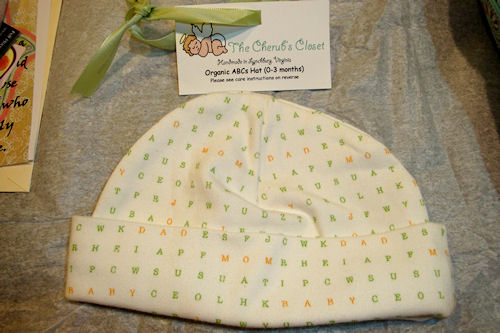 Isn't this the most precious little hat?! And it's super-soft too. It makes me wish I had a newborn here to cuddle.
Who's got a newborn for rent? Anyone???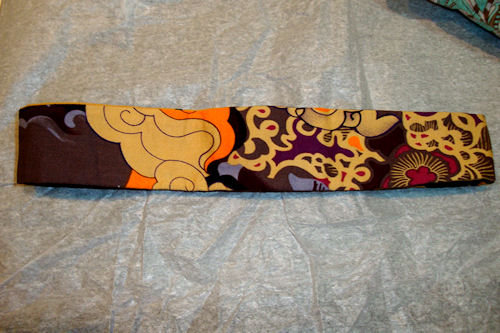 Next up is this stylish headband. At first I thought my hair was too short for it, but I tried it on and it's actually kind of cute. I wonder who made it; there's no tag or anything.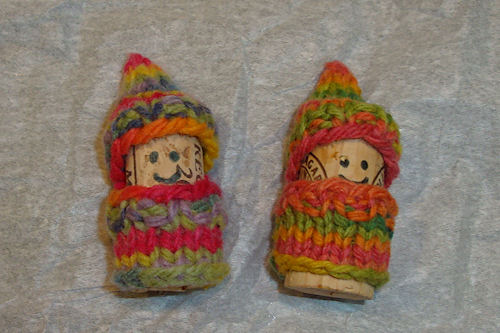 OK, these are just too cute! I have no idea what to do with them – they'd be a choking hazard for the daycare – but they're just soooo adorable!
I'll bet the same WAHM that made the cork babies made these. They're not my thing, but I'm sure I can find someone who'll love them. That's one of the best things about goodie boxes like this; if something doesn't float your boat you can pass it on to someone else.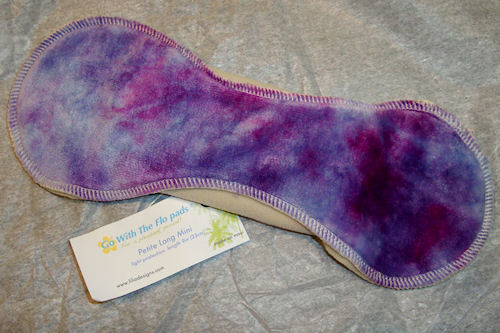 Woo hoo, now this is exciting! I've wanted to try a Go with the Flo pad for a while but hadn't gotten around to ordering any. I almost can't wait to use it!
Yes, it's a cloth menstrual pad. No, it's not gross. Yes, someday we'll sit down with a cup of coffee and have a nice long chat about cloth pads. But not today cuz I have more goodies to unearth.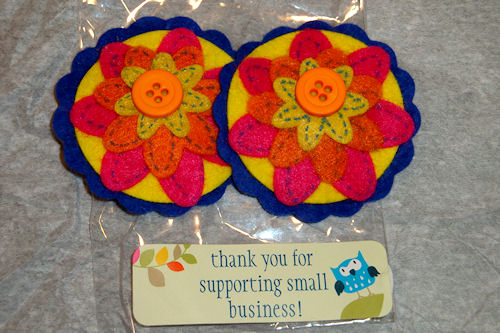 These hairclips are nice and bright and summery-looking Peanut will be adorable in them if she doesn't pull them out and try to eat them.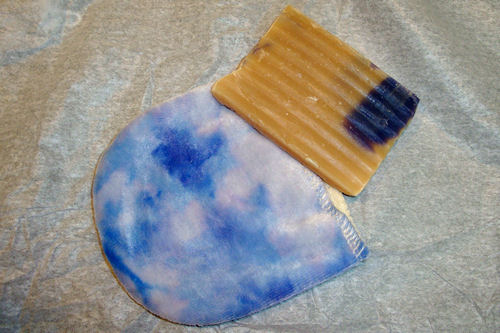 Finally, the source of that fantastic aroma; soap and facial mitt from Homestead Emporium. I know she made the mitt, but I wonder who made the soap; it smells so good I'll definitely want more when this is gone.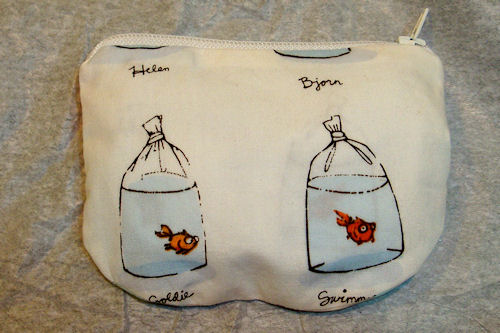 Oooh, look! There's another bag of goodies inside the first bag! This just keeps getting better and better!
Hmmm… something metallic is rattling around in there. I wonder what it could be?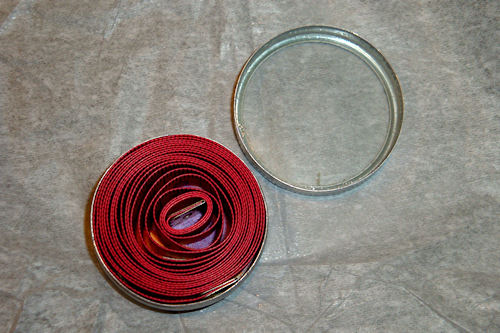 It's not this measuring tape from Nature Baby Knits, but I'm still happy to see it. I needed a new measuring tape cuz the little boys broke my retractable one, I lost the yellow one, and the white one has been snipped too many times to measure accurately. I wonder how long this one will last.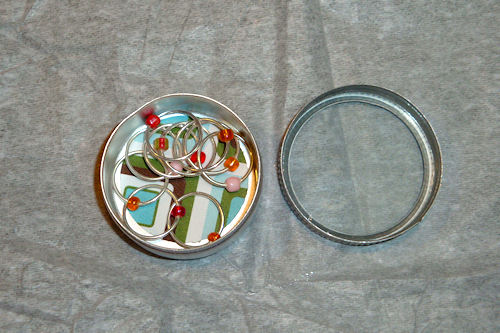 Ah-ha! The source of the rattling; stitch markers, and pretty ones too! Not that I'll use them I learned how to knit several years ago but wasn't very good at it. I keep hoping that someday I'll have time to practice more, but so far I haven't made time. The reason I want to knit better is I really, really want a pair of hand-knit socks. The photos of hand-dyed sock yarn and finished socks I've seen at Fluff Factory are so gorgeous that I've become obsessed with hand-knit socks!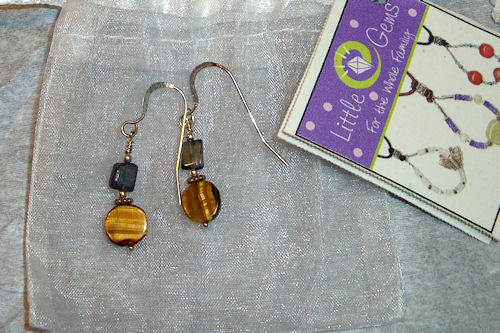 And last but not least, what is easily my very favorite item in the whole collection: a pair of earrings by my very favorite jewelry-maker-who-isn't-Teacher – Little Gems. I think I need to put these in right now. Gorgeousness!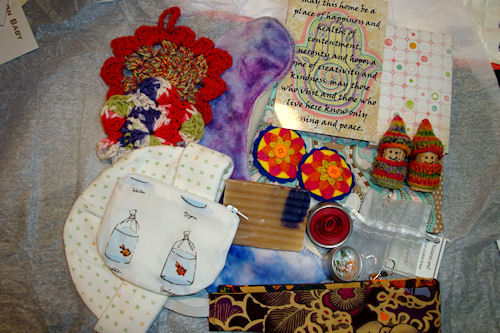 Wow, what a fantastic Treasure Box. And it arrived just in time for my birthday. I am such a lucky, lucky girl.