Spoiler alert!
If you're the mother of a child enrolled in my child care program you may want to skip this for now and come back after you open your Mother's Day gift. I'm just sayin'…
Everyone else feel free to keep reading for a fantastic Mother's Day craft idea.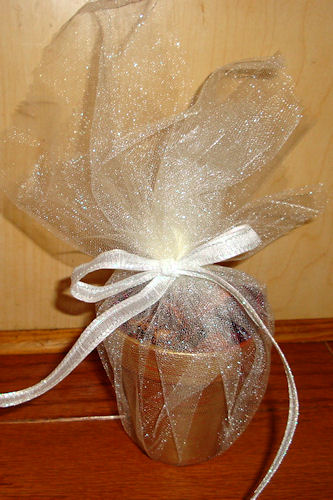 Mother's Day is just around the corner, and if you're a procrastinator like me you haven't thought much about it yet. This year I found a quick and easy project that you and your child can do in under two hours – and it's cheap money-saving too!
Mother's Day Flower Pot Craft Supplies
You don't need many supplies for this craft project, just:
A small terra cotta flower pot. Ours were about 3.5″ diameter.
Acrylic paint. We used metallic gold leftover from another project.
A regular household sponge. I took cut it into fourths for easier handling.
Clear acrylic sealer.
Potpourri.
Tulle or tissue paper and ribbon, gift wrap or gift bags, etc for wrapping. I used leftover tulle from Princess's veil and ribbon from her wedding flowers, but you can use whatever you like.
Directions for the Quick and Easy Mother's Day Flower Pot Craft
This project is so quick and easy it'll probably take me longer to type the directions than it'll take your child to do.
1. Prepare:
Make sure your child is wearing something you don't mind getting paint on. Acrylics stain and kids manage to get full of paint no matter how closely you watch them.
Pour some paint into a shallow container – I use old peanut butter jar lids or the tops to YoCrunch yogurt containers.
2. Paint:
Show your child how to dip the sponge into the paint and dab it on the flower pot.
Young children will need close supervision so they don't try to taste the paint, and may lose interest before the pot is fully painted. This is OK! Celebrate your child's self-expression and refrain from finishing it for them.
Older children can put their hands inside the flower pot to turn it, and will be more likely to paint designs or cover their pot entirely with the paint.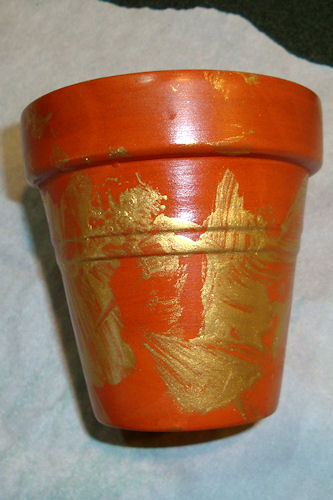 This is sixteen month old Peanut's flower pot. She painted it almost all by herself; she just needed a little guidance to put the paint on the pot instead of in her hair.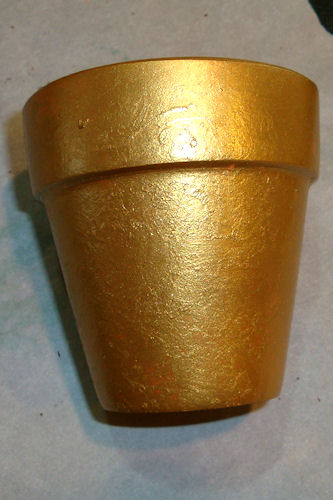 This is five year old Z-Man's pot. He covered the entire thing with paint, including the top rim.
3. Seal:
Allow the flower pots to dry according to the directions for your particular brand of paint.
When the pots are thoroughly dry take them outside and spray them with the clear sealer. Let dry.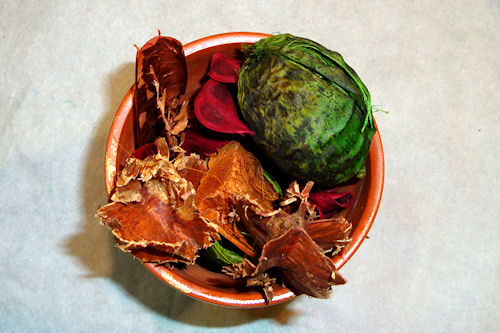 4. Have your child fill the pot with potpourri. To make it easier for the younger ones I poured the potpourri into a large bowl, and they all enjoyed picking through the potpourri for specific pieces that appealed to them. Be sure to have your child wash his/her hands afterward.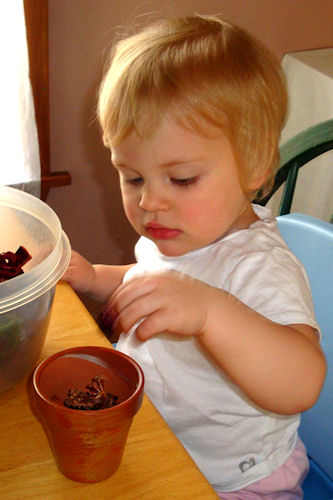 G loved painting her pot and filling it with potpourri. I think she would have played in the potpourri for an hour if I'd let her.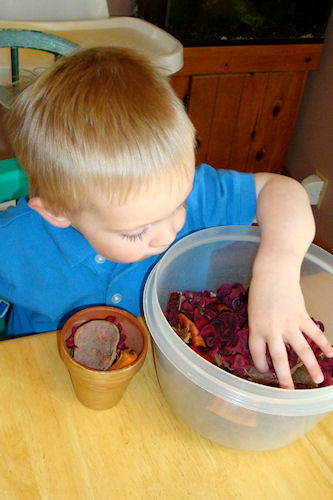 This was C's first week in care and first time painting with us. He wasn't so sure the painting thing but sure got into filling it with potpourri!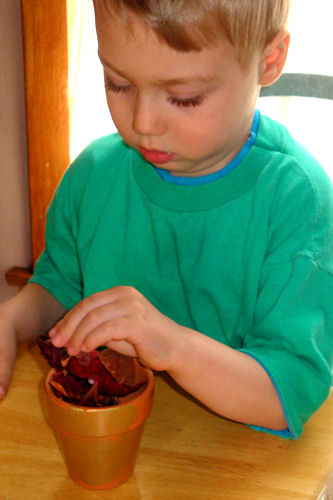 Little Guy dug through the bowl to find all the green pieces – green is his favorite color of course. He even picked out a green outfit that day.
5. Wrap:
Finally, wrap the pot. If you're using tulle or tissue paper cut a large square with a pinking shears that's the one that makes zig-zag cuts and stand the pot in the center. Bring opposite corners up to meet above the center of the pot and gather them together right above the potpourri. Wrap a pretty ribbon around, tie a bow, and you're done!
Mother's Day Flower Pot Craft Variations
Feel free to put your own spin on the project! Here are some ideas to get you started:
Give a school-age child paintbrushes and several colors of acrylic paint to let them really express themselves.
Replace the potpourri with Hershey Kisses or other small chocolates, decorative stones or marbles, dirt and a real flower, or pretty much anything you can think of that will fit.
Instead of paint have your child put stickers or sticky-back fun foam shapes on the flower pot.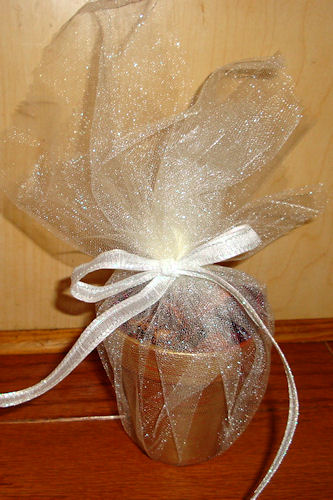 Enjoy making this Mother's Day flower pot craft with your child – and be sure to send me a photo when you're done. PS- It's perfectly legit to have your child make one for you!