I recently had the thrill of watching Teacher on stage in the Kimberly Papermaker Players' production of Cheaper by the Dozen. Which received a nice review by the local newspaper, by the way.
My friend from Valley AEYC, Robin, was also in the play. She'd been in Papermaker Player productions before, but this was Teacher's first time.
I knew that Teacher had been involved in drama in high school and loved it, so when he was invited to audition for Cheaper by the Dozen I told him to go for it. I was in drama at my high school too and wouldn't mind getting back into it again someday, but right now I don't have time to add anything else.
I'd planned to see all four shows – Thursday, Friday and Saturday nights, plus Saturday afternoon – but of course life got in the way.
Thursday night I had hair appointment to get ready for Uncle Jay and Dee's wedding, but when it was done I hustled over to catch as much of the play as I could. I knew that Teacher's part came at the end of the first act and was worried that I'd miss it.
I texted Nicole before leaving the salon parking lot, "Just leaving the salon"
"ok go in the 1st auditorium door (on left) we r on the left" she replied.
I was so close I could see the high school when Teacher's trusty GPS failed me; the left-hand turn it told me to make would have taken me off the road and over the side of a viaduct. "Nooooooo!" So close and yet so far!
Refiguring the route, the GPS had me continue on the highway until the next exit, which took me back through a 25 MPH residential area. "Ack, I'm NEVER going to get there!"
Despite my dramatics I did get there; just a couple of minutes later than the GPS had originally figured. But those minutes could be the difference between seeing Teacher and missing him.
Parking quickly, I ran through the rain and into the school. Just outside the auditorium doors I shed my coat and folded my umbrella while I tried to remember what the layout was on the other side of the doors. Could I sneak in without being seen, or would a beam of light from the opening door give me away?
Suddenly I heard a loud voice coming from the other side of the door… could it be? Yes! It was Teacher!
Who cares if I'm noticed; my honey is onstage and I'm missing it!
I flew through the auditorium door and almost smacked face-first into the second one – guess I didn't need to worry about light! I pushed the outer door shut as I opened the inner door, stepped into the darkness, and froze.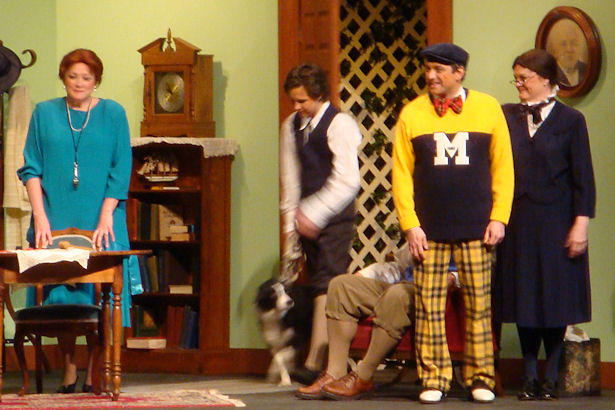 There he is!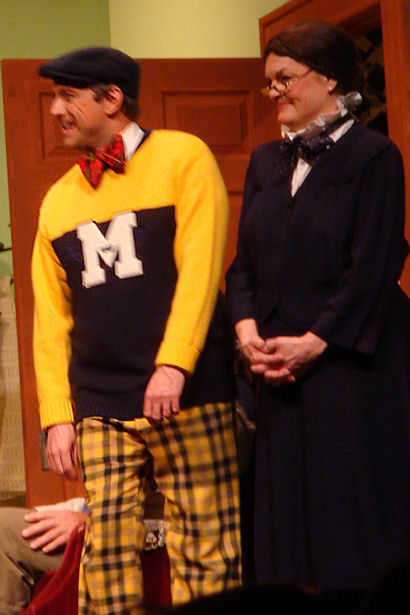 Oh my goodness – WHAT is he wearing?!
I knew his character, Joe Scales, was a cheerleader and I'd imagined that his costume would include a letterman's sweater or jacket. I never dreamed he'd be wearing yellow and blue plaid pants! And look; not only are they Teacher's beloved Michigan colors, he's also got a big M on his shirt!
Keeping my eyes glued to the stage I slipped into the chair next to Nicole. "Your husband is such a dork!" she laughed.
"No, he's just a good actor." I replied, smiling.
And he was! I knew Teacher would be a good actor, but I didn't know how good. That's my man! I thought as I watched him with pride.
All too quickly his scene ended and it was time for intermission. I was looking forward to watching Robin in the second act, but not as much as I was looking forward to seeing Teacher after the show.
After the show I made him pose for a close-up.
And of course we had to include, who in addition to giving Teacher a hard time in rehearsals, did an AMAZING job in the show.
I don't know if Robin's character, Ernestine, would be considered one of the main characters, but she definitely was among those with the most lines.
Friday Nicole and I missed the play because we were road-tripping with Dorothy so I could receive my award, but I went both Saturday afternoon and evening. It was so much fun to notice the differences in each performance – some made deliberately, and some made by mistake – and to study their makeup and costumes. Makeup and costuming was my favorite part of Drama class in high school.
I can't wait to see what production they'll do next; whatever it is I hope Teacher gets a role in it!