I was so excited about going to handbell festival this year. We hadn't gone as a choir before, although I've attended some handbell workshops and several choir members had gone with other choirs, so we knew how much fun it is to ring with a huge group of people.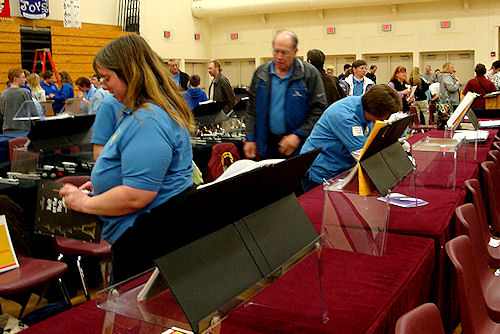 Saturday morning I arrived just in time to help set up. You may recognize that tall, handsome – although a bit blurry – guy in the middle as my dad. He plays our two biggest bells. Princess plays in the choir too, but I can't convince Angel Face to join.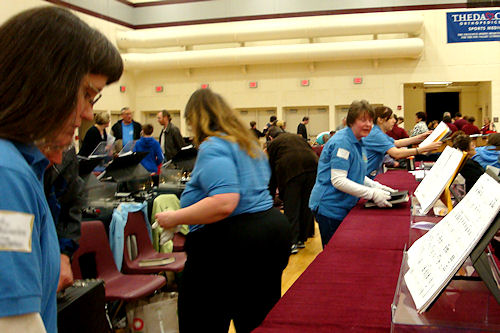 Our church's balcony is used by many groups so we have to set up and tear down each week for rehearsal. Over the years we've streamline our system and have gotten really fast.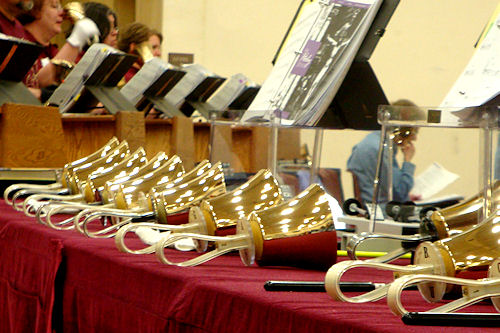 In no time everything was ready and the bell choir went in search of coffee and doughnuts while I headed to band. I wanted to stay with the bell choir but they didn't need me as much as my band of middle-schoolers did. A room full of middle-schoolers with instruments and no director is a recipe for disaster!
About two and a half hours later I rejoined my bell choir, ready to grab some bells and start ringing. I can ring and direct at the same time, but I can't do them both well at the same time, so I never get to ring unless someone is absent and there's no sub. Unfortunately I arrived just in time to wait – they were rehearsing one of the two pieces our choir wasn't doing.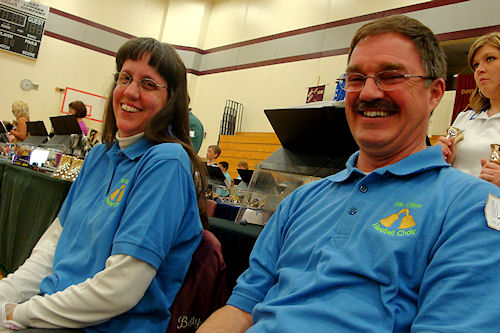 Betty covers the top two positions by playing four bells in each hand. She's been playing handbells longer than I have and is amazing to watch! She's also a great teacher with tons of patience so I tend to put new ringers next to her. Clay is a wonderful musician and can play any position in the choir. He started the year out in the bass clef, then moved to treble clef to fill the position of another ringer who had to leave the choir after Christmas. His daughter is usually in the position next to him, but had marching band rehearsal so I covered her position. Is it time for us to play yet? I can't wait!
Diane shares a position with Melissa, who wasn't able to come to Festival. They divide up Sundays and holidays and take turns coming to rehearsals, which works out great for each of them, and for me. I'd much rather have a part be shared than have good ringers quit because of the time committment. The blonde with her nose in a book is Betty's daughter. Like Teacher, myself and our kids she suffers from chronic NIB: "Nose in Book" disease. She brings a book each week to rehearsal for "down" times. She's been playing with us for four years, but both she and Clay's daughter will be going off to college in the fall so we'll have to find someone to replace them.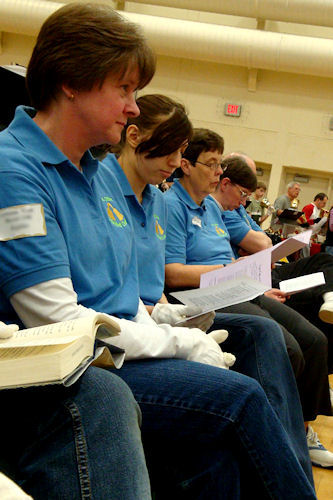 Clay's wife, Johanna, is another wonderful musician who can play any position in the choir. Right now she's in the middle, aka "the Battery," which is a very busy spot. To do well in the Battery you have to be one of those people who can pat their head and rub their tummy at the same time. Princess is next to Johanna, apparently trying to hide behind her bangs. It's not working, I can seeeeeee yoooouuuu. On the other side of Princess is Donna, who's also been with the choir for several years. Her husband was instrumental no pun intended in getting the handbell choir started and setting me up as director. Thanks Ron, I'm so glad I was given this privilege! Next is Paula, who has also rung in the choir for many years and is a great partner to my dad, who is on the other side of her even though you can't see him.
My nephew plays clarinet in "my" band and bells in both of his church's handbell choirs. He's very talented musically and I'm so glad to see him use that talent.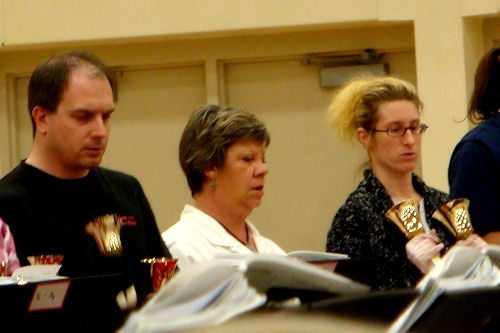 Auntie Elle (far right) used to play in our bell choir until their family transferred to another church. My brother, Ike, didn't start ringing until after they'd transferred. I'm not sure if that was just coincidence or if he didn't want his sister as a director.
In any case I thought it was really cool that my dad, brother, sister-in-law, nephew, daughter and myself were all at the festival together.
It's a good thing I decided to take some photos now, because once things got busy there wasn't a chance the rest of the day. We rehearsed, we ate lunch, Princess and I made a cappuccino run, we rehearsed some more, we had a snack, we rehearsed even more, then the day was over!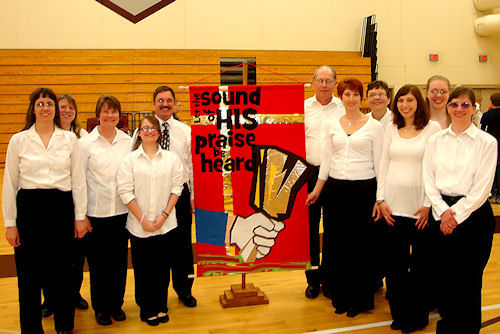 On Sunday I left my camera with Teacher in case he wanted to take photos during the concert, but since it was considered a "worship service" he didn't. The concert ahem, service flew by so quickly! Saturday I played with my choir because Clay and Johanna's daughter wasn't there, but she was there on Sunday so I covered a position in my friend Cindy's choir. Cindy only had two ringers who were able to come to festival with her, but she still brought all of her bells and tables in case there were any "orphan" ringers who needed a place to play. I was in a position I'd never played before so I was sight-reading, which was an exhilarating challenge. One of the best things about ringing at festival is that if you miss a note or two there are other ringers playing the same part so no-one knows you didn't play!
You can see from our smiles after the concert service that we all had a great time. I think we'll definitely be going to festival again sometime.
Thanks for being part of my life!