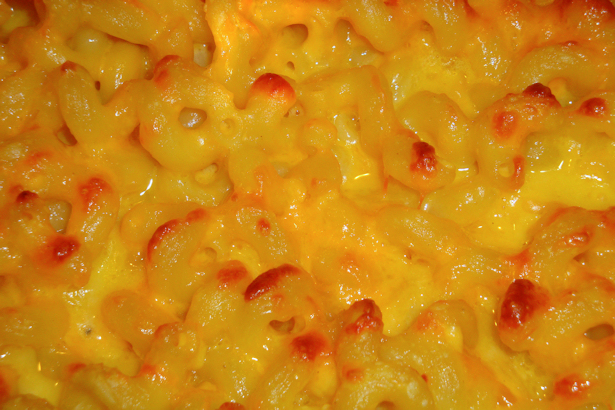 With Turkey Day just a couple of days away it's time for me to start thinking about what we're supposed to make. No, this isn't procrastinating; waiting until Wednesday night to think about it would be procrastinating.
Every year my whole family (parents, younger brothers and their families, and my whole crew) gets together to enjoy a traditional Thanksgiving dinner. The menu had stayed pretty much the same since I was a child… until Uncle Jay moved back North from Georgia and wanted homemade macaroni and cheese for Thanksgiving.
Apparently homemade macaroni and cheese is a Thanksgiving tradition in the South; one that Uncle Jay welcomed with open arms. Since Uncle Jay loves our homemade macaroni and cheese recipe and we love Uncle Jay, we've make it for him every Thanksgiving since he moved back. I figure it's a small price to pay if it makes him happy and keeps him from moving far away again.
Kelley's Homemade Macaroni and Cheese Recipe
Kelley is one of our closest friends in Michigan, and her homemade macaroni and cheese recipe is the best we've ever had. Even better than Alton Brown's I didn't take step-by-step photos because it's so easy to make.
Ingredients for Kelley's Homemade Macaroni and Cheese:
2 cups uncooked macaroni
3 tablespoons butter
2 tablespoons flour
1 teaspoon salt
1/4 teaspoon pepper
2 cups milk
3 cups Cheddar cheese
We usually double the recipe to make enough for all of us – and to hopefully have some leftovers.
Kelley's Homemade Macaroni and Cheese Directions:
Cook macaroni according to directions on package.
Meanwhile, in a heavy sauce pan melt butter. Whisk in flour and cook until thick and bubbly.
Slowly add in milk, whisking to avoid lumps. Cook and stir with a wooden spoon until hot and thickened.
Add cheese, a little at a time, and stir until melted.
Drain macaroni. Add to cheese sauce and stir until combined.
Spread in a buttered 9×13″ pan and bake at 350° for 25 minutes, or until cheese is slightly browned.
Enjoy!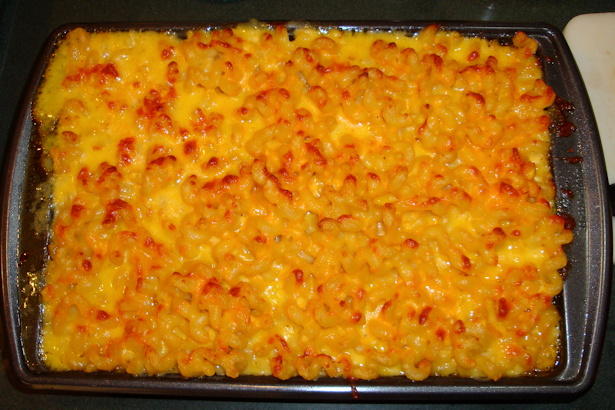 Variations on Kelley's Macaroni and Cheese Recipe
Like most recipes, this homemade macaroni and cheese recipe is easily adapted to fit your family's preferences.
One variation is the type of cheese used. Some of the kids prefer sharp Cheddar and the others prefer mild so sometimes I'll make two sauces; one with sharp cheese and one with mild so everyone is happy. Other times it's the "Take It or Leave It Cafe" and they have to deal with just one sauce, like it or not. So far no-one's died from it.
Another variation is to add bread crumbs or extra shredded cheese to the top before baking. I'm not a fan of the bread crumbs, but in my opinion you can never have enough cheese.
You could also add stir cooked vegetables into the cheese sauce when you add the macaroni. I wouldn't, but you could if you wanted.
And if you don't know what to do with your leftover macaroni and cheese, try making Mac n Cheese Pizza – you won't believe how yummy it is!
When's your favorite time to have homemade macaroni and cheese?