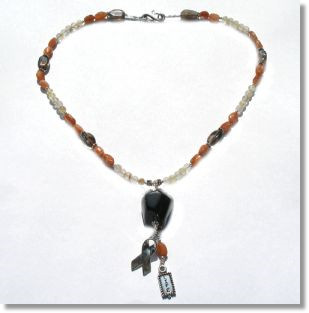 Pardon the pun, but I'm soooo excited about my new necklace from Little Gems! Karen was fantastic to work with too – very patient with my pickiness. Sorry for being such a pain in the butt, Karen!
This is the original necklace Karen stocked at our last Lily Pad Landing stocking. It caught my eye right away except for the ribbon charm. I'm more than willing to support various causes but I'm not into ribbon jewelry. After peeking at it a couple of times OK, I was obsessively checking on it several times a day I finally emailed Karen to ask if she could change out that charm. She replied with four different charms I could choose from! After replacing the ribbon with the heart Karen emailed me a photo of the necklace to be sure it was what I wanted.
It was perfect! Almost. Um, Karen? Don't hate me, I don't want to be a pain, but… I wasn't thrilled with the big stone at the bottom. Karen very sweetly offered to replace the stone with a smaller one probably muttering under her breath the whole time then emailed me another photo once the change was done. Now it was exactly what I wanted!
I got the shipping notice and started watching the mailbox obsessively. Why is it whenever I'm expecting a package the mailman comes around 5:30 but when I'm sending one he comes before 9?! That is just SO wrong.
After what felt like forever it arrived! Of course I had to put it on right away… isn't it gorgeous?!! Disclaimer – that green and purple thing in the background is NOT my earring, it's the bottom of a cross Angel Face made that's hanging off the cupboard knob. Just wanted to make that clear in case you were wondering.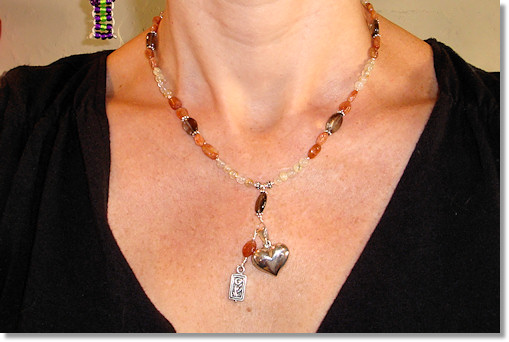 Now I think I NEED the matching earrings… Do you think she'd add a couple of the other colored stones to make them longer?
Sorry Karen!