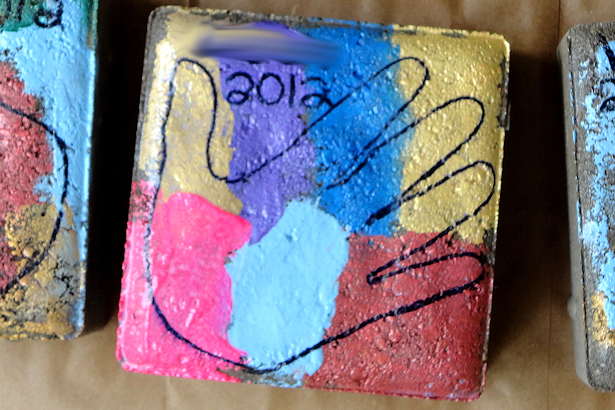 It recently occurred to me that I hadn't written about the garden stones the children made for Father's Day gifts this year. Oops!
Obviously Father's Day is long past, but since garden stones are a great gift for any occasion I decided to write about them anyway.
But first, a side note…
I put a lot of thought into parent gifts – I want the parents to have something they'll keep for years to help them remember this phase in their child's life. Before choosing a gift I ask:
Is it something I'd like to receive? I refuse to have the children give their parents something dumb that I wouldn't want. A tissue-paper Easter bonnet one of the boys made for me – and made me wear to church on Easter – comes to mind…
Is it something the children can do by themselves – for the most part? I'm happy to help a little, but the majority of the work needs to be done by the children, not me.
Is it reasonably-priced? I don't mind spending money on something nice for parents' gifts, but since I have quite a few children to provide materials for I can't get too crazy.
Is it something we can do fairly quickly? I've learned that multi-day projects pretty much guarantee that at least one child will be absent for part of the project.
Garden stones pass the test! I love the garden stones my older children made for me, they're not too expensive, the children can do them independently for the most part, and they can be made in one day. Perfect!
By the way, garden stones aren't just for warm weather giving; they're cute in the snow too. You could even have your child paint one for each season, for a year-round gift.
Now that's settled, back to our regularly-scheduled program…
Several years ago I had the child care children decorate garden stones for Mother's Day. I made the garden stones "from scratch" – mixing concrete, spreading it in molds, letting it cure, then prying it out. What a lot of work!
I didn't want to mess with all of that this year, so Teacher and I took a trip to Menards to see what would work for garden stones. There lots of rocks, pavers, and bricks to choose from, but in the end we picked out 6″ patio pavers. They were smaller than I'd originally planned, but the bigger ones were too heavy for me to handle easily and I worried the children would smash their fingers under them.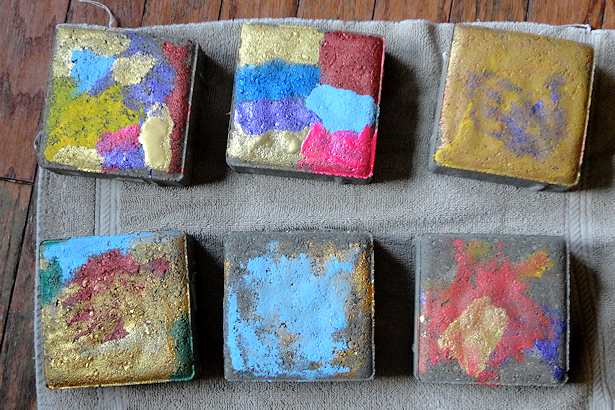 First the children used a variety of acrylic paints to decorate the top of the pavers.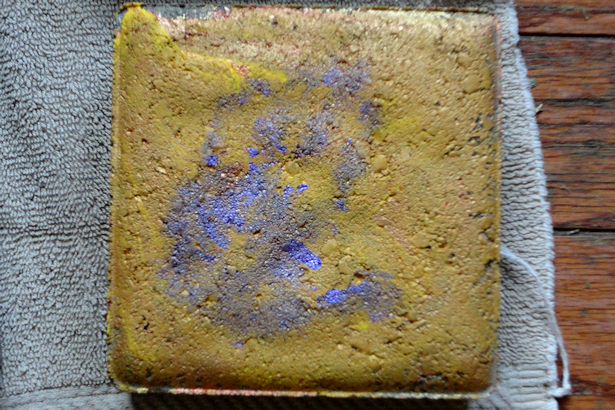 I'd planned to have each child finish with a handprint, but the handprints didn't turn out as clearly as I hoped.
Time for Plan B!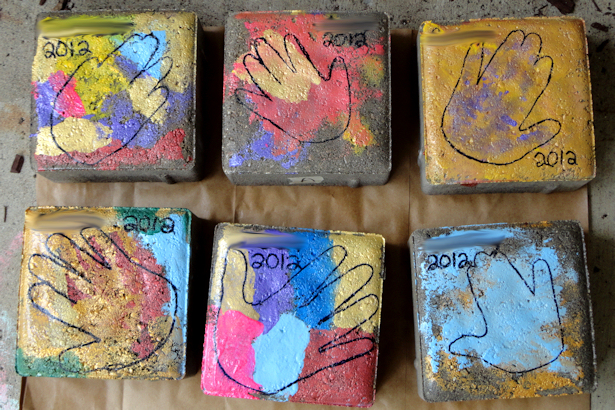 I traced all of the children's hands on paper, cut them out, then traced the cut-outs on the painted pavers.
After adding each child's name and "2012" to the top of each paver I sprayed them with clear acrylic sealer and let them dry.
Ta-da – garden stone gifts! Perfect for Father's Day, Mother's Day, birthdays, holidays, etc… You could even wrap up a plain paver with some acrylic paints and a paint brush for a creative child's birthday gift.