College Boy and Irish Girl grew up with kitties in their homes, so soon after they were married and in their own home they wanted to get a kitten.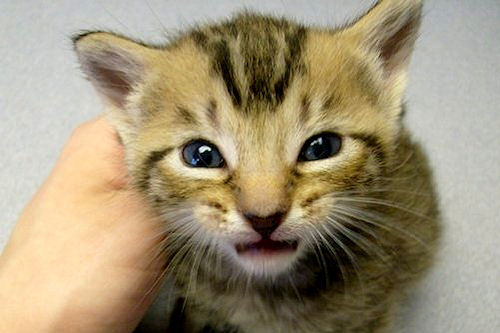 College Boy searched online and found Loki in a shelter. It was love at first sight! At first Loki was too young to leave the shelter so College Boy went to visit him every day he could.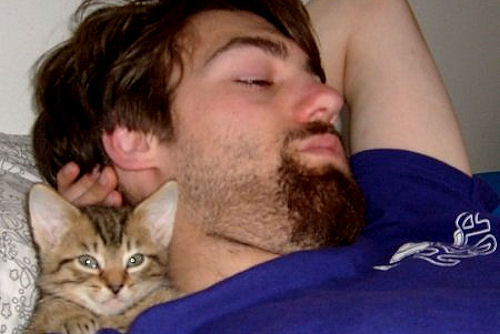 By the time Loki went home he was firmly attached to College Boy. He had to be near College Boy whenever he was home, and when College Boy left Loki would look out the window and cry.
Around Thanksgiving College Boy and Irish Girl were told they couldn't keep Loki in their apartment because of a misunderstanding of the apartment complex's rules. College Boy asked if we would keep Loki until their lease was up in the spring. Of course we said yes.
I was worried about how Loki would handle all the changes in his short life. In less than a year he'd been born in the shelter, moved to the apartment, stayed with one of College Boy's friends for a month, then came to live with us. I was also worried about how our other cats would react to him.
Once again I worried over nothing. This is where Teacher would tell me once again that I worry too much. It comes with the territory. At first Loki walked around cautiously, as if expecting the Boogey Monster to jump out at him, but in no time he relaxed. Soon he fit in as if he'd always been ours.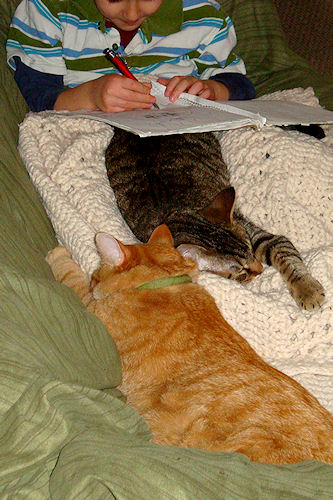 Loki and Princess's cat, Buddy, are like two peas in a pod. Buddy isn't much older than Loki so he accepted Loki more readily than any of our other cats. Buddy is always ready to wrestle, play, or nap with Loki – anytime anywhere.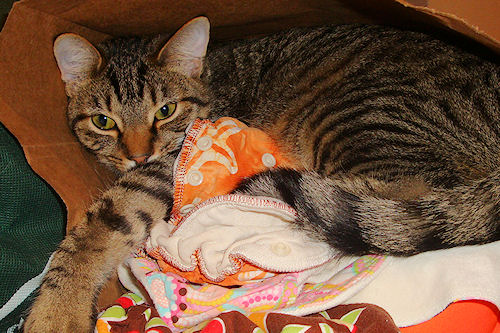 Loki has quite the personality! One of his quirks is that he loves to sleep in bags: empty bags, full bags, paper bags, cloth bags, he doesn't care. He climbs right in, turns around in a circle, purrs, then falls asleep.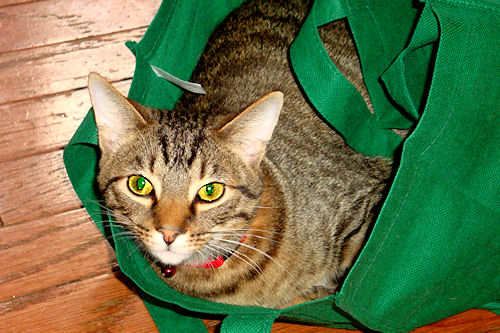 "Hey, leave me alone, can't you see I'm sleeping?"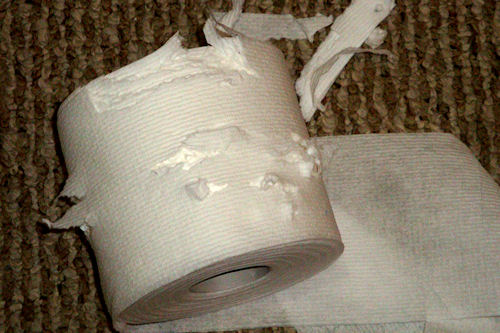 He also has an obsession with shredding toilet paper. I don't know what this poor roll ever did to him, but I'm sure it's learned its lesson and will never do it again.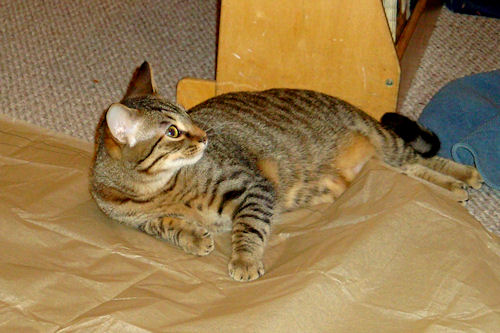 He's still young enough that he'll play with anything and everything. He's especially intrigued with patterns and fabric – every night he tries to "help" me with my sewing. Since I'm busy making Princess's wedding dress I'm not terribly thrilled with his help.
In about a week College Boy, Erin and Sweet Pea are coming for Princess and Cowboy's wedding. When they go home they'll take Loki with them. I know he and his beloved College Boy will be happy to be reunited, but we'll miss him when he's gone.
Not enough to get another kitten though!