As you may or may not know, back in January I applied to participate in the USDA's Wellness Grant to improve the health of children in child care programs through better nutrition and increased physical activity.
Grant recipients were able to choose one of three kits to support their quality improvement plan: a Nutrition kit, a Cooking with Children kit, or a Physical Activity kit. Since I believe I do a good job with nutrition, and have a well-stocked kitchen, I chose the Physical Activity kit.
It finally arrived! I didn't hear the UPS truck so I didn't know it was here until Z-Man and my Dad came up the back stairs, each carrying a box.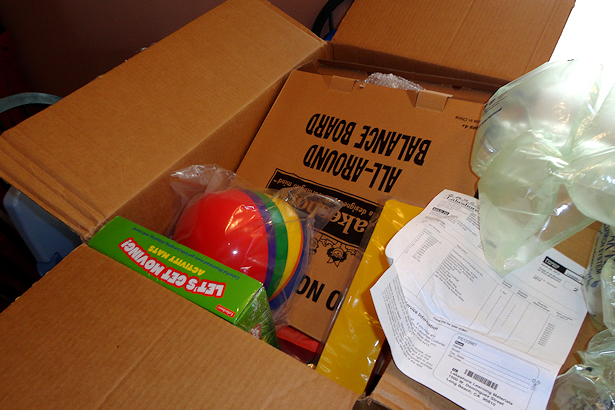 I was so excited I couldn't wait to open them!
And empty them!
Doesn't this look like fun?!
Here's what was in the kit, from left to right:
Ladybug balance board.
Activity scarves.
Six foot parachute.
Football, soccer ball, basketball and kickball with a string bag.
Let's Get Moving indoor/outdoor activity mats.
Watch me Move balance cones and strips with activity cards.
Movement Fun activity cards.
It's so much cooler than I expected! Some of the items are things I'd never have bought myself, but now that I have them I will definitely use them. And I already know I want another balance board because it's going to be so popular that one won't be enough.
The next step is to clean out the shed and figure out how best to store everything.
Anyone want to help?