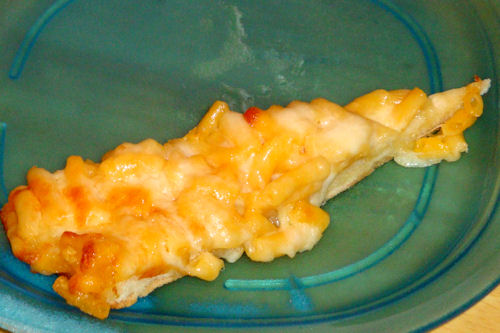 Every once in a while I'll have "Clean out the Cupboard" for daycare snack. I pull out all the boxes of crackers and cookies that don't have enough for everyone but too much to throw out, and dump them all together. The kids love being able to pick and choose their favorites from the bowl and I love not wasting food.
My friend Nicole takes things one step further with "Clean out the Cupboard Pizza." On pizza day she looks through the refrigerator for leftovers twenty-four hours old or less and in the freezer to see what she can find. Some of her creations have been chicken with BBQ sauce, chicken with ranch dressing, hot dogs with ketchup added to the sauce, taco leftovers, and macaroni 'n cheese pizza.
Macaroni n' cheese pizza sounded kind of weird to me, but one day I tons of leftover much mac n' cheese from the day before so I decided to try it.
I took a gamble, hoping it would come out in my favor; "Hey guys, do you want plain old cheese pizza or macaroni and cheese pizza?" I used my "oh-my-goodness-this-is-amazing" tone of voice when I said "macaroni and cheese." It paid off: "Mac and cheese! Mac and cheese! Mac and cheese!" they chorused.
"This is great!" I thought, "They're helping me use up leftovers, and are excited about it to boot!"
I got out my regular frozen pizza crust made with enriched flour, to fulfill Food Program requirements, the Mac 'n cheese from the previous day's lunch, and some shredded mozzarella cheese.
I was worried the pizza would be too bland without sauce so I melted a couple of tablespoons of butter, stirred in some garlic powder, and spread it on the pizza crust. Usually I mince fresh garlic and add it to the butter before melting, but I was feeling lazy.
The macaroni and cheese was "nuked" in the microwave for a bit so it wasn't all stuck together in a big lump, then spooned onto the crust and covered with enough cheese to fulfill Food Program requirements.
The pizza was popped into the oven and baked until the cheese was all bubbly and melty and delicious. Of course I had to take a little taste before serving it to the kids -and it was really good!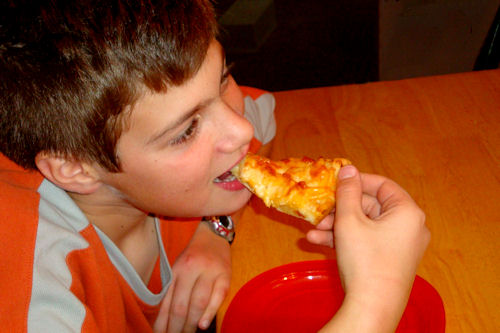 The kids thought it was way cool to have mac n' cheese on their pizza and gobbled it up. I actually had to hide a couple of pieces in the microwave for Jo-Bear. He loved it, and asks for it all the time now whenever we have mac n' cheese leftovers.
Would you ever try mac n' cheese pizza? What leftovers would you put on pizza?