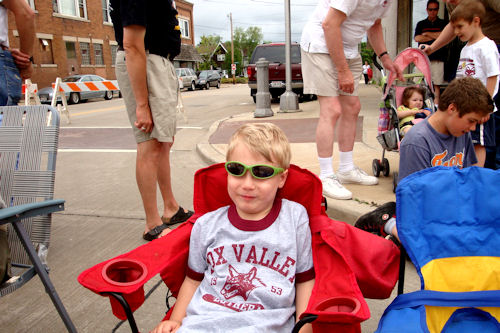 Little Guy is ready for the parade! It'll be a short parade (only about half an hour) so we didn't bring any snacks or anything. Oops, I forgot the kids' flags too! You can tell it's the first parade of the season – I'm out of practice.
In the background, Cowboy just arrived with Peanut.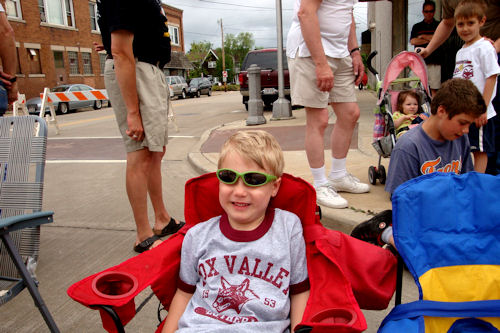 I didn't realize I still had my camera on "burst" from Angel Face's last soccer game, so I got three shots of Little Guy.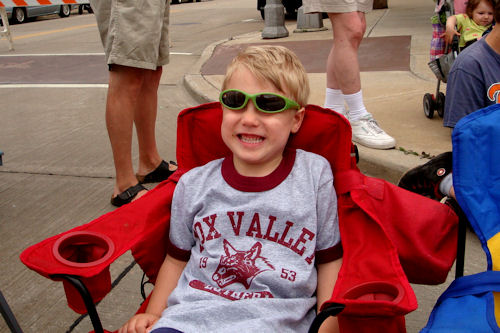 I'm glad I did – it's a really cute progression.
Here's Cowboy and Peanut! Cowboy did her hair before they left home but she pulled it out in the car. He does pretty well for a guy who didn't have any younger sisters to practice on.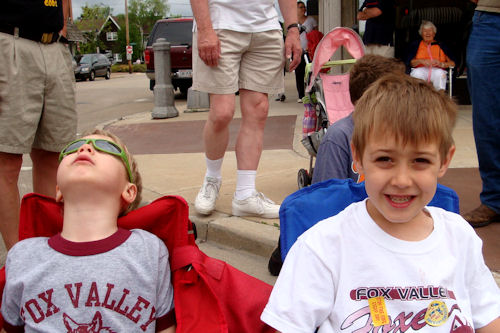 Little Guy is about to die from boredom, but Z-Man musters a smile for mom.
Wait, do I hear a siren?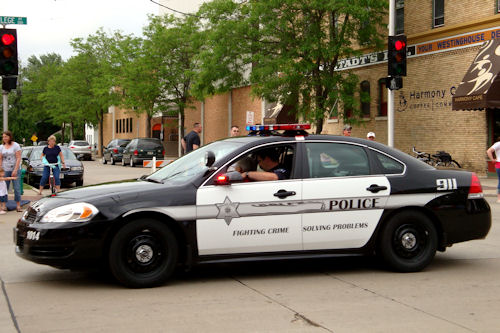 I did hear a siren! Look boys – the police care is the beginning of the parade!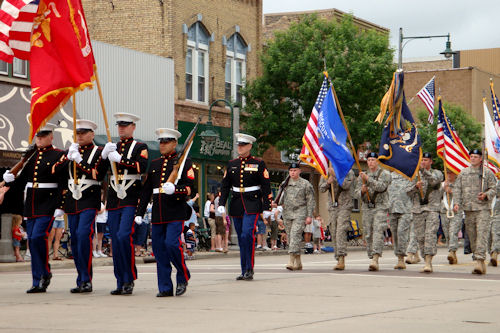 Following the police car is the Marines Honor Guard. Now THESE guys know how to march.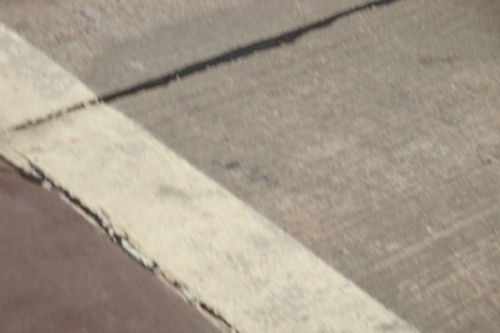 Oops! The down side to having my camera on "burst" is that I ended up with lots of shots of the road, the back of the boys' heads, my feet, etc.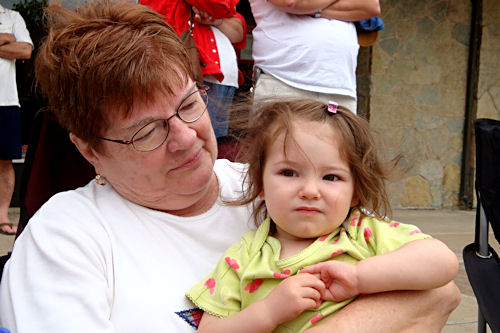 Peanut loves to cuddle on Great Grandma's lap but isn't sure about all the noise and people. Don't mind my mom's expression; she HATES having her photo taken.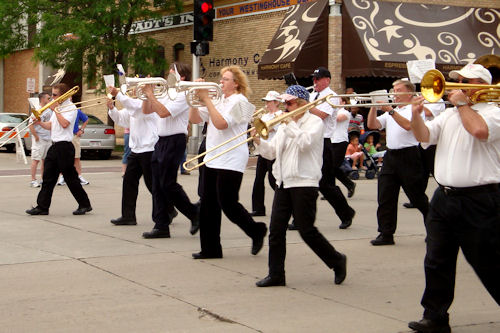 The first band of the day is the City Band. I recognize several faces as area school band directors but my two friends who play flute in City Band aren't there; they don't march.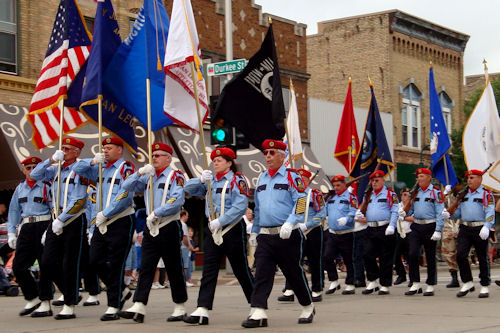 Next is the American Legion. It's nice to see you, but let's get to my favorite part – the marching bands!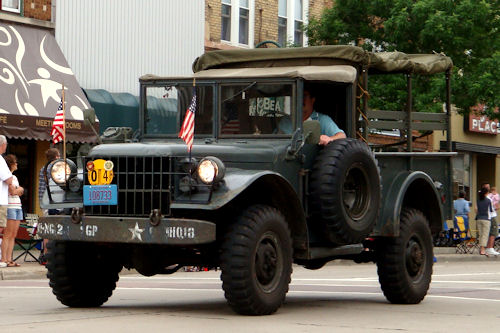 Then a jeep which Z-Man and Little Guy thought was really cool.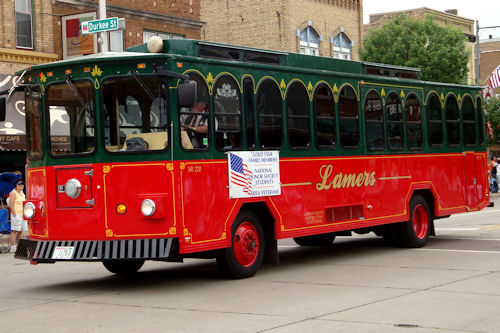 They were more impressed with the trolley though.
"Mom, can regular people ride that?"
"Yes, anyone can ride the trolley."
"Can we go on the trolley?"
"I don't know, maybe sometime this summer."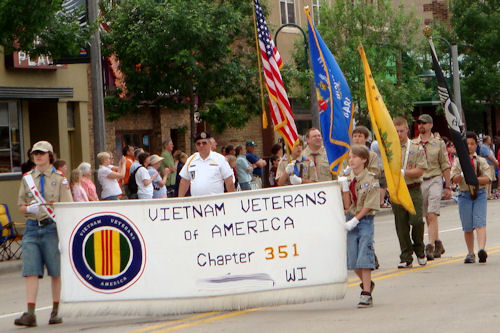 Vietnam Vets. Thank you for your service to our country.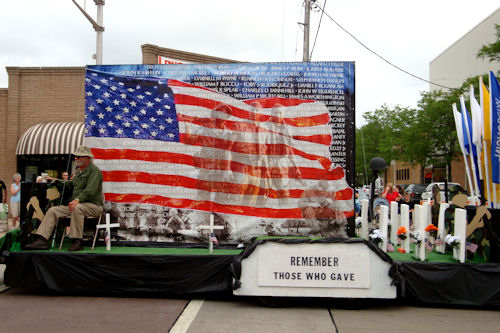 The Vietnam Vets float. It ain't nearly as stunning as the Rose Bowl floats, but it's not bad for middle America.
Hey, I hear a band!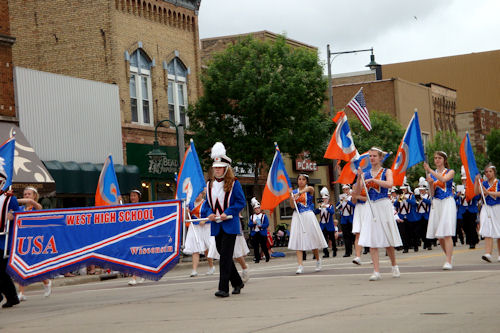 Now THIS is what I want to see: a marching band! I've had marching band fever in my blood since 1986 when I was in summer marching band, but that's a story for another time.
Aack! Girls, check your angles; you're all over the place!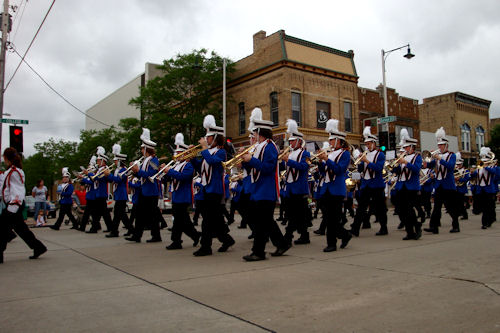 The bands are always pretty rocky for the Memorial Day parade. Many of the kids don't care about marching; they just do it because it's required for their grade. West's front line is pretty straight though – nice going!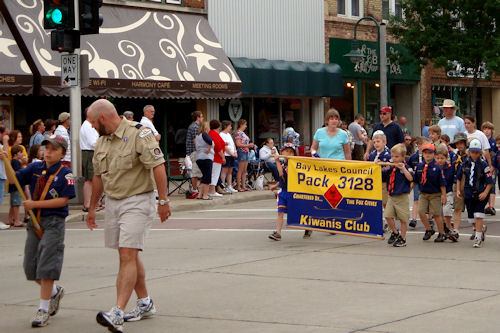 Awww, little kids in parades are always so cute. They'll be pooped little puppies by the end of the route though.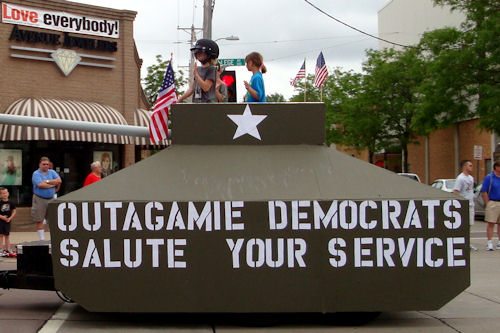 We're in strong Republican territory so Teacher thought this float was hilarious. "There are the local Democrats – both of them…"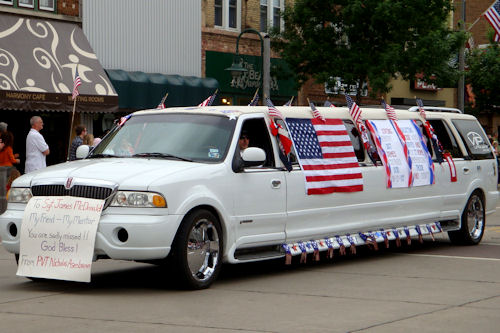 A sad reminder of what Memorial Day is all about; I choked up watching it go past. The photos speak for themselves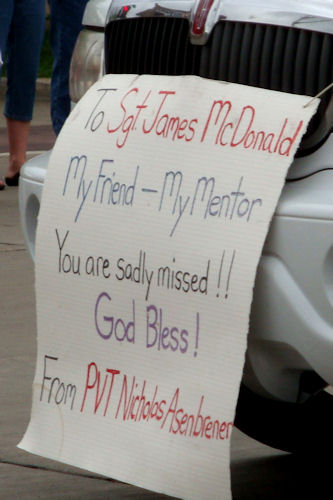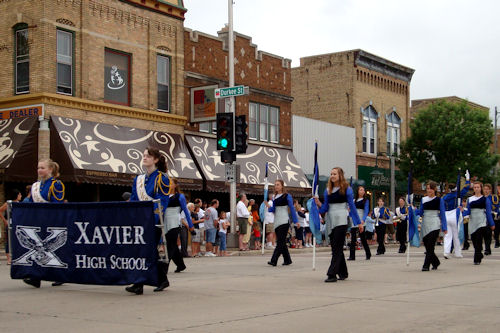 Time for another band!
Wait – they're not playing. Grrrr!
One of my biggest parade pet peeves is when bands go a long while without playing. This particular parade route isn't much more than a mile so there's no reason for a band not to play most of the way. I marched this route in an alumni band when I was five months pregnant with Jo-Bear. If I can do it at age *ahem* and five months pregnant these teenagers can do it.
Sorry, I got carried away for a moment.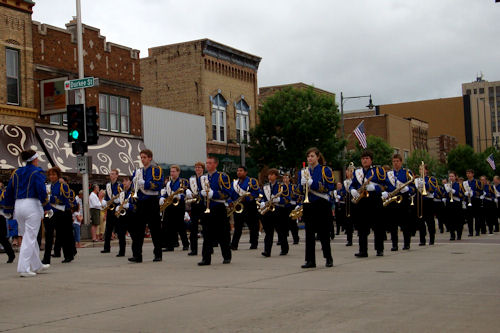 At least their lines are fairly straight.
Oh, the drum major just put up one finger; they're going to play!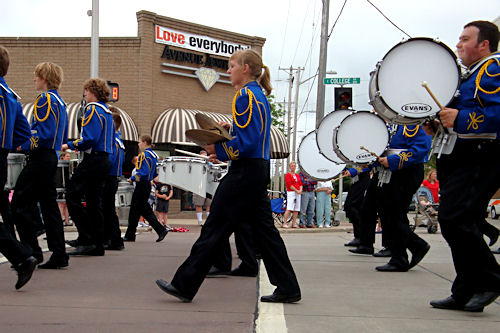 My favorite section – percussion! Check out their feet – are they in a straight line? Are they marching together? Not bad… so far Xavier has looked the best.
But don't get smug; the best band is yet to come…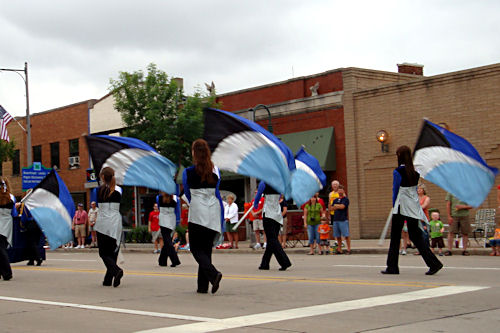 Let's peek at how the Guard looks while they're performing; are they together? Are their angles straight? I'd say it's not bad for Memorial Day; I've definitely seen much worse.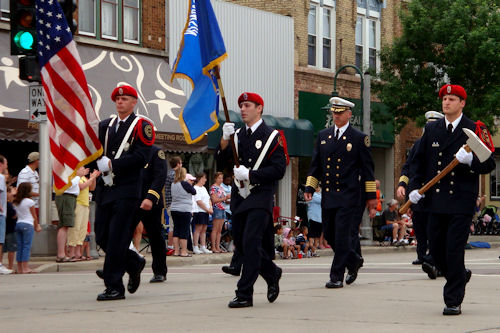 Look boys – it's the firefighters! Your grandpa N. used to be a firefighter! He got to drive the BIG truck.
Like this one!
Like most boys Z-Man and Little Guy are thrilled by the firetruck. I'm thankful that it doesn't have its siren wailing; that's waaaay too loud this close up.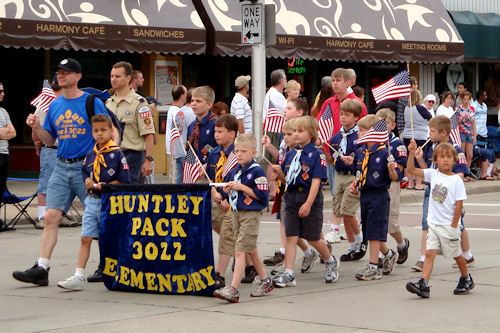 More little Cub Scouts. They're just too, too cute! As much as I love girls, little boys turn my heart to mush.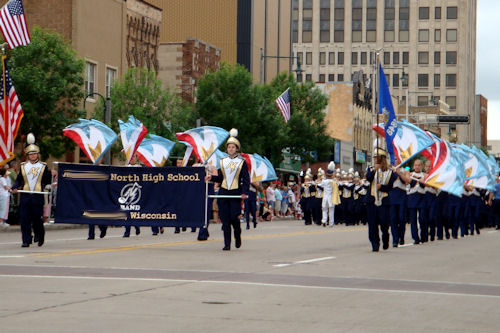 The city's newest high school: North. You can tell they're not as old because their uniforms are more modern than the other bands' uniforms so far.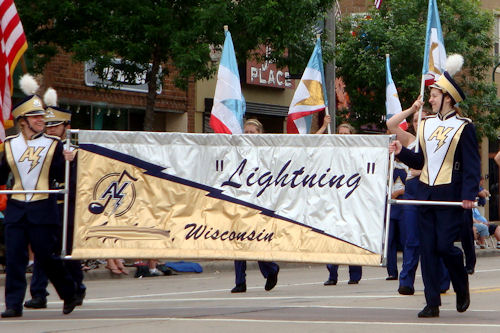 I love how they flip their banner over before they start playing – talk about eye-catching!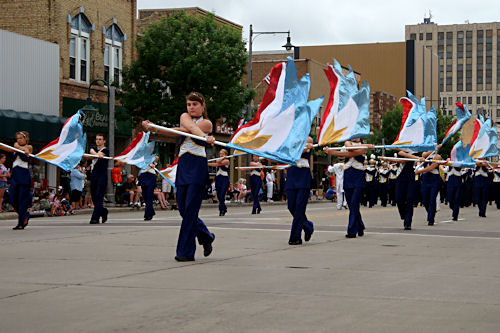 This Guard looks pretty sharp; the flags are mostly together. Their routine isn't very difficult so it's super-simple to stay together. For this parade I think that's OK; sometimes it's better to do simple well than to do complicated badly. On the other hand, if it were a competitive parade I'd like to see a more complicated routine.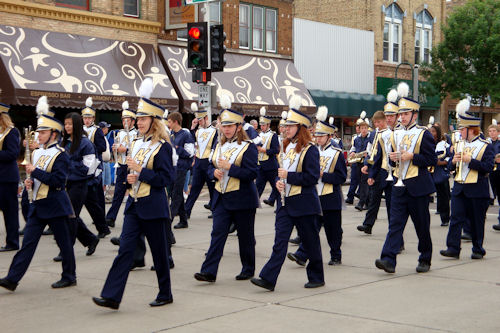 The band looks sharp too. I was so busy snapping photos I forgot to look for Angel Face's friend Greg. Oh well, maybe they'll be in the Flag Day parade. That's a loooooong one, about two hours' worth, so I won't be posting photos of each unit from that parade. You can thank me later.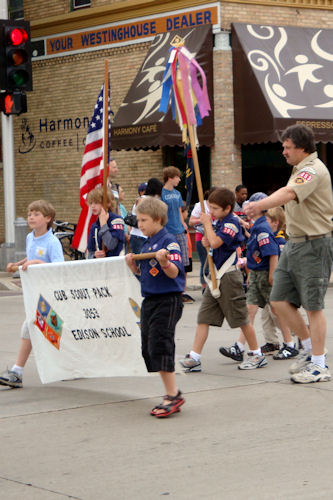 Didn't we see these guys already? They all look the same; all big eyes and blue shirts. I'm such a sucker for little kids.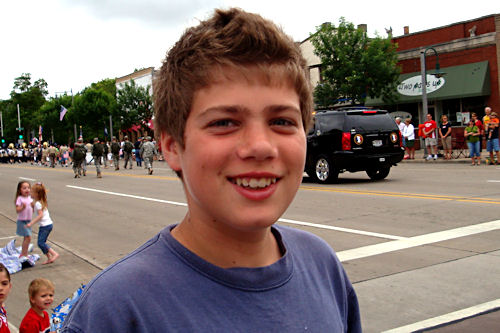 "Hey Jo-Bear – SMILE!"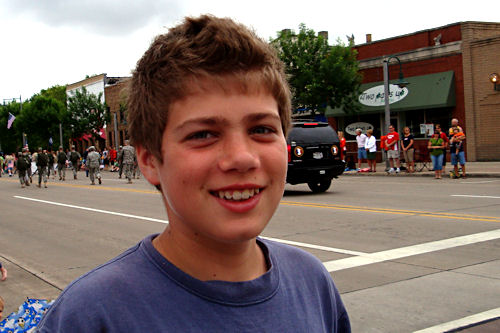 He looks almost exactly the same in all three of his photos. He knows that when mom has the camera out it's no good to argue, you might as well smile and get it over with.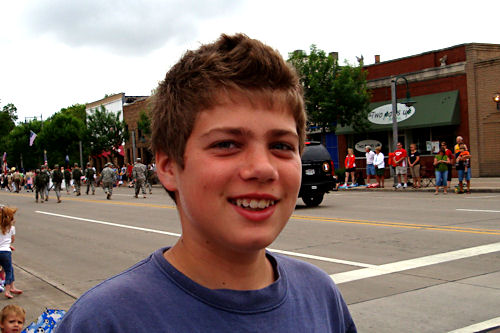 What a handsome kid! He needs a haircut though.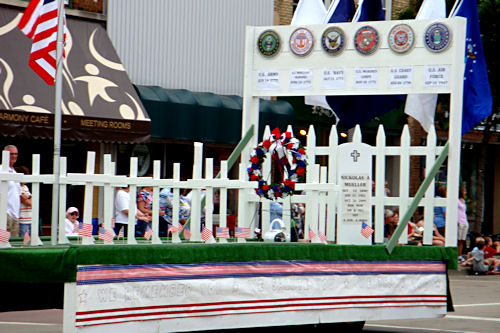 Another unit to honor a fallen soldier.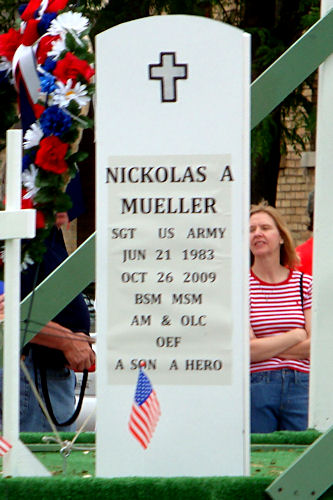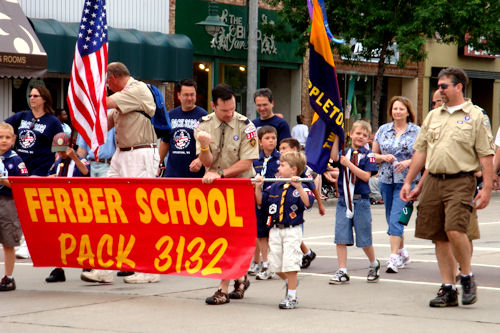 I used to have a school-ager in my daycare who went to Ferber. He marched in the parade once or twice.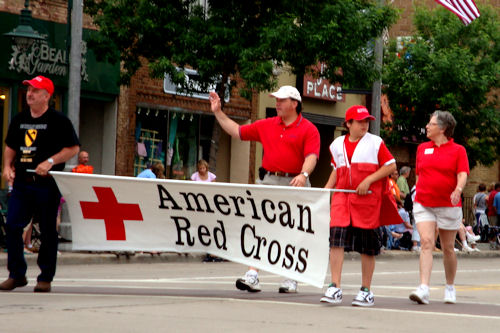 The Red Cross does so much good for so many people, but I'm really glad their mascot stayed home. It's a huuuuuge costume that looks like a drop of blood. Ewwwwww.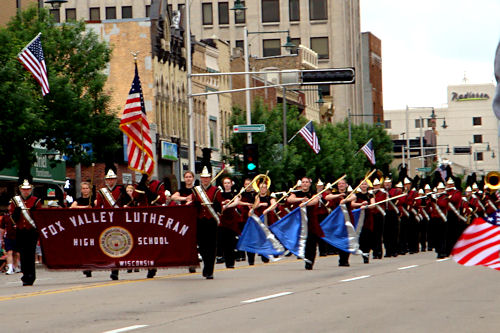 Ah ha, here they come! The bestest marching band in the whole parade! I'm a band alum so I'm allowed to be biased.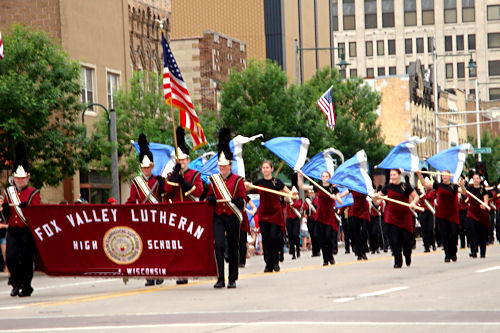 Uh-oh girls! Maybe it wasn't such a good idea to change the routine just days before the parade!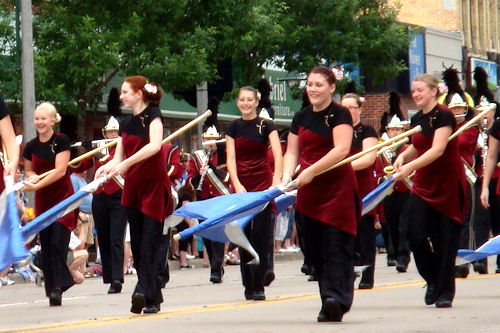 Look, right in the center smiling at the camera – it's Angel Face; the bestest, prettiest color guard member in the whole parade! I'm a mom so I'm allowed to be biased.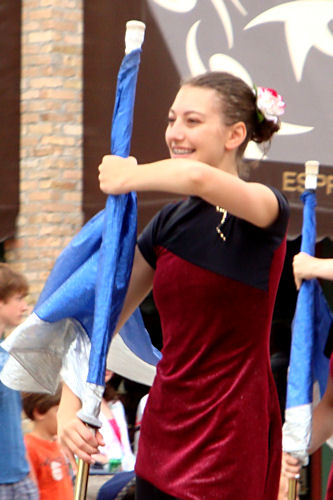 Doesn't she look good? I am SO proud of her! It's towards the end of the route so her face is probably numb but you can't tell.
When I was in Guard we were "military style" which meant we weren't allowed to smile. I think it's easier than having to smile the whole time.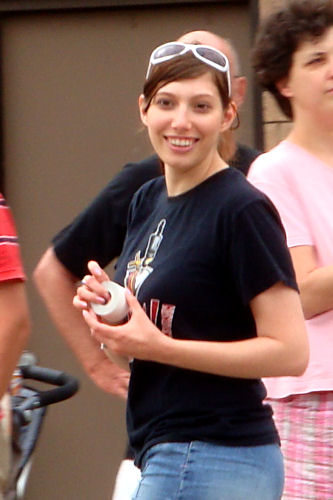 And there's Princess, the bestest, prettiest Color Guard assistant who-used-to-be-in-Guard in the whole parade! Moms can be biased, remember?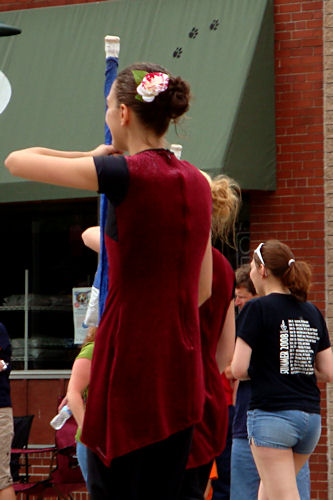 There they both go…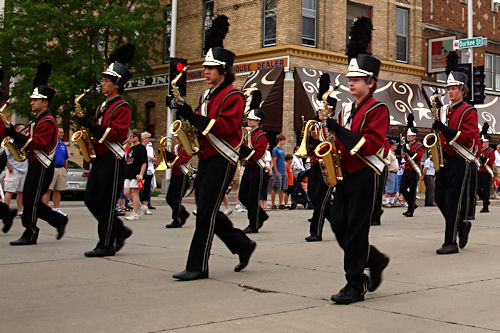 And here comes the band. Check out the first row's feet – see how they all cross the line at exactly the same time? That's that a marching band is supposed to look like. Great job saxes – you rock!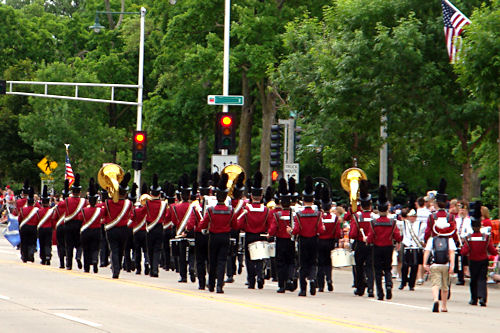 There they go. They always seem to go by so fast. One of these years when the little boys are older Teacher and I are going to spend a summer chaperoning for summer marching band. That's the summer I'll think I've died and gone to marching band heaven. Hi, my name is Amy and I'm a marching band geek…
Time to fast-forward past another Cub Scout troop, some mamas pushing babies in strollers, and on to the next marching band!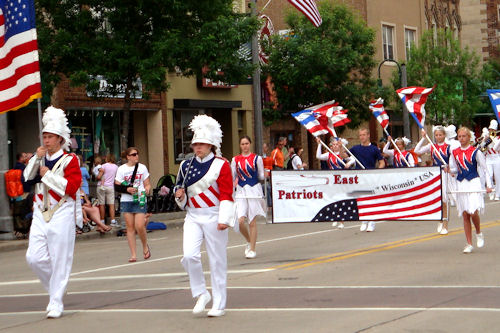 I'm sorry, but I have to say it: I have never liked these uniforms. Seriously – white pants?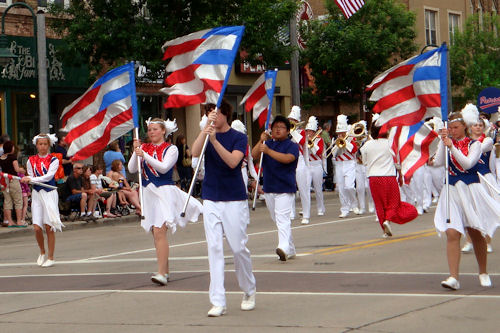 The whole patriotic thing is appropriate as they're the "East Patriots" but I don't get the swan wings on the girls' heads. I should say something nice though… I like the sparkles and the girls' flowing skirts. How's that?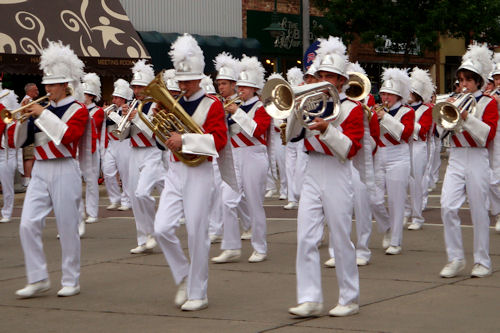 Here comes the band… I'm still not liking those white pants – pity the poor girl with hips who has to wear them! Hopefully they're saving up for new uniforms. If it were up to me I'd go for blue and red with silver and white accents.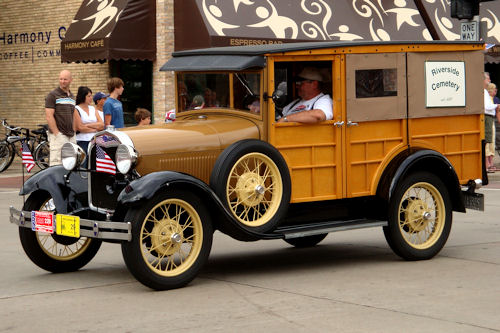 The boys were amazed to think that people used to drive cars like this all the time, and wanted to ride in it.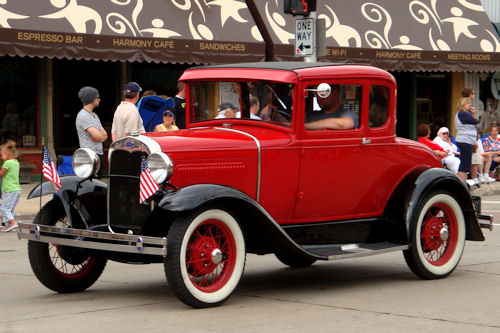 Personally I've always wanted to try out a rumble seat, they always look so bouncy.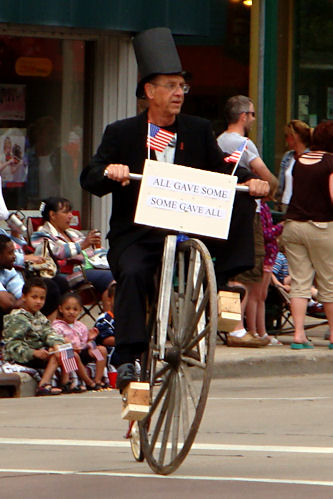 I can't imagine riding a bike like this – how does he even get onto it?! I'd surely fall off and crack my head open.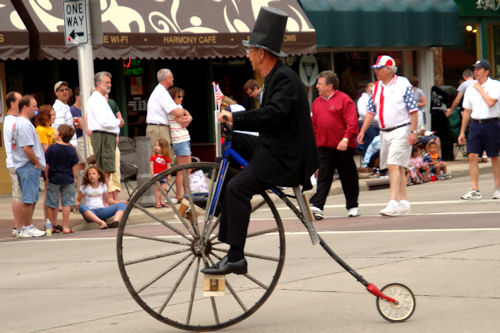 He must be the last unit because you can see parade officials following the bike.
OK guys, time to pack up and go!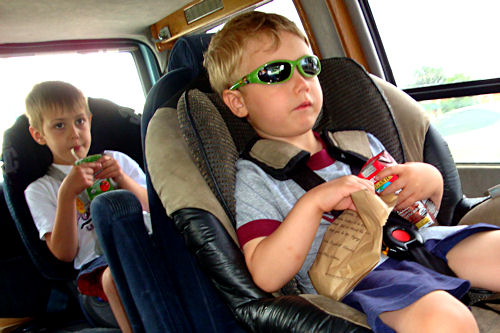 Since we knew we'd be waiting for a while we stopped at Starbucks for a snack. Aren't they just too cute?!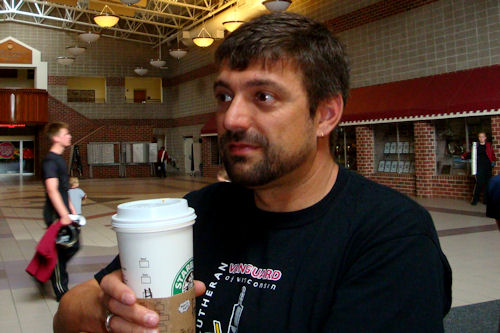 Teacher timed it just right; the band arrived at school just before we did. We had to wait for them to unpack their gear and change clothes but it wasn't as long as if we'd gone straight from the parade.

Even after twenty-two years of marriage he still makes my heart go pitter-pat. I'm the luckiest woman in the world to be married to this man.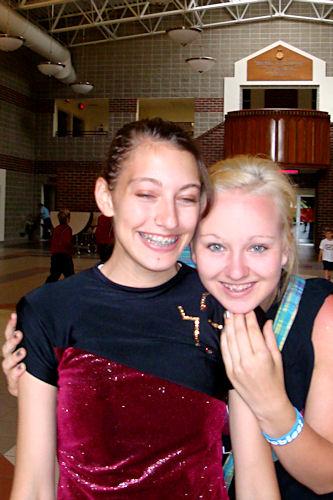 Angel Face was in one of her "don't take my picture" moods but Amanda convinced her to smile. She didn't have patience for me to take one with her eyes open though.
Speaking of coffee, I think I hear my coffee maker calling my name…