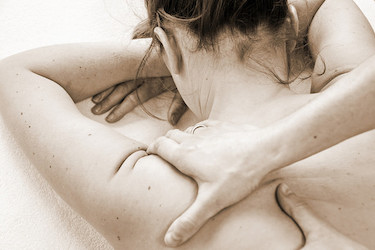 I'm lying facedown on a comfy bed in a dim room, the scent of candles and sound of relaxing music fills the air. I sigh deeply, feeling my muscles relax under the massage therapist's skilled hands. Heavenly!
Teacher got me a Massage Connection gift certificate for Christmas and I couldn't wait to use it. I'd never had a massage before so I wasn't sure what to expect, but now I'm addicted.
The appointment started with a standard form: no I don't use drugs, yes I've had alcohol in the past 24 hours, Baileys Irish Cream last night, am allergic to aspirin and amoxicillan, etc. Then I used the bathroom Can't relax when you have to pee… and was shown to a small room with a bed. I was expecting something rather institutional but was surprised by a warm, cozy room. One wall was painted a rich chocolate color and the other three were "cafe au lait". That's the color of coffee with cream in it. Dim lighting, flickering candles and soothing music added to the relaxing ambiance – something I'd love to recreate at home.
Since my "problem area" is the upper back, the massage therapist told me to remove my shirt, bra and necklace. I could either take off my jeans or roll roll them down to keep lotion off them. I can't stand jeans on in bed so they went on the chair with the rest of my clothes. I lay on my stomach on the bed, covered myself with the sheet and blanket, and browsed the collection of CDs and essential oils while I waited.
Once the massage started I forgot anything except the sensation of hands kneading my back and soothing music in the background. I've had good massages – very good massages – before, but there's a difference between an amateur massage and a therapist massage. This massage found all the knots I'd felt and some I hadn't known were there. I could feel them melting away as she worked on them.
After the half hour I was completely relaxed and ready for the day of shopping we had planned. I can't wait for the next massage!