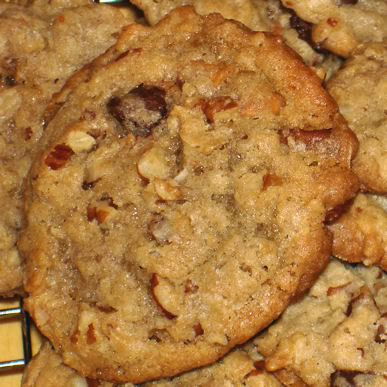 I love cookies. I really, really LOVE cookies! I can resist almost any dessert, but not cookies. And chocolate chip cookies are my very favorite. So when the girls offered to make cookies to day I let them go for it. Nothing's better than homemade cookies… unless it's homemade cookies my girls made.
As they get more experienced with cookie-making they've started experimenting with recipes. Today they started with a basic oatmeal cookie recipe then added pecans, chocolate chips and caramel chips to make them turtle style. They are SO good! Chewy and crunchy, sweet with chocolate and caramel, mmmmm! I think it's time for a snack…
Here's the recipe, enjoy!
1 cup butter flavor shortening
3/4 cup each granulated and brown sugars, packed
2 eggs (we use free range)
1 tsp vanilla (we use Penzey's)
1 1/2 cup all-purpose flour
1 tbsp hot water
2 cups oatmeal
1 cup chopped pecans
3/4 cup semi-sweet chocolate chips
3/4 cup caramel chips
In a mixing bowl cream the shortening and sugars. Stir in the eggs and vanilla, mixing well.
Combine the remaining ingredients ina separate bowl. Add to butter mixture, stirring until well combined.
For uniform cookies, use a small sized ice cream scoop, or disher. Scoop out batter and place onto greased cookie sheet. (We cover a cookie sheet with parchment paper or a silicone sheet) Space cookies 3 inches apart and away from the sides of the pan.
Bake at 350F for 9 minutes or until done. Cool. Store in airtight containers.