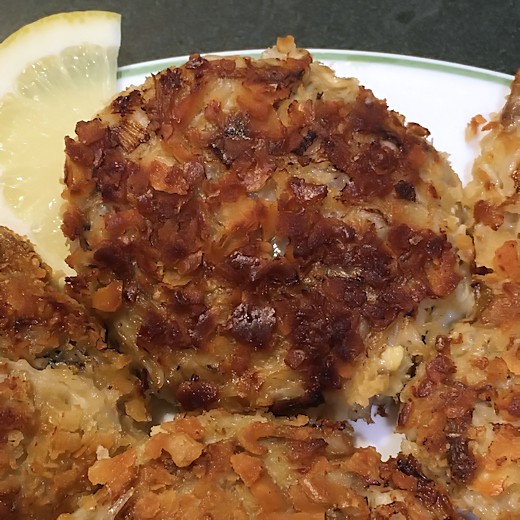 Teacher and I have a symbiotic relationship: he likes to cook and I like to eat. It's a match made in heaven. Since cooking for me makes him happy, and eating what he cooks makes me happy, Teacher is always on the lookout for recipes he thinks I'd like.
Neither of us remember how he stumbled on Mrs. Duvall's Crab Cake Recipe, but we both agree that it's a winner. The only downside to this recipe is that once we tried them we were spoiled for any other kind of crab cake.
Yes, they really are THAT good.
Don't believe me? Try them for yourselves, then you'll be spoiled for any other crab cake too.
Don't say I didn't warn you.
Mrs. Duvall's Crab Cake Recipe – with Pictures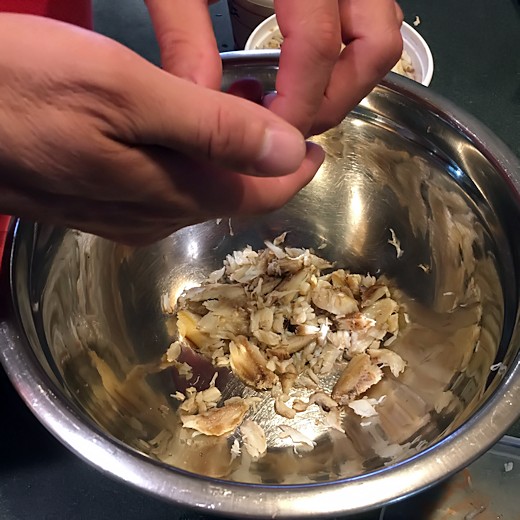 First you need fresh crab. We have a "shrimp truck" that comes up from Georgia several times over the summer with fresh shrimp, crab, and sometimes red snapper. We only make Mrs. Duvall's crab cakes when we can get fresh crab.
Carefully pick through the crab, looking and feeling for any bits of shell that the crab pickers missed.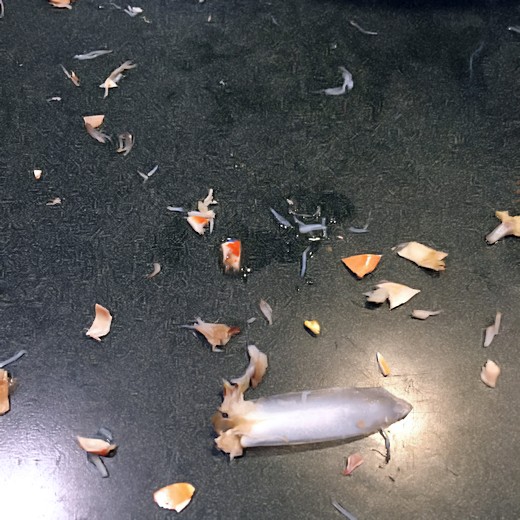 Nothing ruins a great crab cake like crunching into a piece of shell.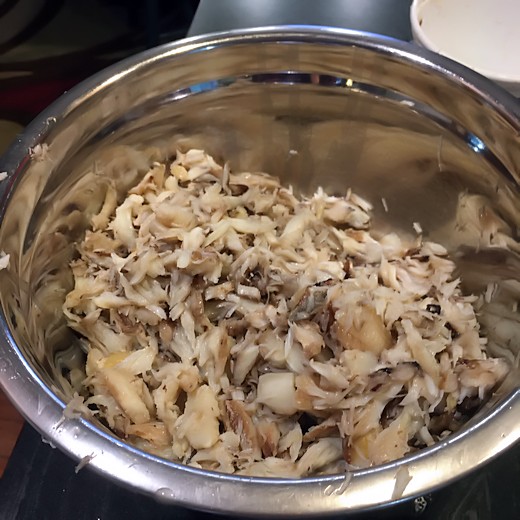 Done? Time to make the best crab cakes you'll ever taste!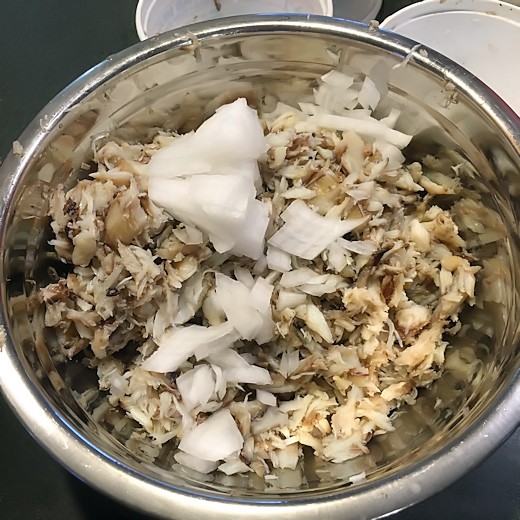 Add chopped onion to the crab, then set aside.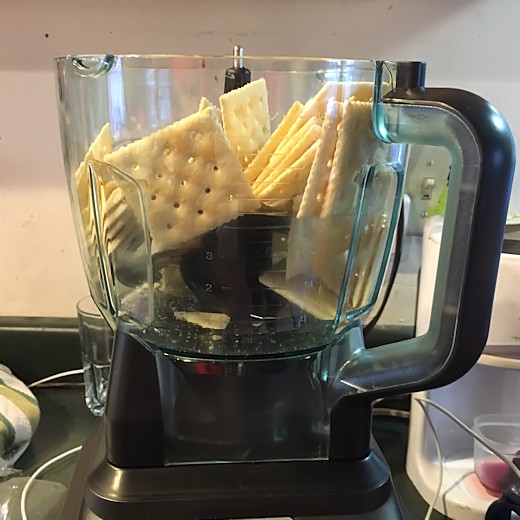 Whirr saltines in the food processor to make cracker crumbs. Set those aside too.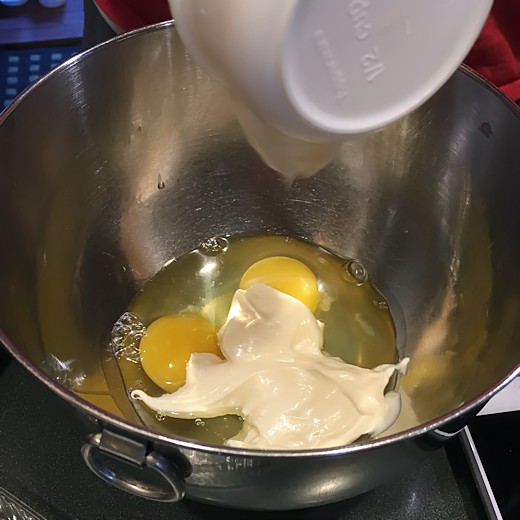 Crack two eggs into a separate bowl. Add mayonnaise, then whisk to blend.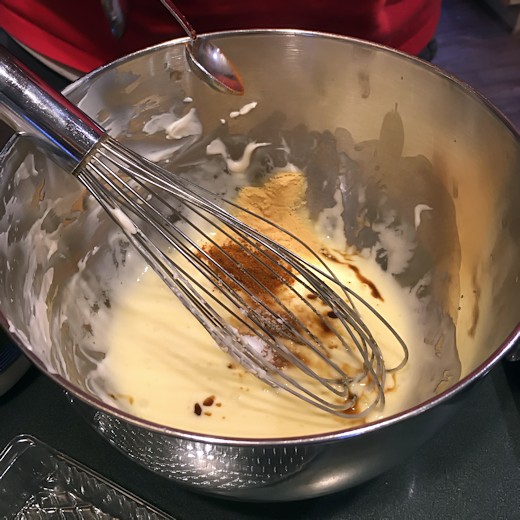 Whisk in Worcestershire sauce, dry mustard, salt and Teacher's secret ingredient: Old Bay Seasoning.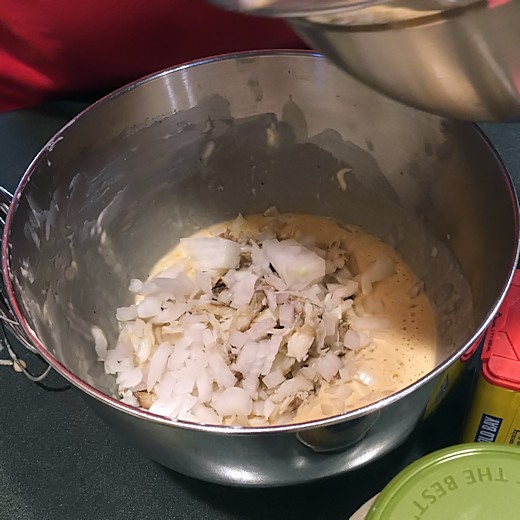 Add some of the crab/onions to the egg/mayo mixture.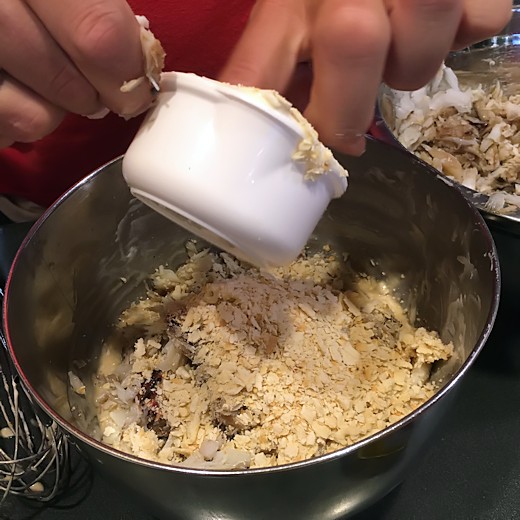 Add the cracker crumbs.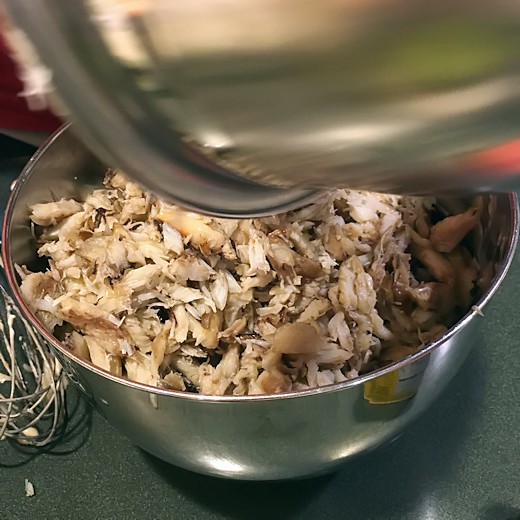 Then the rest of the crab.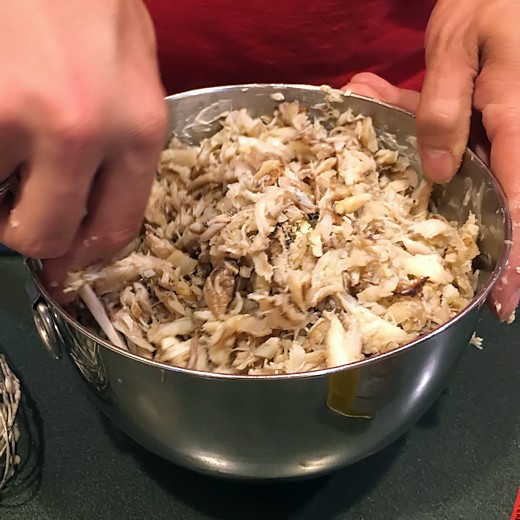 Gently fold in the crab and crackers. Teacher sometimes uses his hands. You can too – I won't tell. The mixture will be loose.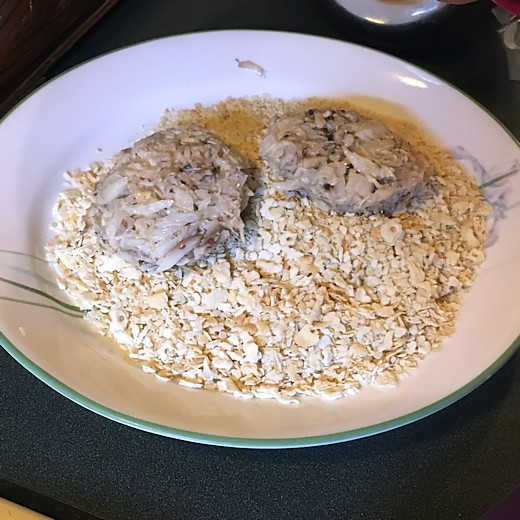 Gently form into cakes, being careful not to compact them too much. Coat with more cracker crumbs. The original recipe says you can refrigerate the crab cakes at this point, but who can wait? Besides, I'd think the crackers would get soggy.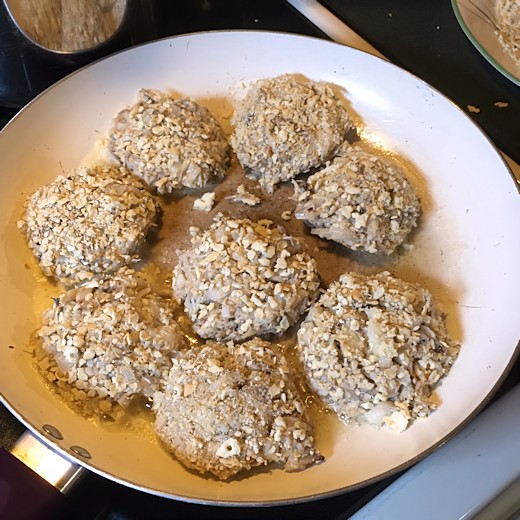 Heat some oil and butter in a pan. When the butter is melted put some crab cakes into the oil/butter and cook until golden brown and delicious. The original recipe says you can keep them warm in the oven until they're all cooked, but usually start eating them as soon as they come out of the pan. Yum!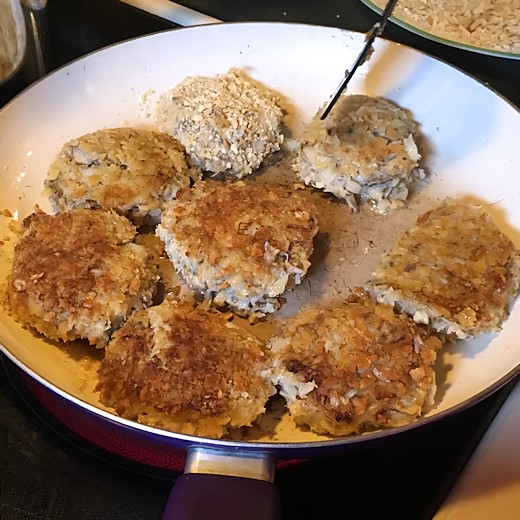 Carefully turn them over and continue cooking until the second side is golden brown and delicious too.
Repeat, adding more oil and butter, until all the crab cakes are golden brown and delicious.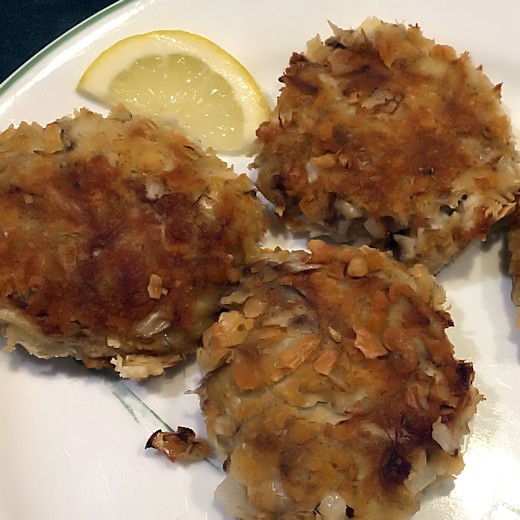 Squeeze fresh lemon juice over the crab cakes and enjoy while they're still crispy.
Pure deliciousness!!
Mrs. Duvall's Crab Cake Recipe
Adapted from the Food Network recipe.
Ingredients
1/4 cup mayonnaise
1/4 cup onion, minced
2 eggs, lightly beaten
1/2 teaspoon Worcestershire sauce
1/2 teaspoon dry mustard
1/2 teaspoon Old Bay seasoning
1/4 teaspoon salt
1 pound lump crabmeat
1 cup saltine crackers, finely crushed
2 tablespoons unsalted butter
1/4 cup vegetable oil
Lemon wedges
Directions
Pick through the crab to remove any remaining shell, cartilage, etc. Add the onions. In a separate bowl, combine the eggs, mayonnaise, Worcestershire sauce, dry mustard, Old Bay, and salt. Fold in the crabmeat and 1/4 cup of the cracker crumbs.
Shape the mixture into 16 cakes about 1-inch thick. Coat the crab cakes with the remaining cracker crumbs and transfer to a baking sheet lined with waxed paper. The crab cakes can be refrigerated overnight at this point, if needed.
In a large skillet, melt 1 tablespoon of butter with 2 tablespoons of oil. When the foam subsides, add some of the crab cakes and cook over moderate heat 2 – 3 minutes per side, until golden and crisp. Drain the crab cakes on paper towels and keep warm in a low oven. Repeat with another 1 tablespoon of butter and 2 tablespoons of oil until the all the crab cakes are cooked. Serve with lemon wedges.
Try them out and let me know what you think!