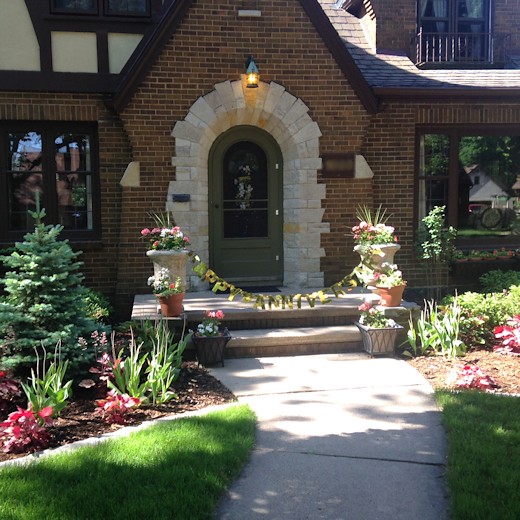 Saturday morning most of us descended en masse on Mom & Dad's house to get ready for the picnic. By "us" I mean Uncle Ike, Aunt Elle and their boys, Uncle Jay, College Boy, Irish Girl and their kids, Cowboy, Princess and their girls yes I have news to share, but that's for another time, Teacher, Angel Face, Z-Man, iMatt and myself. The only ones missing were Jo-Bear who had a soccer game but planned to come over right after, and Aunt Dee and Abby who weren't feeling well. Needless to say, there were a LOT of people scurrying around!
Uncles Jay & Ike fired up the grills in our driveway and started grilling the burgers, brats and hot dogs. Our house is just four doors down from my parents' house, which has always been convenient, but was especially helpful this weekend. I can't count how many times someone went running back to our house for rocks to weigh down decorations, ice, duct tape, more ice, water bottles for the kids, etc, etc, etc.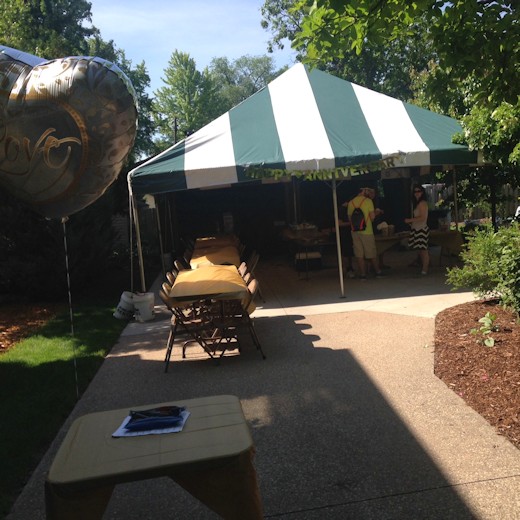 Our first priority was to get the tables set up and covered with tablecloths, then put the chairs in place. Once the "foundation" was set it was time to get busy!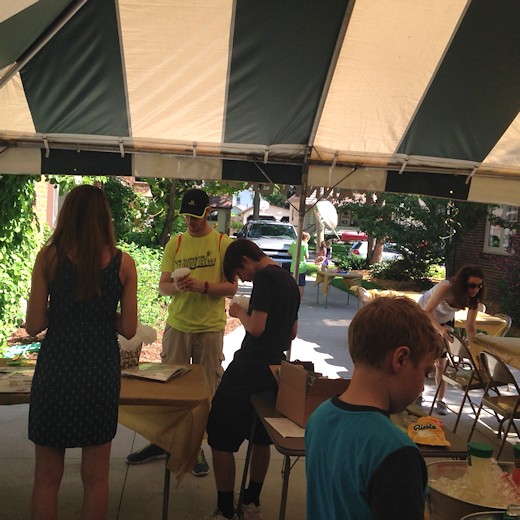 Auntie Elle, her boys and Angel Face started decorating, College Boy, Irish Girl, Princess and Angel Face took over in the kitchen, Cowboy went to pick up the chairs and get more ice, Z-Man kept an eye on the kids, and Teacher and I ran downtown to pick up the buns and cake.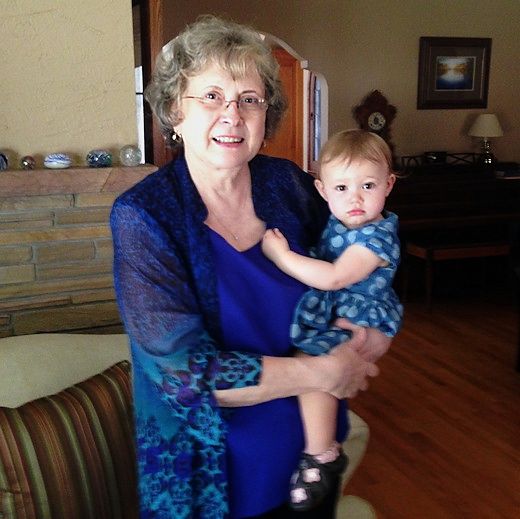 Aunt Barbara, my Dad's sister, lent a hand with Punkin, the youngest of our crew.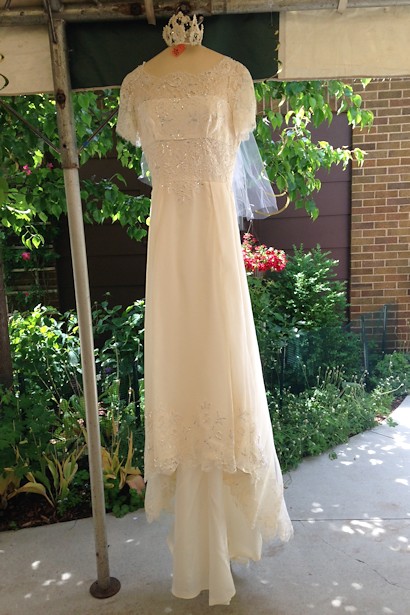 Mom's wedding dress and veil were hung in the shade under the tent. She'd made it herself, based on a photos she'd seen in a magazine. Her parents couldn't afford that dress so she combined two patterns to make the dress herself.
Sidetone: I'd always wanted to wear my Mom's wedding dress, and thanks to my Grandma who saves everything and my Mom's sewing skills I was able to. Grandma had saved the scraps from Mom's dress and they added to the side seams so the dress would fit me. Then they spent hours adding pearls and sequins to the bodice and front lace by hand. Talk about a labor of love!
I was amazed by how quickly things got done and how hard everyone worked. Not just during set-up, but all day long. I was especially impressed by how willing all the kids were to help out – bringing and taking, fetching and carrying, and cleaning up without a single complaint.
Aunt Dee and Abbie were still feeling under the weather so they didn't arrive until right before lunch, and College Girl had to leave with Love Bug before 1:00 so we decided to do family pictures quick while everyone was there.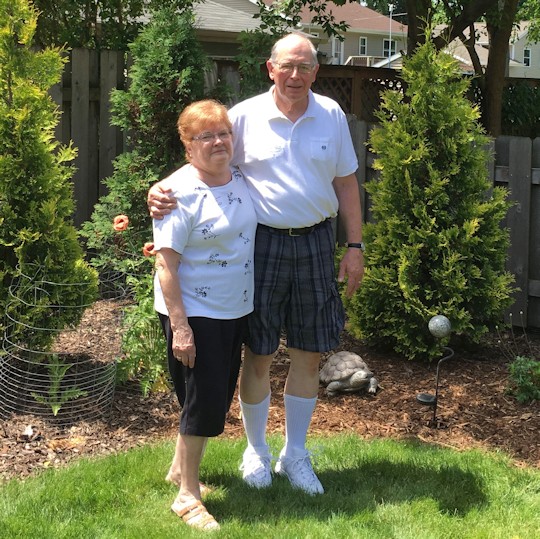 Obviously the first one was Mom & Dad. Can you tell that Mom hates having her picture taken?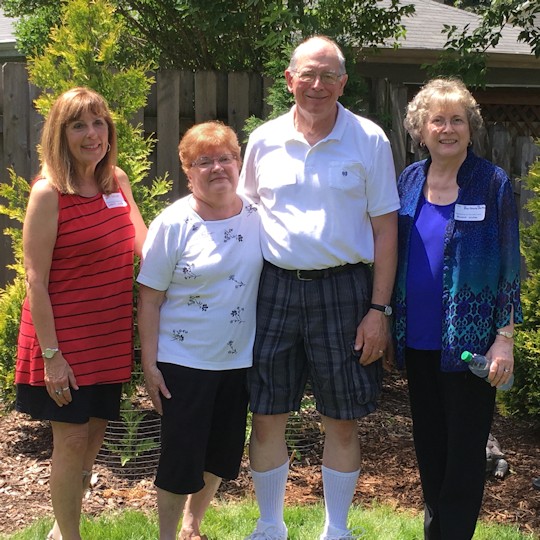 Next were Mom and Dad's sisters.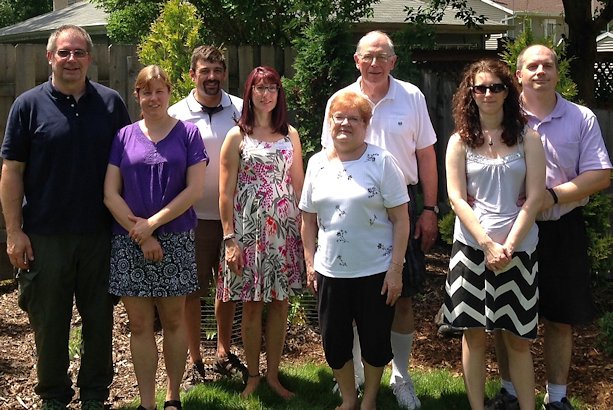 Then Mom and Dad with their children and our spouses.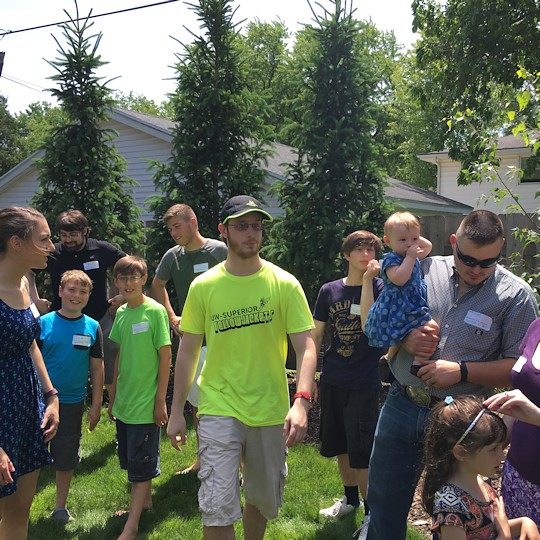 Hey guys – your turn!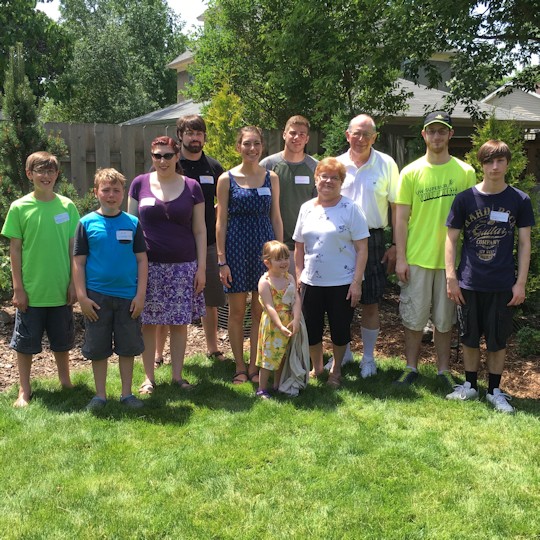 Look at all those grandchildren! I hope Teacher and I have a bunch of grandchildren too. Don't mind iMatt – he was having a rough moment. It happens.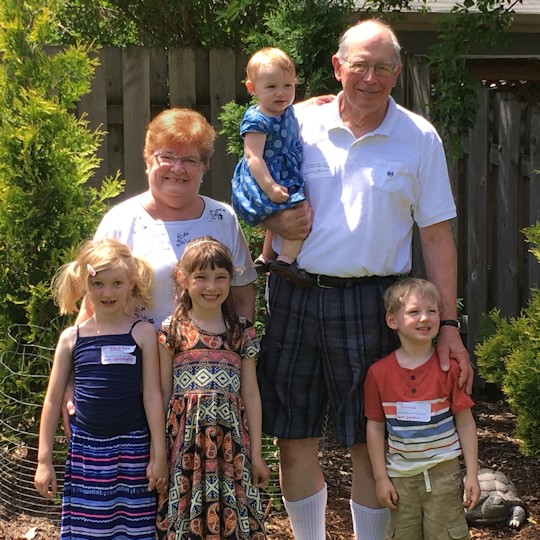 Last but not least, the great-grandchildren! Notice the big smile on Mom's face? She may dislike having her picture taken, but she really loves her family – especially the littlest ones.
OK guys, pictures are done – time to eat!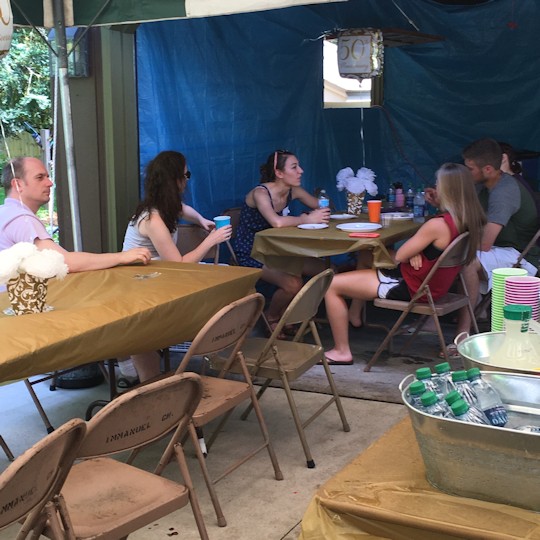 After everyone was stuffed we all were able to take a deep breath and relax a bit.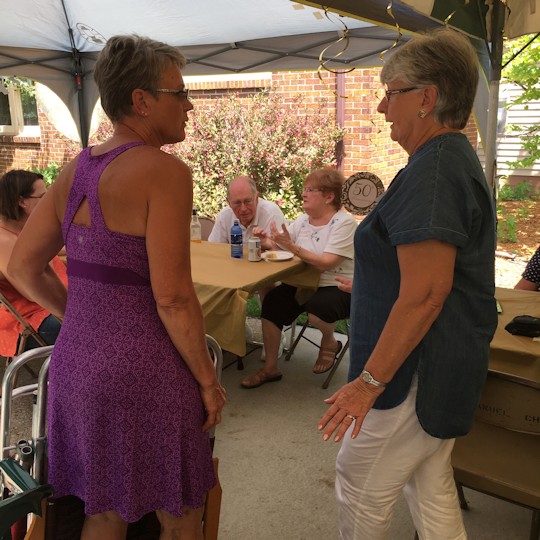 Everyone seemed to have a good time chatting, looking at the wedding dress, and checking out the photo table.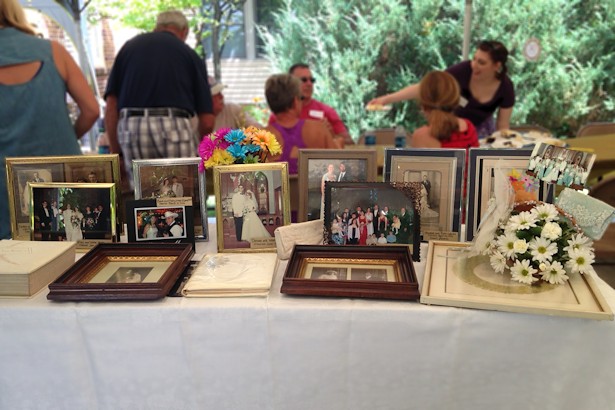 Mom had requested a table to display family wedding photos from ancestors on down to the present.
Elle & Ike's is on the far left in the middle row, then Princess & Cowboy's with mine & Teacher's behind it. In the very middle is Mom & Dad's. To the right is Jay & Dee's with College Boy and Irish Girl's behind. To the right of theirs are Mom and Dad's parents' wedding photos. The others are ancestors' photos, and tucked among those photos are Mom & Dad's wedding albums, the clutch purse Mom carried like Grandma, Mom saves almost everything too and a 50th Anniversary hanging from my great-grandparents' 50th.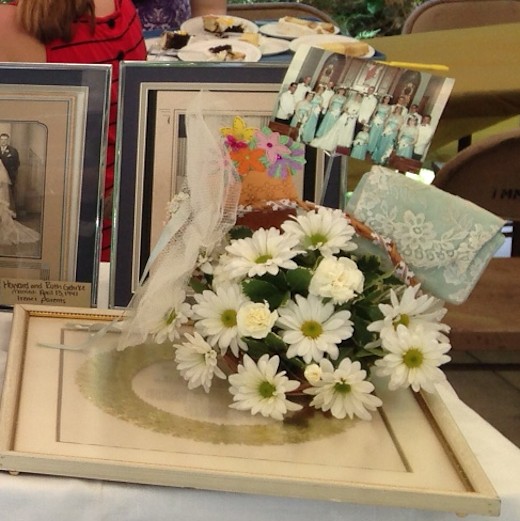 Sheila, the flower girl, had saved the basket she'd carried in the wedding and had a florist duplicate the flowers. She'd also saved her tulle hair bow, the clutch she carried, and a photo of the wedding party. Guess it's not just my family who saves everything!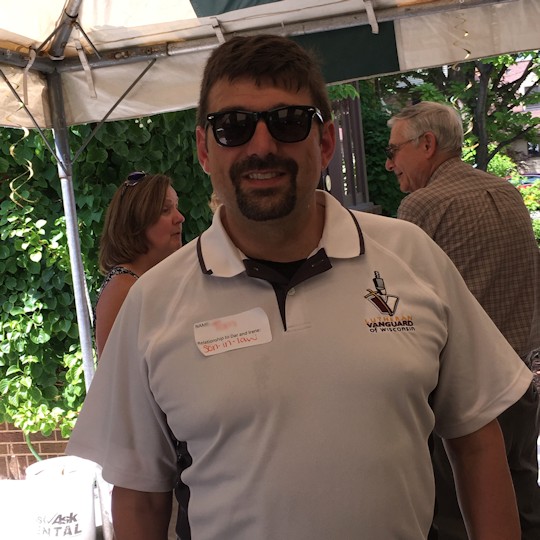 Look, it's Teacher! He's offering to help bring out the cakes. Since the forecasters had promised record high temperatures we decided to leave the cakes inside until it was time to serve them.
Mom had requested five individual cakes instead of a tired wedding-type cake. I ordered the cakes and asked for a different pattern of gold on white for each cake. I'd imagined more of a metallic gold decoration but was still happy with the final result.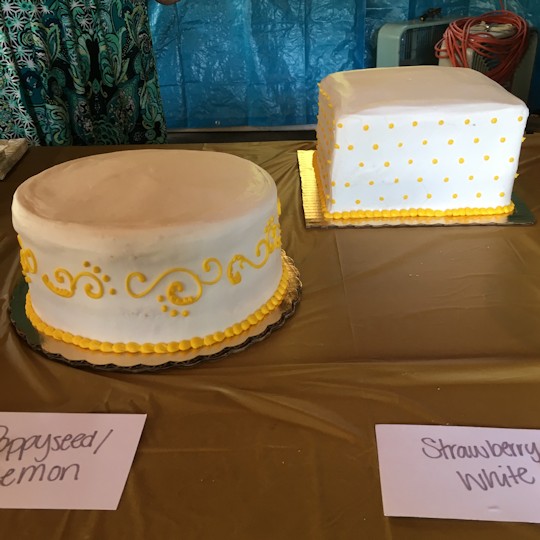 Four of the cakes featured two different flavored layers with complimentary filling. Poppyseed & Lemon had lemon filling while Strawberry & White had strawberry filling.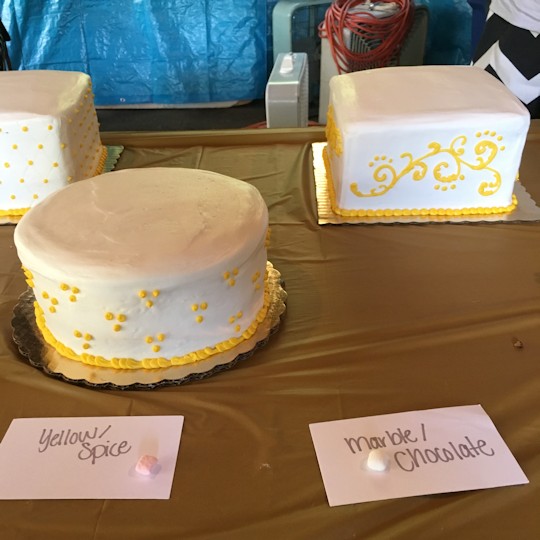 Yellow & Spice had a cream cheese filling, and Marble & Chocolate had a chocolate filling.
The fifth cake was German Chocolate, my Dad's favorite. It wasn't quite as good as Mom's homemade German Chocolate cake, but it was close.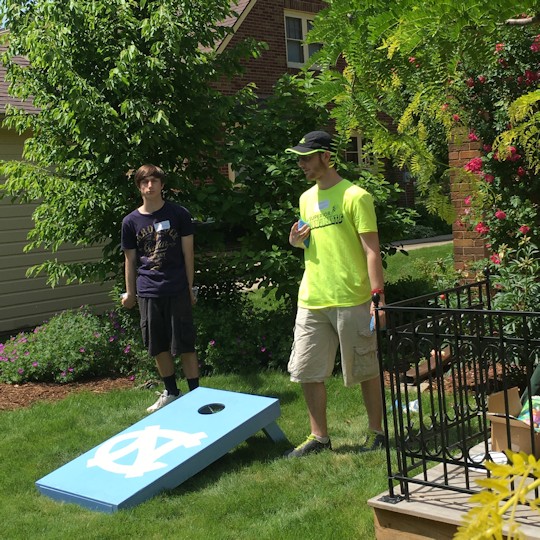 After cake there was more time for fun, like Alex & Nick challenging Uncle Jay and Cowboy at bean bag toss.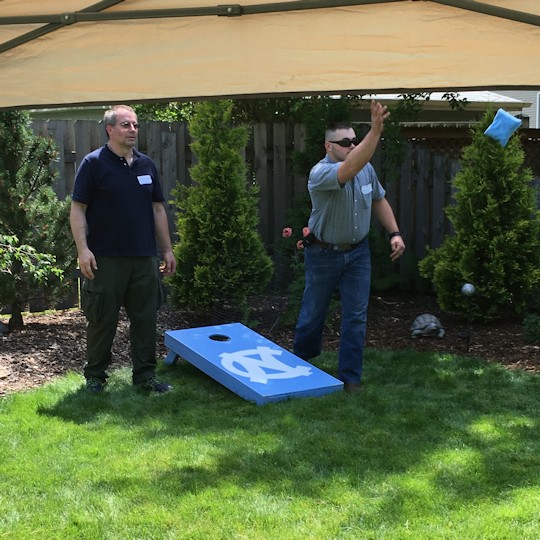 I have no idea who won, but "a good time was had by all!"