When I opened my child care in 1999 I had the children bring their own sleeping bags for nap time. It seemed like a good idea, but ended up being a huge hassle. The parents had to take them home to wash every Friday and didn't always remember to bring them back on Monday. Plus when a child had an accident it usually soaked through to the floor underneath, so I had that mess to clean up. I also had to figure out how to send the wet sleeping bag home for washing, and hope it came back for nap the next day.
I was thinking about providing sleeping bags for naps, but my licensor at the time said I should get nap mats. She told me how to make easy stay-on sheets basically big pillowcases with velcro on the open end and offered to give me the fleece blankets she'd used in her family child care program.
Now I don't know about you, but my mama didn't raise any dummies, so when someone like a licensor makes a suggestion I listen. I told her thankyouverymuch for the idea and the blankets, ordered some nap mats and made sheets and pillowcases to match the blankets she gave me.
They worked great for many years, and I was actually glad she'd given me the idea.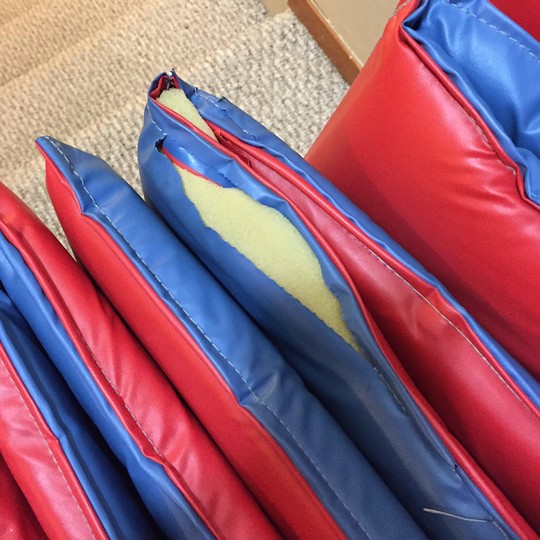 But last winter I was working on a project for the class I was taking which I'll tell you about someday – if I remember and realized that it was time to get new nap mats.
I started searching online for new mats. They had to be 2″ thick to meet licensing standards, and I wanted trifold style again to match the ones that didn't need to be replaced. I could not believe how expensive they'd gotten since the last time I bought some!
Since I need 6-7 mats I was NOT thrilled about paying around $25 each, and figured that for that price I could buy something nicer. So I started looking into cots.
Whoa – sticker shock!!!
Child-sized cots are even more expensive than nap mats! And most of them don't fold up so I'd have no place to store them.
Ugh! Back to the drawing board…
I happened to mention my conundrum to one of my kiddos' moms and she asked if I'd looked at Regalo cots. She said they'd bought one for each of their girls on sale for under $20, and offered to bring one for me to check out.
I loved it!!
It was lightweight, and so easy to use that the two year olds could do it themselves. It looked comfy, and was far enough off the floor that the kiddos wouldn't roll off of it like they sometimes do with nap mats.
I scoured the internet for the best price on Regalo cots and ended up ordering from Amazon. Not for under $20 each, but I can't complain.
I ordered them through Angel Face's account because she has Amazon Prime, so they arrived super fast.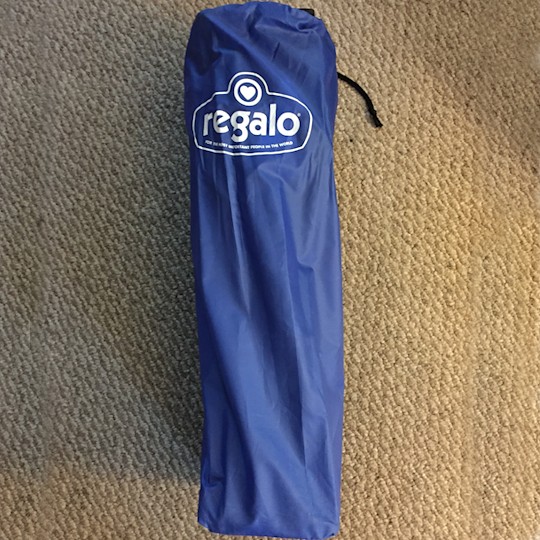 Each cot comes in its own carrying bag, which is another reason I liked them better than nap mats. According to licensing, nap mats/cots/sleeping bags have to be stored so they don't touch each other, so I used to store nap mats all over the living room. But with the cots in bags I can just stack them up in the corner!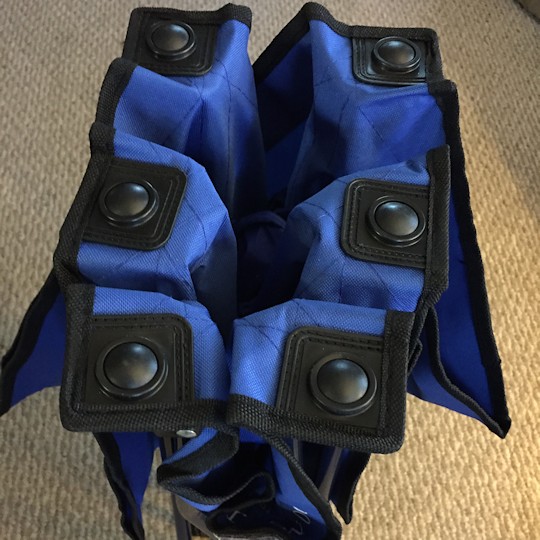 This is what it looks like folded up. I can grab the middle hinges in one hand to hold it closed and carry it at the same time.
The Regalo cots are SO easy to set up – you just push down on the hinges and it spreads out like magic.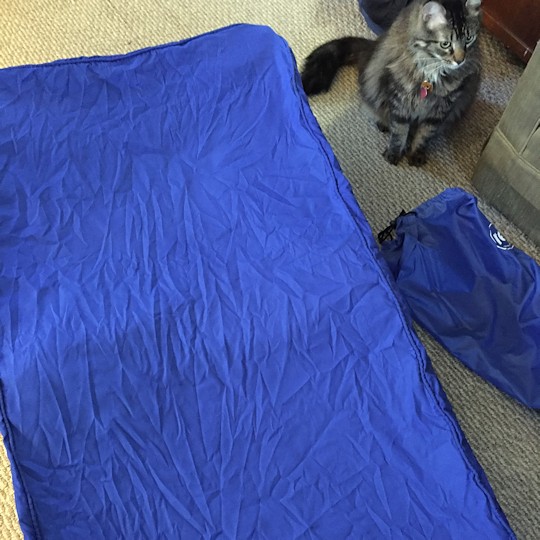 The sheets they came with have reinforced corners so hopefully they'll last a long time. They're a little wrinkled, but I'll wash them before using them so they'll be fine. Don't mind Snickers – he always has to be in the middle of the action.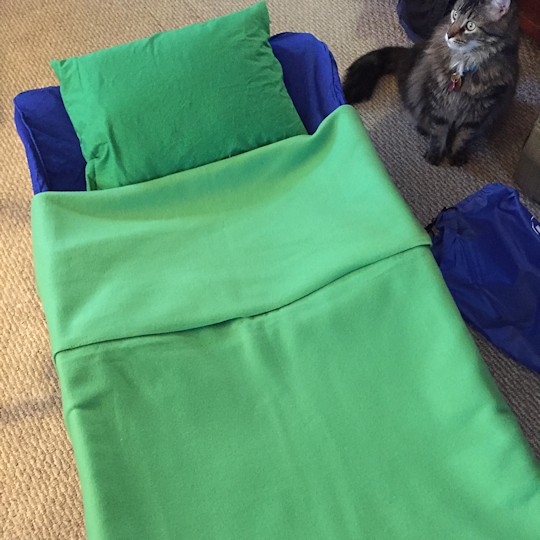 The old blankets were getting worn out which is another reason why I figured it was time for a change so I bought fleece and cotton for new blankets and pillowcases. I chose fabrics to match the dishes we use for meals, so everything would be color-coded.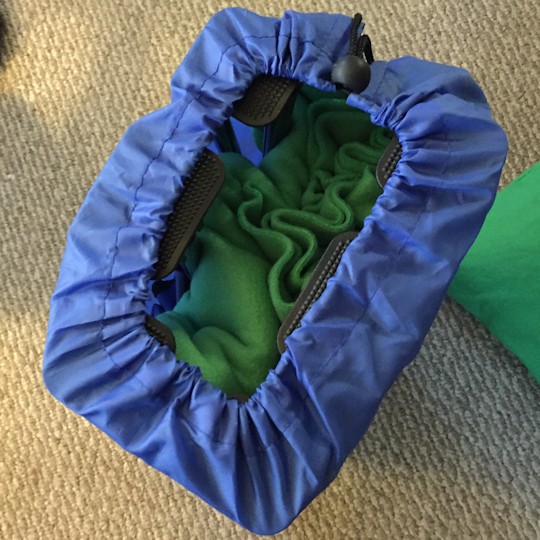 Originally I planned to fold the blanket inside the cot and put the whole thing in the bag with the pillow on top as pictured, but that ended up being too hard for the kiddos to do by themselves. And I didn't want their pillows out where they could get dirty, so we just fold the cots and stuff the pillows and blankets into the bags instead. It works great!
Bonus – the Regalo cots are smaller to store than the old trifold mats, so my living room doesn't look quite as messy as it used to.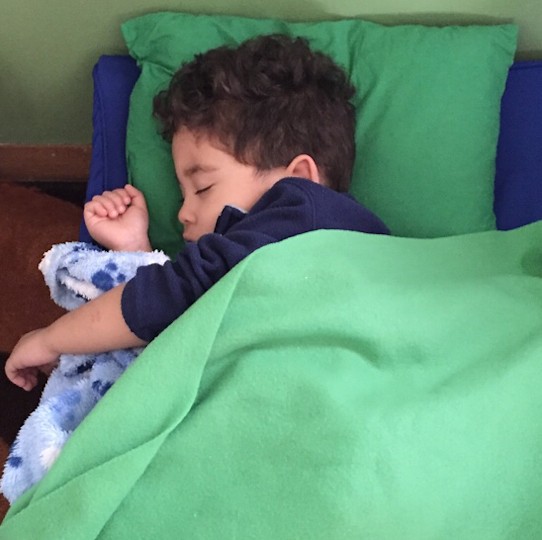 Best of all, the kiddos sleep great on them!