I gave Teacher the BEST Christmas present this year!
I suppose one could argue that the gift was really for me, considering how much I love margaritas, guacamole, and pretty much anything Rick Bayless, but since I was the one who bought it, wrapped it, and wrote Teacher's name on the tag, the cookbook was obviously a gift for him – not me.
That's my story and I'm sticking to it.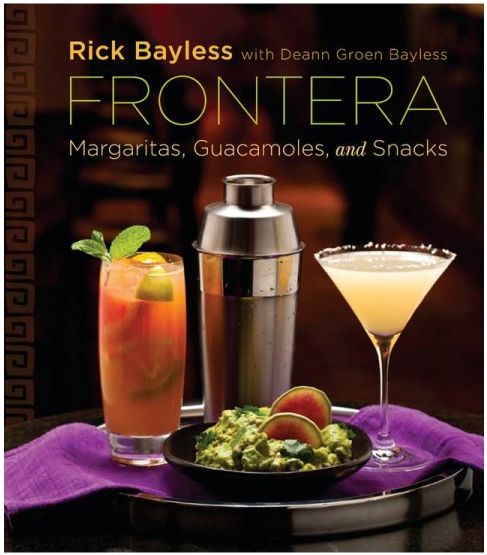 Sigh…
Isn't it beautiful?!
Of course we've been trying out the margarita recipes, and so far each one has been amazing.
Most recently we tried the Pineapple Margarita. I was a little worried I wouldn't like it because sometimes fresh pineapple is too acidic for me, but Teacher picked out a fantastic pineapple and the Pineapple Margaritas were incredible!
Pineapple Margarita a la Rick Bayless
Because the foundation of this margarita is fresh pineapple you want to buy the ripest pineapple you can find and use it right away. I always thought that a pineapple was ripe when you could pull a leaf out, but apparently I was wrong about that. Oops!
To tell if a pineapple is ripe, look for one that is firm, with a golden yellow color and strong, fresh pineapple scent.
Pineapple Margarita – Ingredients for Two Margaritas
3 oz 100% blue agave reposada tequila
1 1/2 oz fresh lime juice
1 1/2 oz triple sec
3 oz pineapple puree (step 2 below)
1/2 cup each sugar and water for the puree
1 1/2 cups ice cubes
Garnishes: 2 lime wedges & chile salt (step 1 below)
Pineapple Margarita Directions
1. Make Chile Salt:
Rick Bayless recommends Guajillo Salt for Pineapple Margaritas. To make Guajillo Salt, mix 1 part powered Guajillo chile with 2 parts kosher salt. Arbol, cayenne or chipotle chiles can also be used, but they're all spicier than Gujillo. Ancho is another possible choice; it is less spicy than Gujillo.
We already had Chile Salt made with Chipotle in our cupboard, so instead of making Gujillo salt we used our Chipotle Salt. It was yummy!
Teacher and had I experienced our first margaritas with Chile Salt at Antojitoes, our favorite neighborhood restaurant. The next time we made margaritas at home we found for a recipe online Mix 1/2 teaspoon chipotle powder with 1/4 cup kosher salt and have kept a container of it in the cupboard ever since.
2. Make Pineapple Puree:
To make about 3 cups of pineapple puree, cut the pineapple into chunks and place the chunks about 3 1/2 cups into a blender or food processor. Add 1/2 cup sugar and 1/2 cup water. Cover and pulse until the pineapple is finely chopped, then process until smooth and foamy. Strain into a container; seal and store in refrigerator until ready to use.
3. Mix Up the Pineapple Margaritas:
Spread your Chile Salt of choice on a small plate. Rub the edge of each glass with a lime wedge to moisten. Press the moistened rim into the salt to coat.
In a cocktail shaker, combine the tequila, lime juice, triple sec, pineapple puree, and ice. Shake for about 15 seconds then strain into the salted glasses.
If you don't have a cocktail shaker you can shake the margaritas in a large-mouth water bottle, then strain them with a spider, slotted spoon, or pretty much anything that will keep the ice out of your drink. We've made margaritas in a water bottle for years and it works just as well as the cocktail shaker we recently acquired. Just make sure to wash the water bottle out really well so when your child takes it to school or a soccer game it doesn't smell like tequila.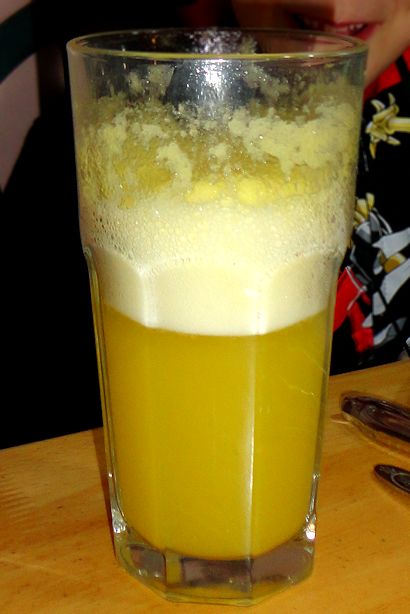 If you're looking for a way to use the rest of the pineapple puree, Rick Bayless suggests mixing it with carbonated water to make agua fresca. He doesn't say how much water to add so we experimented and ended up with a mixture that was a little over half water and a little under half puree. It was obviously foamy on top, but the kids didn't seem to mind.
If you try the Pineapple Margarita recipe, be sure to drop me a line and let me know what you think!