Some families take their kids to a farm where they ride hay wagons out to a pumpkin patch and pick their pumpkins right from the vine. We've done that with our kids many times, but not this year. This year we took the kids on a car ride to a florist where they picked their pumpkins right from the blacktop. The story isn't as nostalgic, but the end result was the same – we had pumpkins to carve!
Friday morning we brought the pumpkins inside to warm up all day before carving. We learned that lesson the hard way; scooping goop out of frigid pumpkins is not much fun. I wasn't sure how well the evening would go because we'd had a wave of the pukies take down Little Guy, Princess and Peanut the previous night. That's why Little Guy is in mis-matched PJs; when you're dealing with puke you're just happy to have clean PJs even if they don't match.
Teacher opened Little Guy's pumpkin so he could start scooping out the goop. I was afraid that after being sick he wouldn't be able to take it, but he was fine. Princess not so much so instead of getting down and dirty she took the pictures.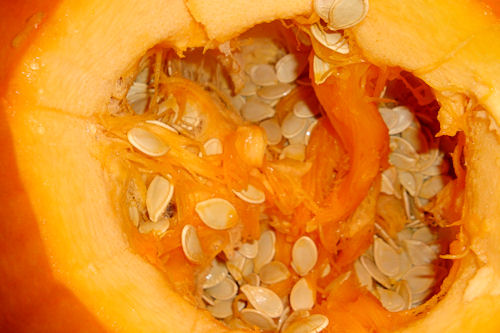 Mmmm, I love the smell of fresh pumpkin! Start scooping, Little Guy.
Brrrrr! Looking at Angel Face makes me cold, but she didn't want to deal with sleeves when scooping out the pumpkins. Personally I'd just pull up my sleeves – I hate being cold.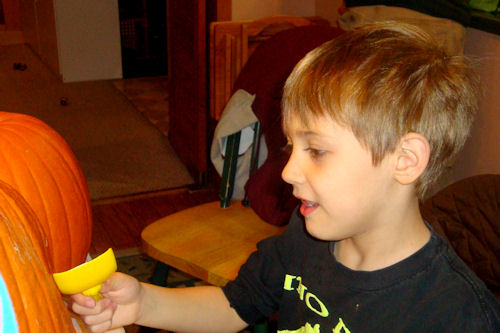 Z-Man was really excited about carving his pumpkin and could hardly wait for someone to open it for him. He kept begging to be allowed to cut it himself but I wouldn't let him. Taking one child College Boy when he was younger to the E.R. because he tried to cut his hand open is more than enough for me!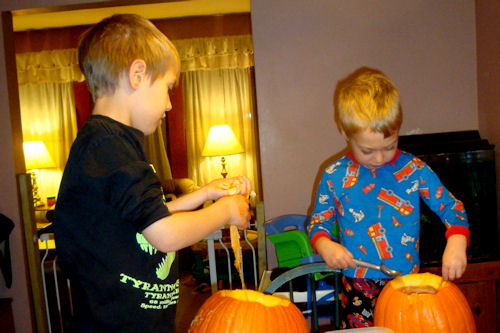 Finally both boys' pumpkins were opened so they could dive into the goop.
Angel Face dove right into her pumpkin too. College Boy was never fond of getting his hands into the pumpkin guts, but his siblings don't seem to mind at all.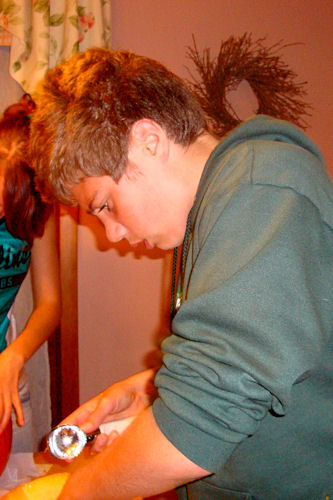 Jo-Bear tried an ice cream scoop on his pumpkin. We used to have a big metal spoon that worked great for scooping out pumpkins, but last year it broke. The ice cream scoops are almost as good.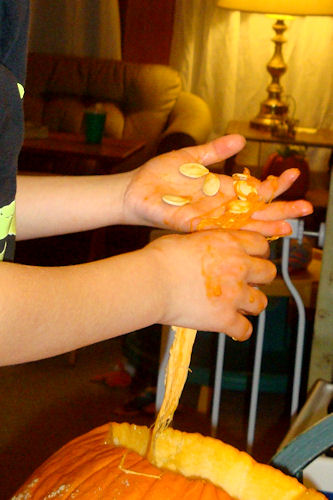 Z-Man really loves playing with his pumpkin's goop.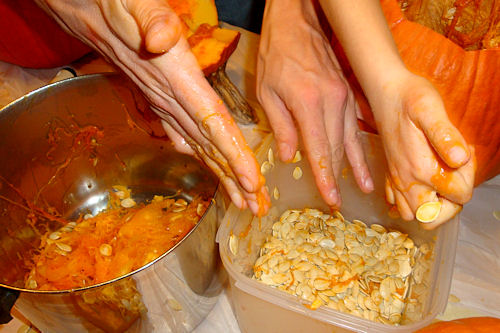 We always separate the seeds and goop so we can roast the seeds; Teacher, College Boy and Jo-Bear are especially fond of roasted pumpkin seeds.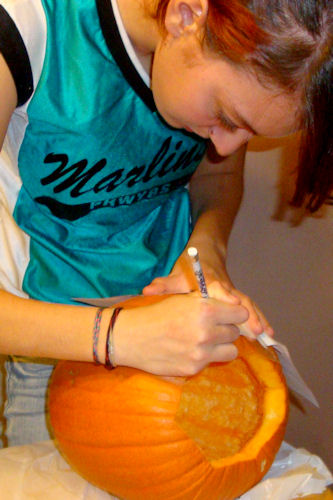 Angel Face is ready to start her design. The kids have tried many different methods to transfer their designs to their pumpkins; their favorite method is drawing right on the pumpkin.
I'm obsessed with getting ALL the goop and strings out so I helped Little Guy finish cleaning out his pumpkin.
Perfect! Time for Teacher to take over – he's our Master Pumpkin Carver.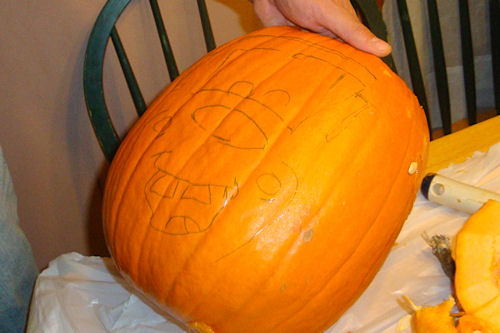 This is one of those times where Teacher's art background comes in handy. Little Guy is still deep in his Cars obsession and wanted a Mater pumpkin.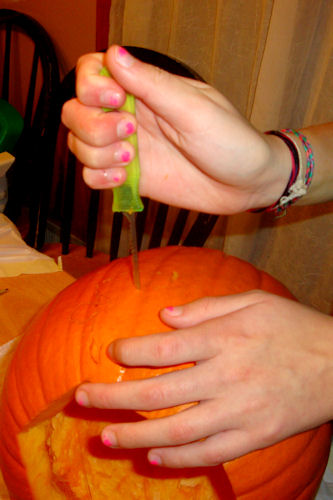 Angel Face is ready to start carving. Watching her I have the first cut is the deepest going through my head.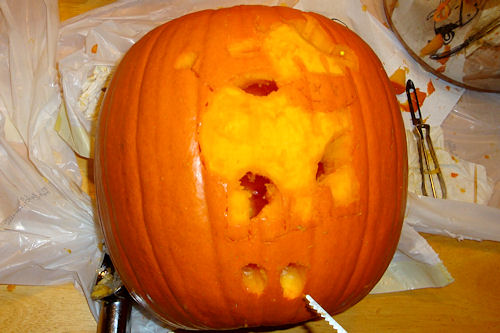 Can you tell what she's carving?
I'll give you a hint: she also carved "Oom" into the pumpkin. Does that help?"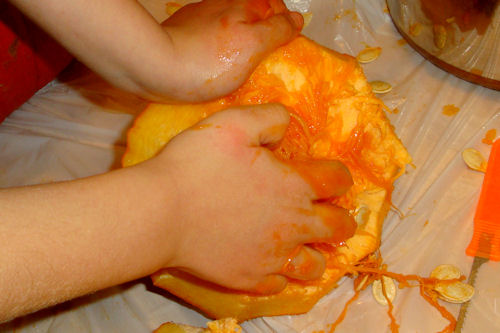 Z-Man is STILL playing in the goop.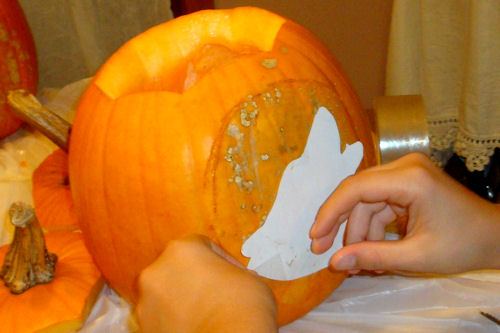 Jo-Bear often makes his pumpkin similar to his costume. This year he was a werewolf so he chose a wolf design for his pumpkin. He traced around the pieces with a Sharpie, which worried me at first because I didn't know if it would come off, but it did.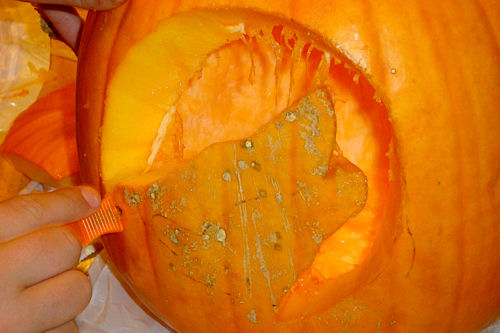 Almost done – it looks great Jo-Bear!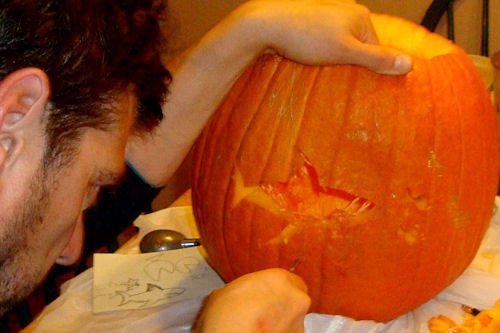 Z-Man finally stopped playing in the pumpkin goop so his dad could start carving. He had a hard time deciding what he wanted on his pumpkin, but eventually decided on "fish." Teacher carved a small underwater scene with a shark, starfish and little fishies. Z-Man was so excited about it, especially the shark.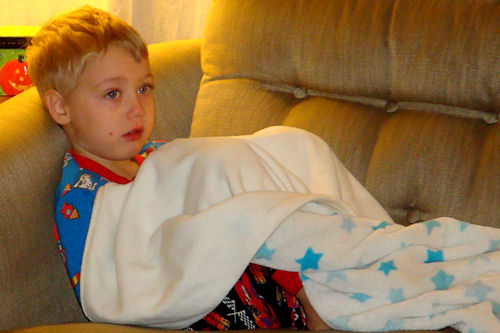 Little Guy was still tired from being sick so once his pumpkin was done he cuddled on the couch with his blanket. Poor little guy!
Peanut was feeling much better, but wasn't 100% either. She wandered around on the floor, weaving between our legs for a while, then settled on the couch to watch TV when Backyardigans came on. She'll get to carve her pumpkin with her mommy and daddy when Cowboy gets home from work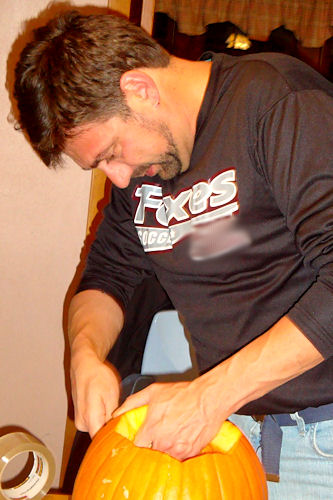 Every year Teacher carves a pumpkin especially for me. One year it was the Zany Zebra logo, last year it was a haunted house…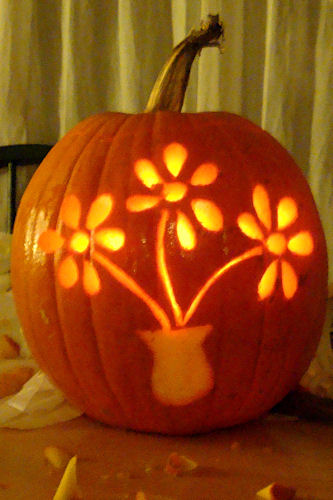 This year it's flowers!
Thank you Teacher – I love them!
What did you carve on your pumpkins this year?