Several weeks ago I bought a new purse but I couldn't "move in" because I didn't have a wallet for my credit cards. My old purse was one of those organizer-types with multiple compartments, including one for credit cards, cash, driver's license, etc. Being more than a bit OCD, I had all my "stuff" divided among the compartments so I could find what I wanted quickly and easily, and didn't want to dump everything willy nilly into the new purse.
So I started looking for a new wallet.
Sure, I could've made myself another new wallet, but I remembered what a PITB making the last one was. Besides, I had other projects that had to be finished first, and – truth be told – I didn't want to wait, I wanted it NOW!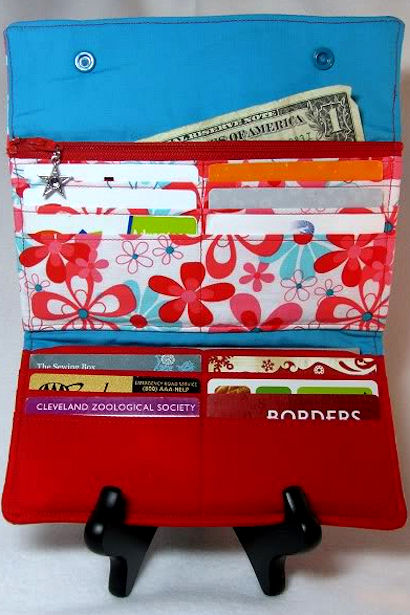 After searching Etsy and Hyena Cart I found one that had all the features I wanted.
The credit card slots, zippered pocket, and openings behind the bottom set of credit card slots and the zippered pocket fulfill my OCD need to categorize and organize my cards, photos and coupons.
Photo credit: The above photo was shamelessly "borrowed" from The Sewing Box because the one I took was incredibly blurry.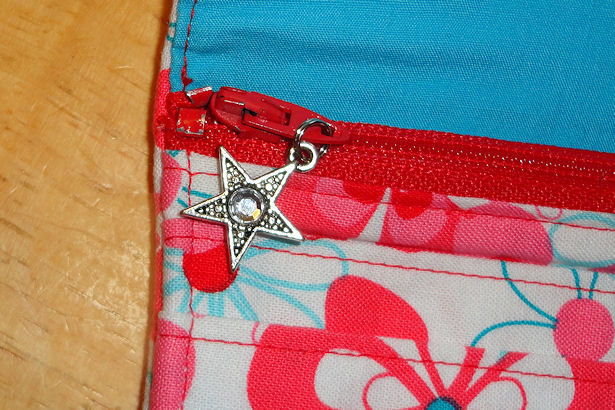 Plus there's this really cute star charm on the zipper. What more could a girl ask for in a wallet?
How about a fabric she loves?
Yup, you guessed it: I didn't like the fabric.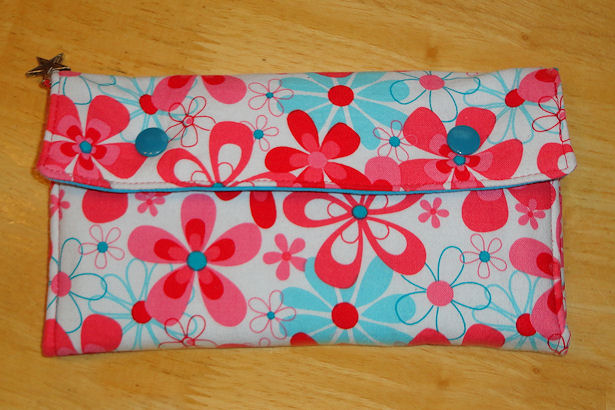 Although I like things that are bright and cheerful, the flower print reminded me of the 1970s. I remember the late 70s, and am in no hurry to relive them. Plus, the wallet has a lot of red in it. Red isn't one of my favorite colors. I don't hate it as much as I hate 1970s avocado green and baby-poo gold, but I prefer jewel tones like sapphire blue, jade green, and amethyst purple. Like the colors of the Fairy Purse my friend Shadow made for me.
I decided to wait a couple of days, then start looking for another wallet with the same features as this one, but it had gotten under my skin. I found myself going back to The Sewing Box to look at the wallet again and again, and again! When I panicked because I couldn't find it right away and was sure someone else had purchased it, I knew it was the wallet for me.
Retro-ish flowers, red inside, and everything.
And I'm so glad I did! The wallet helped me find a home for all the stuff that was in my old purse. And every time I reach for it the bright colors and cheerful flowers make me smile. I'm even beginning to like red a bit more than I used to.
In addition to the wallet I received a gorgeous bead zipper pull and a facial round – both for free! If you like the zipper pull, check out the Sewing Box – there are several zipper pulls in stock right now, at reasonable prices. I'd order another in a heartbeat, but I'm waiting for a purple one.
I think the Sewing Box rocks!