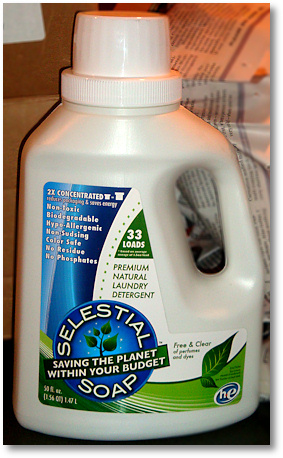 I got a free full-size bottle of laundry detergent in the mail – how cool is that! How'd I get it? Ruth of Selestial Soap offered to send it to me. I know, that answer doesn't help you much at all, does it? Keep reading; all will be explained.
I'm always getting emails from sites wanting to trade links with Zany Zebra. Most of the time they want me to link to their main site but they put my link on a glorified link farm that you can't even find from the site's home page. Nice try but I'm too smart to fall for that.
I always read the emails though, in case there's another WAHM or worthwhile small business that I think my site visitors would be interested in. Ruth's email was one of those. She told me about her laundry detergent; that it's natural, has no residue, no foaming surfactants, is made up of sodium carbonate (soda ash) sodium tetra borate ( borax), sodium chloride (salt) and glycerine, etc. No, I didn't remember all of that, I looked up her original email. Ruth offered to send me a sample to try and see if I'd recommend it for cloth diapers. I'll always take free samples so of course I agreed.
Expecting a two-to-three load sample, I was shocked and thrilled to receive a full-size bottle of Selestial Soap! Since there was laundry to do – there's ALWAYS laundry to do around here – I tried it out right away. The "2x concentrated" Selestial Soap calls for me to use the same amount as my 2x concentrated Arm & Hammer Essentials. The Selestial is thinner than the Arm & Hammer, but that's not a big deal in my opinion. Arm & Hammer has a fairly strong scent, but Selestial only has a very, very slight soapy smell – one that's so light I had to stick my nose into the bottle and breathe deep to notice.
The laundry came out clean and bright with no scent at all on it – I really like this stuff! Since Teacher does the grocery shopping I have no idea how much Arm & Hammer costs, but if Selestial Soap is comparable we've got a new laundry detergent!