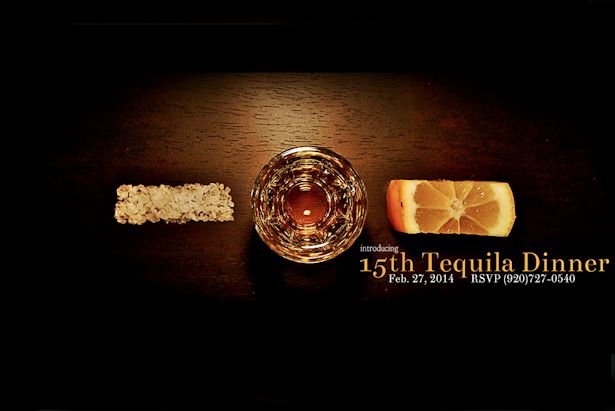 Can you guess what time it is, boys and girls?
That's right – time for another Solea Tequila Dinner!
The Solea tequila tasting dinner is something I look forward to like football fans look forward to that first kickoff of the season.
Sadly, I had to Google that because I am not so much a football fan. I was going to say Opening Day, but that's baseball; I had to Google that too cuz I'm not so much a baseball fan either.
Teacher and I enjoy tequila tasting the way some people enjoy wine tasting; we sip and savor, compare and contrast, discuss the different "notes" and "bite" – or lack thereof – then file our favorites and not-so-favorites away in our memory banks for future purchasing. OK, I cannot tell a lie; Teacher files the results away in his memory bank while I end up staring blankly at the shelf of tequilas saying "I think the bottle was blue… Or maybe the label was blue… It didn't have a rooster on it… Did it?"
The tequilas are only half of the attraction; we love Mexican cuisine, and the food has always been simply amazing. My mouth is watering just thinking about it!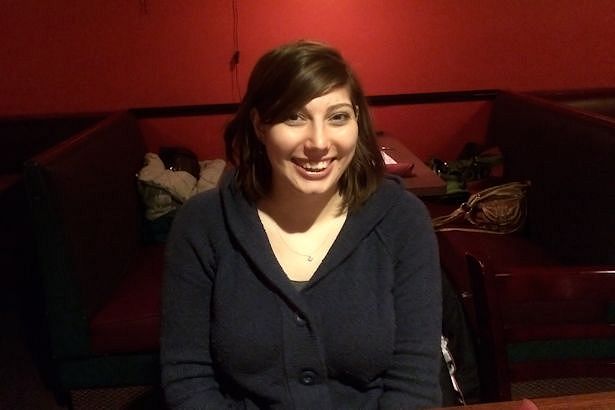 Teacher have been trying to get a big group of people together for the last couple of Tequila Dinners, but between the people who don't like Mexican food, the people who don't like tequila, and the people who don't have time, we haven't managed it yet. Party poopers!
That's OK; Princess likes the Tequila Dinner as much as we do, and we enjoy spending time with her, so we're happy to be a group of three. And this year everyone in our section ended up talking, joking and laughing together by the end of the night, so it was like we were one big group – even though we really didn't know each other.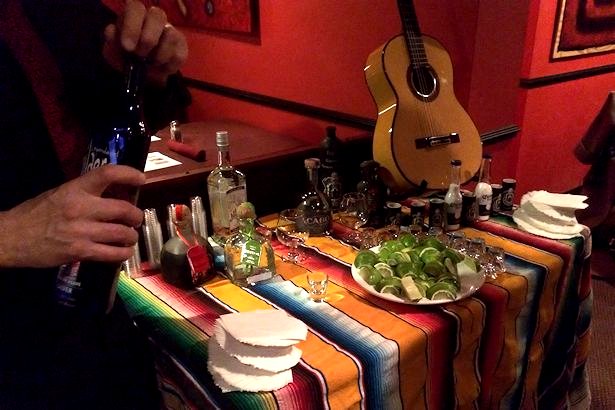 When most of the guests were seated the host whose name I don't remember because I'm terrible with names invited us all to begin the evening by tasting the featured tequilas. Most of them – Cabo Wabo, Patrón Silver, Camarena, Milagro Silver – have been in our home at one time or another, but we hadn't bought any El Jimador yet, and had never heard of Patrón XO Cafe.
See the blue bottle on the left? That's Milagro Silver – one of my all-time favorites!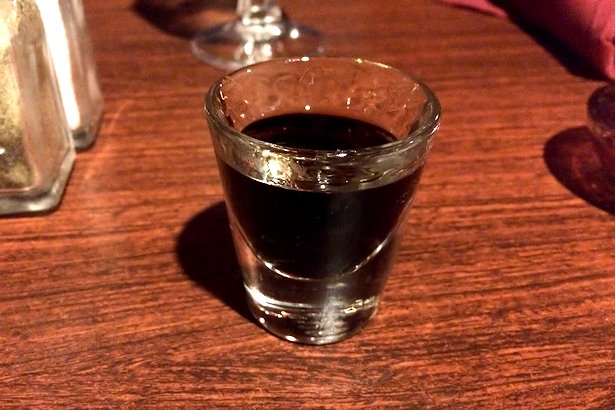 Since it was brand-new to us, the Patrón XO Cafe had to be the first one we tried.
O.M.G. it was SO good! Sweet, smooth, rich, with a definite taste of chocolate, it's hands-down my new favorite tequila. I could definitely sip this over ice. YUM!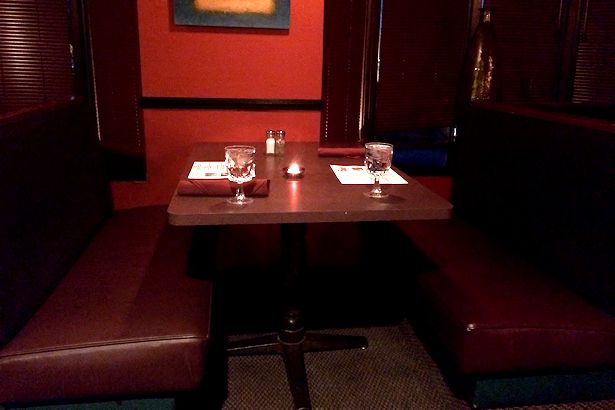 Look – there's an empty booth just for you! Next time you'll be there, right?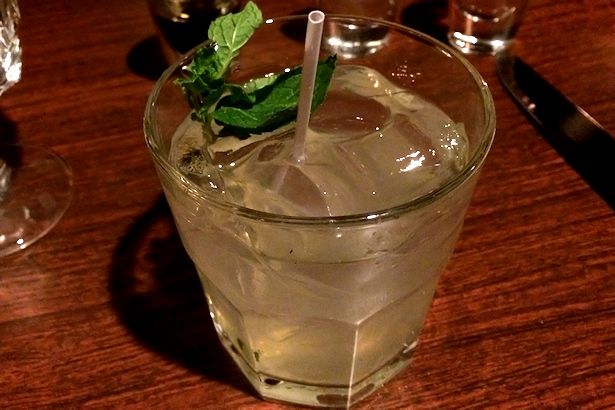 It wasn't long before the first drink arrived: a Cabo Wabo Mojito. They didn't list the drink ingredients on their menu this time so I'm guesstimating as best as I can. Obviously this had lime juice, mint and Cabo Wabo tequila. I'm a huge fan of mojitoes so this drink really started the evening off on a happy note for me.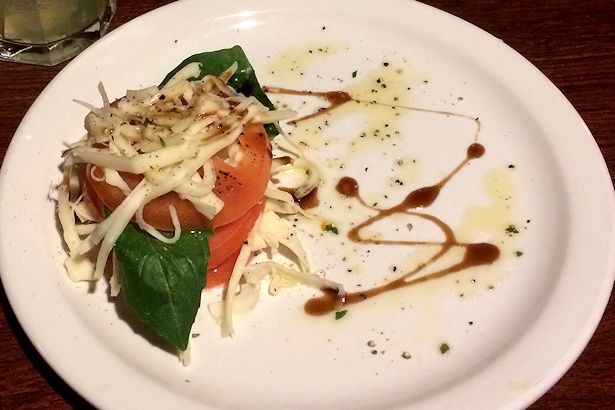 Accompanying the Mojito was Tomato and Oaxaca Cheese Salad: three slices of ripe, juicy tomato layered with Oaxaca say "Wah-hah-kah" cheese and fresh basil, drizzled with Balsamic vinegar and basil oil. At first I thought it was too cold out for tomato salad and Mojitoes, but they were so incredibly fresh and refreshing that it was like having a bit of summer in the middle of winter. The second-coldest winter in history, by the way.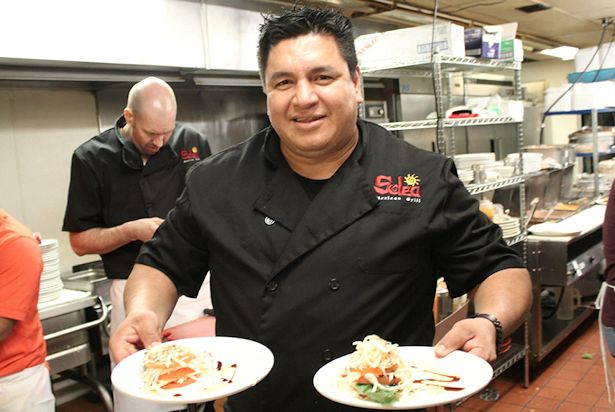 Time out!
This is Marco Sanchez, the chef for the Tequila Dinners and an all-around great guy. He always recognizes us and greets us warmly when he sees us in one of the Solea restaurants.
In case you were concerned, I wasn't wandering around the kitchen; this photo is from Solea's Facebook page.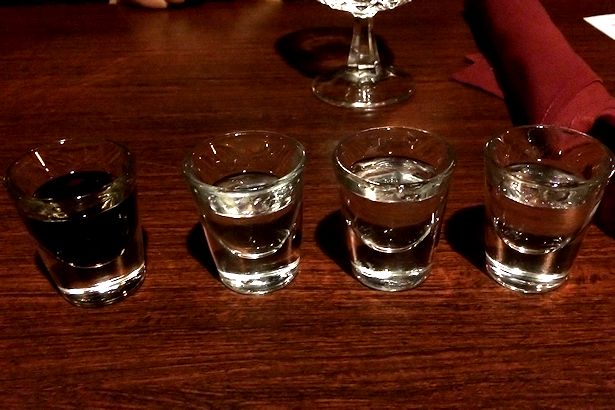 One tequila, two tequila, three tequila floor!
Just kidding – none of us hit the floor.
Since the whole purpose of Tequila Tasting Dinner was to taste different tequilas, Teacher brought us samples of the other brands on the table: left to right we have Patrón XO Cafe, Cabo Wabo Blanco, Milagro Silver, and Patrón Silver.
We quickly learned that you should approach a tequila tasting like a you would a wine tasting – start with driest less sweet sample then progress step by step to the sweetest one. In other words, we should've started with anything except the Patrón XO Cafe. Oops!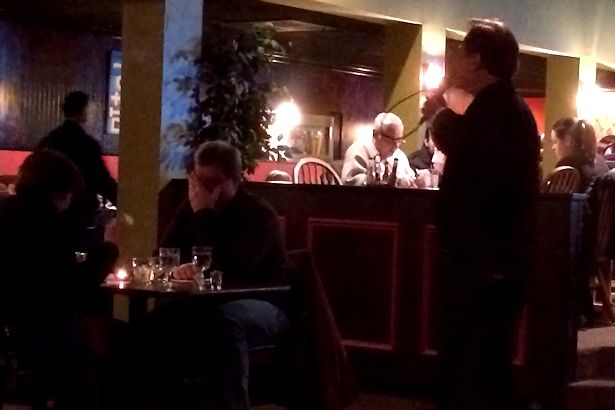 In between courses the host whose name I forget because I'm so bad with names told us interesting facts about tequila in general, and the featured brands specifically. He also asked trivia questions about tequila and gave away vouchers for free drinks as prizes.
Teacher won a free drink for knowing the connection between Jack Daniels barrels and tequila. I'm not telling the answer; you'll have to come to the next Tequila Dinner to find out!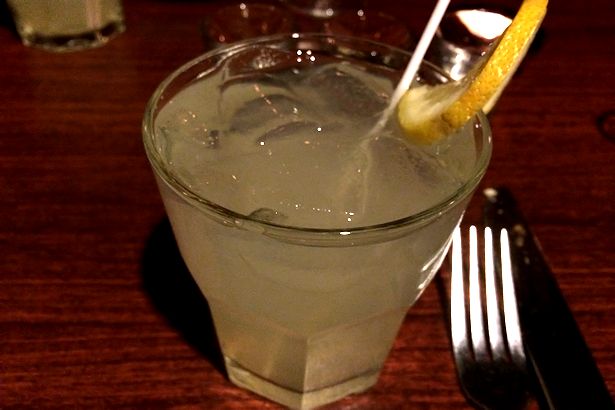 The second course began with a Patrón Paloma: Patrón Silver tequila, lime juice, orange juice and grapefruit juice. I'm not a huge fan of grapefruit so I really noticed that grapefruit bitterness on the back of my tongue, but I have to admit it paired nicely with the food.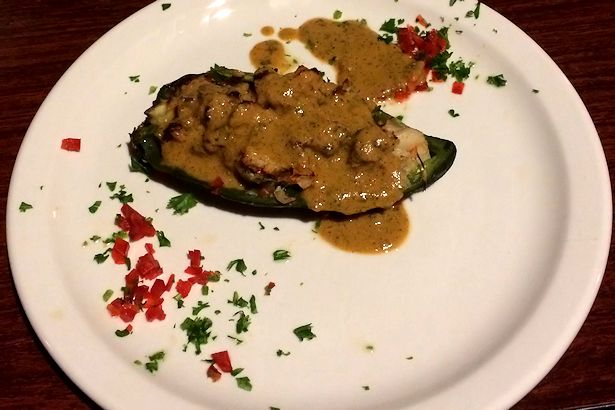 Seafood Chile Relleno – YUM!. When I read the menu I'd imagined a whole stuffed pepper, but this was much more elegant: half a roasted Poblano pepper filled with shrimp, Dungeness crab not that fake Krab stuff and scallops, covered with a fire roasted tomato cream sauce. The pepper was roasted enough to bring out the flavor but not so much that it was mushy, and was spicy enough to perfectly offset the richness of the seafood and the cream sauce. Heaven on a plate!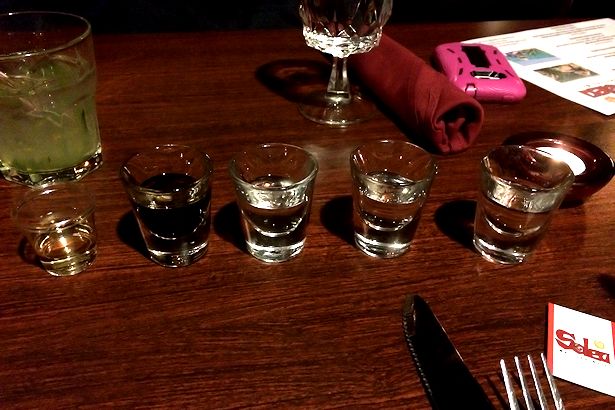 One of the other guests pointed out that there wasn't any El Jimador on the tasting table, and once that oversight had been remedied Teacher brought us some to try.
Teacher's really good a picking up on the slight nuances of flavor which is why he's such a great cook and was figuring out which tequilas would go well in our favorite Margarita recipe, and which would work better in specialty Margaritas, like a Pineapple Margarita.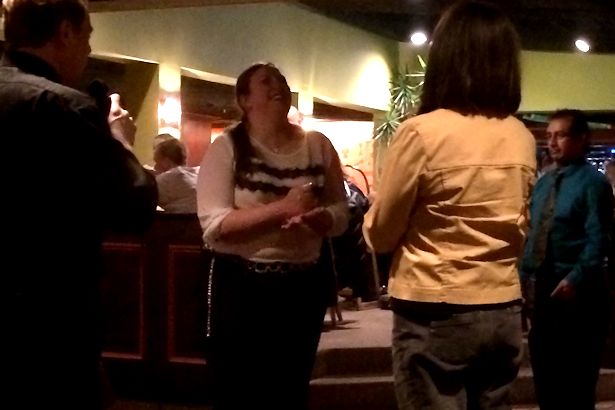 As we finished our second course the host who remains nameless because I'm awful with names picked two random people from our end of the dining area to do "Rock, Paper, Scissors" for a free drink before he asked any trivia questions. Teacher and I thought it should be "Rock, Paper, Scissors, Lizard, Spock" but they didn't listen to us.
Wait, you don't know what "Rock, Paper, Scissors, Lizard, Spock" is?
Watch and learn, my friend; watch and learn.
After the girl in the left won "Rock, Paper, Scissors" he asked some more questions and Princess won a free drink for knowing what "Plata" meant. It's very handy to having a Spanish minor around at times like these. Just sayin'…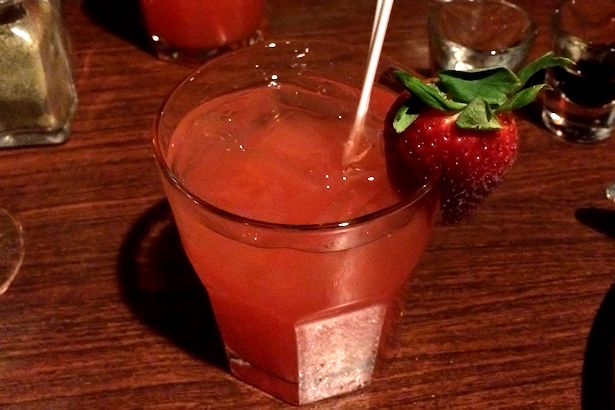 Following closely on the heels of "Rock, Paper, Scissors without Lizard, Spock" was the next drink, a Strawberry-Beer Camarena Margarita. I dislike beer as passionately as I like tequila so I wasn't sure what I'd think of this, but I could hardly taste the beer. It had a sweet, but not fake, strawberry flavor with a little fizziness from the beer, and the Camarena Reposado added a depth that silvers don't usually have.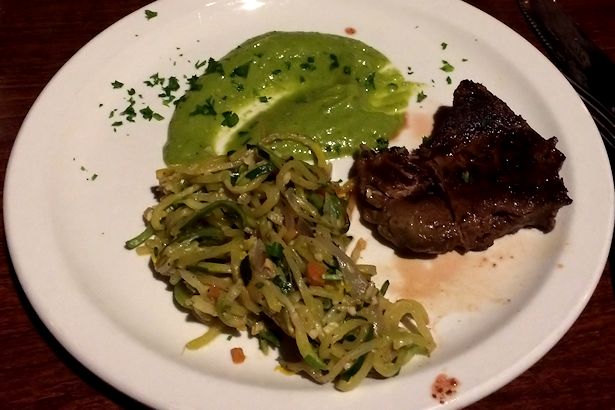 The third, and what I consider the "main" course was Black Angus Tenderloin with Arriera Sauce, accompanied by julienned zucchini, onions and carrots. YUM again! The steak was perfectly seared on the outside and juicy inside, while the veggies were tender-crisp and flavorful. Although Arrierta sauce has a reputation for being fiery hot probably because the main ingredient is Serrano peppers this version wasn't bad at all; even Princess who admits to being a wimp when it comes to hot food enjoyed it.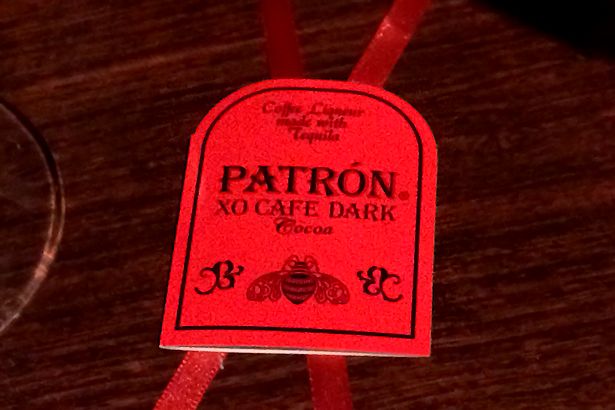 Somehow the tag from the Patrón XO Cafe ended up at our table. I'm not sure how, it just appeared out of the blue. That's my story and I'm sticking to it!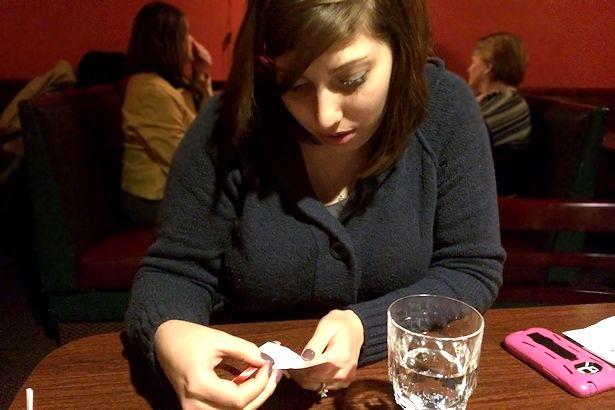 Princess was excited to see the recipe for "Espresso Cocoa Martini" on the inside of the tag:
3/4 oz Patrón Silver
3/4 oz Patrón XO Cafe Dark
3/4 oz Espresso Shot
Fine Sugar
Powdered Chocolate for garnish
Rub the serving glass with sugar. Combine liquors with espresso in a mixing glass. Add ice; shake, then strain. Garnish with powdered chocolate.
Doesn't it sound like the perfect drink for curling up on the couch with Teacher and watching House of Cards? I think so and can't wait to try it this weekend!
I ended up winning a free drink too, so we had a Hat Trick of free drinks at our table. I didn't have to Google "hat trick" – I know hockey terminology cuz Teacher's a HUGE hockey fan.
We can't remember if I won the drink for "Santana," "Blue Agave," "Jalisco," or some other answer; between our research into tequilas and hearing the questions at previous Tequila Dinners, Teacher and I knew the answers for most of the questions so I was tossing them out indiscriminately. But we made sure that all the tables in our section won a free drink too.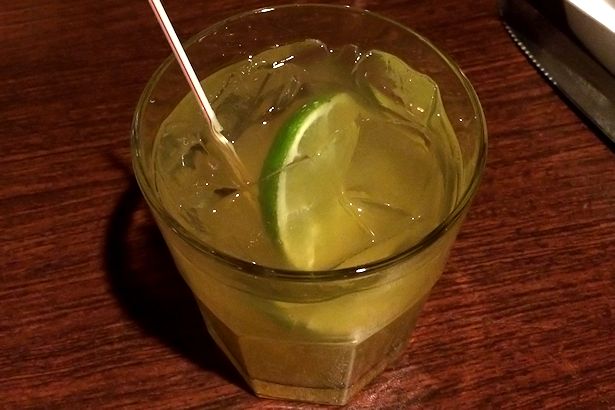 The fourth drink was called "Perfect Jimador Margarita," and it was pretty darn perfect. The lime juice was obviously fresh, not a mixer like you get some places. I love trying different types of Margaritas, but my favorite go-to Margarita will always be the traditional lime.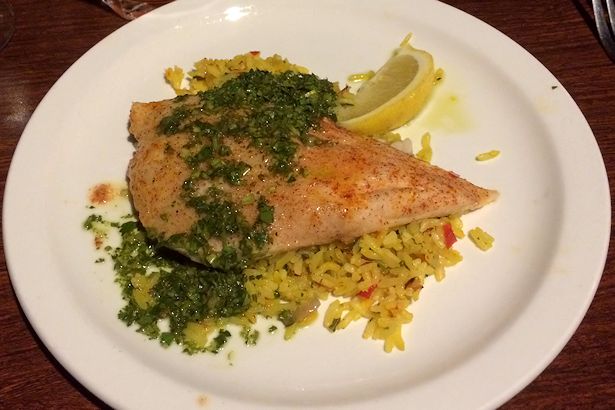 Accompanying the "Perfect Jimador Margarita" was "Huachinango al Perejil" – Red snapper with a Solea-original chimichurri sauce and saffron rice. I loved this course – the tangy chimichurri was a perfect complement to the moist, tender, flaky fish, and in my opinion you can never go wrong with saffron rice. SO good!
Every time we have red snapper I remember the time I was pregnant with one of the boys and Teacher brought home a whole red snapper to make for dinner. The fish was fresh and gorgeous, but after one look at its head, tail, and open gut area I had to leave the room – quickly. I've heard that some women's pregnancy aversions hang around after their babies were born, but luckily that didn't happen to me!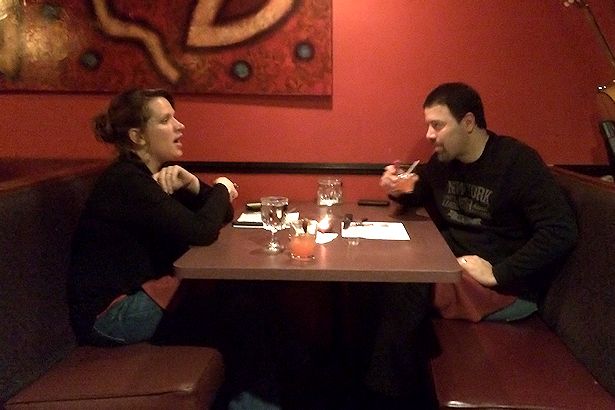 Time out!
These were our next-table neighbors: my newest Facebood friend Jessica, and her husband Jim.
We didn't know each other at the beginning of the night, but as the dinner progressed and the tequila flowed we started chatting back and forth across the aisle with each other, and by the end of the night we'd joined them at their table. OK, I cannot tell a lie: I got tired of talking across the aisle and plopped down by Jessica to chat while we waited for our designated driver, Cowboy, to pick us up.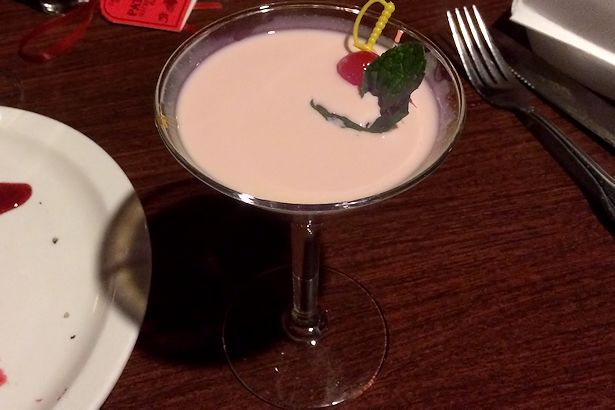 All too soon the dessert course began. The "Nutty Mexican Kiss" was fantastic but I'll be honest: I have no idea what was in it.
Like I mentioned before, the menu didn't list the drink ingredients like previous menus have so I've had to guess and this one has me stumped. My best guess is that it's a variation of the "Nutty Cocoa" recipe I found on the Patrón XO Cafe Dark recipe page, but I don't remember an almond flavor so maybe they used a different nut-flavored liqueur and added strawberry juice, or maybe they used a strawberry liqueur… I sure wish I'd asked!
I didn't care for last year's strawberry drink that tasted like melted strawberry shake, but I loved this one! It was sweet, smooth, slightly nutty and chocolatey, and had a fresh flavor from the strawberries. I really wish they'd listed the ingredients so we could try to duplicate it! Which could be why they stopped listing drink ingredients…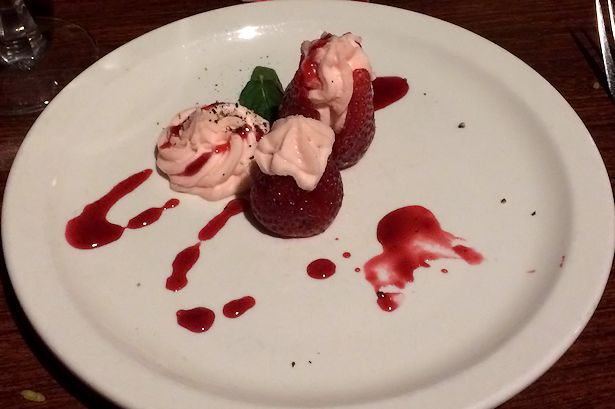 Dessert was "Fresas rellenas de Crema de Queso y Raspberrie Sauce" – aka Fresh strawberries stuffed with cheesecake and drizzled with raspberry sauce. Delicious!
I'd anticipated a typically rich and heavy cheesecake, and it was rich, but light enough not to overpower the strawberries. Which I should mention were amazingly ripe for February in Wisconsin! Teacher pointed out the sprinkling of black pepper on the cheesecake – lately I've been putting pepper on EVERYTHING except sweets, so it was ironic to see pepper on dessert. It really enhanced the flavors too!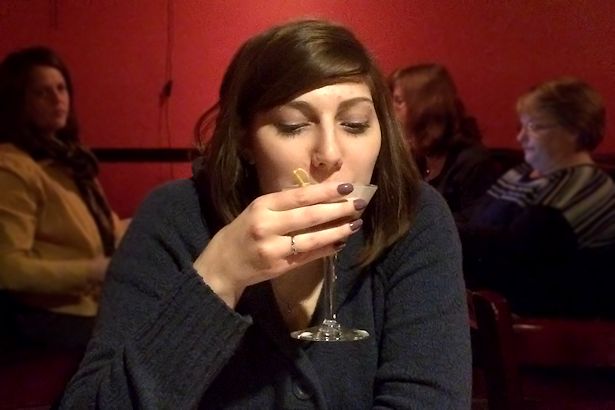 Princess really enjoyed the Nutty Mexican Kiss; we both agreed we'd order it for dessert if it were on the menu. Actually, we all agreed that we'd order all everything we'd had tonight again if they were on the menu. It was just THAT good!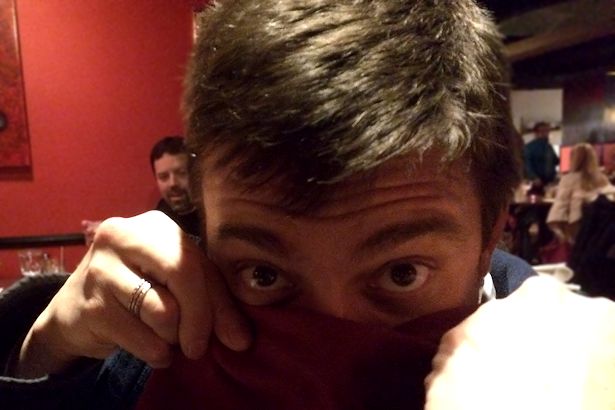 As we finished eating but before I visited our next-table neighbors I realized I'd taken numerous photos of Princess, photos of the food, and photos of people we'd just met, but hadn't taken any photos of Teacher. Of course he had to "pose" as soon as he saw me point the camera at him – the fact that he can always make me laugh is just one of the reasons I love him so much!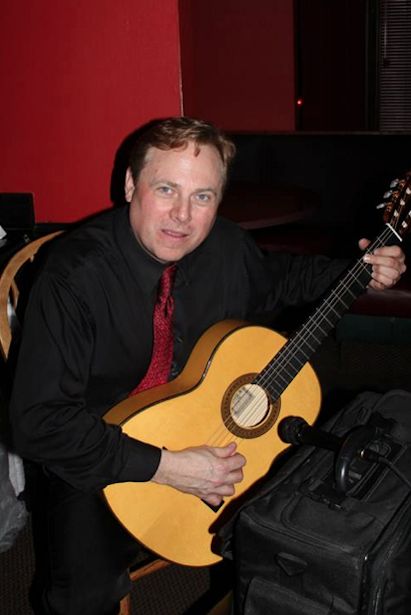 As always, the evening ended with our host whose name I'm going to write down next time because I'm hopeless with names picking up his guitar to serenade us as we left. It was another night of incredible food and drink, and I can't wait for the next one! I think it'll be in June and it's always on a Thursday, so pencil it in now!