The other day I was shaving my legs in the shower when my mind wandered to the very first time I shaved my legs. Some people sing in the shower, I have random stuff pop into my head.
I was about 13 years old, had noticed that other girls my age shaved their legs, and asked my mom to show me how. I'll bet she wasn't ready for her first baby to be so grown up; she put me off, saying that I didn't want to start shaving so young because once I did the hair would grow back black and prickly and I'd have to keep doing it over and over and over again.
Young? Mom, I'm THIRTEEN – a TEENAGER – practically a grown-up already. Sheesh!
Not long afterwards my best friend Pam and I were at her house getting ready to go swimming. I was sitting on the bathroom counter waiting for my turn in the shower and casually i.e. "practiced in my head a gazillion times first" asked if I could borrow a razor to shave my legs while I waited.
She told me to use the electric razor in the bottom drawer, which turned out to be one of those three-headed things and did absolutely nothing for my legs or my self confidence at the lake.
I was crushed by the failure of my first stab at womanhood, but learned a very important lesson: Use a razor designed for women's legs. Like the Venus Embrace!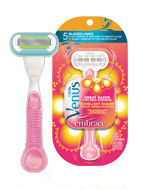 When I started shaving there weren't nearly as many types of razors available as there are now. The Venus Embrace recently caught my eye because it has FIVE blades. When I saw it I thought, "That's either a huge waste or the best thing since sliced bread," and had to try it.
I'm not usually one to rave over something as simple as a razor, but the Venus Embrace really is the best thing since sliced bread. In addition to the five blades there's a moisture strip, but the thing I I like best is an amazing feat of razor engineering that caused the blades to float on my legs – light as a feather!
Not only did the Venus Embrace deliver the most comfortable shave I've ever had seriously, I'm not exaggerating! but my legs felt smoother than ever before, too.
The electric razor fiasco wasn't the end of my shaving woes…
Not too many weeks after, I realized I'd forgotten to shave after leaving the bathroom. My brother Jay had already claimed his turn, and since my two brothers and I constantly battled over bathroom rights I knew there was no way he'd let me back in. I also knew that if he knew I wanted to get back in he'd take twice as long.
I had a razor in my bedroom so I thought I'd shave quick and be on my way. Since there wasn't any water I decided to dry shave. Being a novice shaver I didn't know you could use lotion for shaving.
Big mistake!
Dry shaving was ineffective, painful, and left me with nicks, red bumps, razor burn, and ingrown hairs that developed over the next few days.
Shaving lesson number two: Don't shave dry skin.
Since that morning I've shaved with soap, body wash, conditioner, men's shaving cream shhh, don't tell Teacher that's where all of his shaving cream went, shaving gel, and lotion. I like shaving gel best because it gives me the smoothest shave and it's fun watch the gel turn to foam, but I'm not thrilled with the overpowering fake scents.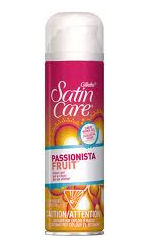 I recently tried Passionista Fruit Satin Care gel, and like it better than any other gel I've used. It's advertised as having a "sparkly fruity scent" but it's not the typical fake "tooty fruity" smell that I can't stand – it's sweet, fresh, and smells like real fruit. The gel is rich and indulgent so I feel like I'm spoiling myself every time I shave, but the thing I like best is how satiny soft and smooth my legs feel after I use it.
So there you have it – a little insight into my teen years, and the weird stream-of-consciousness thinking that goes on in my mind while I'm showering.
Since we're talking shaving, what are your early shaving memories?
– Guys – Did you ever use your Mom's hair removal cream on your upper lip like someone that I may or may not be married to did?
– Gals – Were you ever mortified to find a patch of unshaven hair on your knee while you were on a date like someone who may or may not be myself was?
– What do you wish you'd known when you first started shaving?
C'mon, fess up – I bared my soul, now it's your turn!
Leave a comment with your shaving confession to be entered for a chance to win a $50 Visa gift card, courtesy of BlogHer and Venus.
Rules:
No duplicate comments. You may receive (2) total entries by selecting from the following entry methods:
a) Leave a comment in response to the sweepstakes prompt on this post
b) Tweet about this promotion and leave the URL to that tweet in a comment on this post
c) Blog about this promotion and leave the URL to that post in a comment on this post
d) For those with no Twitter or blog, read the official rules to learn about an alternate form of entry.
This giveaway is open to US Residents age 18 or older. Winners will be selected via random draw, and will be notified by e-mail. You have 72 hours to get back to me, otherwise a new winner will be selected.
The Official Rules are available here.
This sweepstakes runs from 5/21 – 6/30.
Be sure to visit the Venus Brand feature page on BlogHer.com where you can read other bloggers' reviews and find more chances to win!† If you have a first-time shaver in your home, you should check out some of these great tips from Venus Embrace!