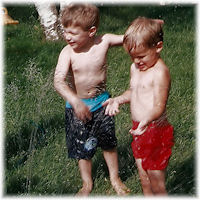 Now that warm weather has finally arrived in Wisconsin we're gearing up for some wonderful water play this summer. Children love playing in water; even the most popular toys can't compete to the joys water brings. Water is cheap, easily available and leaves things cleaner than they started. Plus, water cools in warm weather, and can have a calming effect on children.
Here are some great ideas for your wonderful water-filled summer: Remember, an adult should always closely supervise water play, even with older children.
Dunk a sponge in a bucket, then squeeze out again to strengthening finger muscles.
Splash in puddles after a rain.
Freeze ice cubes then make lemonade from fresh-squeezed lemons.
Wash doll clothes or pillowcases then hang them on a clothesline.
For a great hands-on science experience, fill a basin and see what floats and what doesn't.
Paint with water on the sidewalk, house, or garage.
Fill a cup or bottle from a bucket of water and pour it out.
Water the lawn, flowers, the garden, etc.
Go swimming or run through a sprinkler.
Use a straw to blow bubbles in a cup of water.
Add water to the sandbox for great castle building.
Wash the car or a bike.
Walk outside in a warm summer rain.
What are your favorite summer water activities?