Last Christmas I gave Teacher "Frontera: Margaritas, Guacamoles and Snacks" by Rick Bayless, and we've been working our way through the recipes one blissful weekend at a time.
One of the recipes that really intrigued me was the Meyer Lemon Margarita. I'm not a big fan of lemons, but Meyer lemons are a cross between a lemon and and orange so I thought I'd probably like a Meyer Lemon Margarita.
The Meyer Lemon Margarita recipe falls in the Winter section of the cookbook, with the note "…when the strikingly aromatic Meyer lemons become available in early winter, it's worth celebrating…" I watched all winter for Meyer lemons in our grocery store, ready to celebrate, but they didn't appear until early spring. As soon as I saw them I grabbed a bag because I was afraid they'd be gone the next time we went in. And I was right – there weren't any left the following weekend! Sometimes it pays to be paranoid…
Meyer Lemon Margarita Recipe – with Pictures
You need to plan ahead for Meyer Lemon Margaritas because the Meyer Lemon Tequila needs to be started about four days before you need it and the Meyer Lemon Simple Syrup should also be made ahead of time so it has time to cool.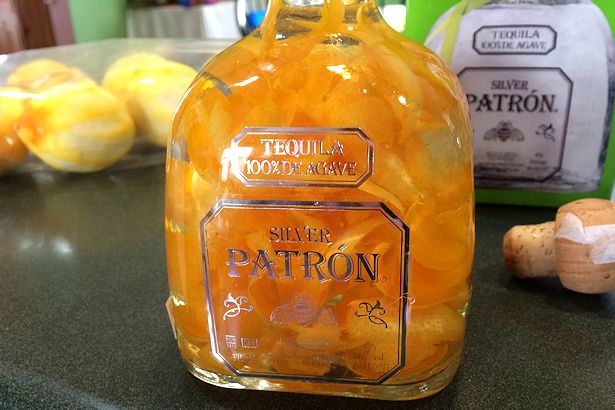 To make Meyer Lemon Tequila, place Meyer lemon zest the colored part only in tequila – 100% blue agave tequila, of course.
I thought I'd be so smart and stuff the zest into the Patron bottle with the tequila, but it didn't all fit. I got almost all of it in but then the tequila came to the very top so I couldn't use the stopper. Instead, I put plastic wrap over the top and used a rubber band to hold it on. It wasn't pretty, but it worked!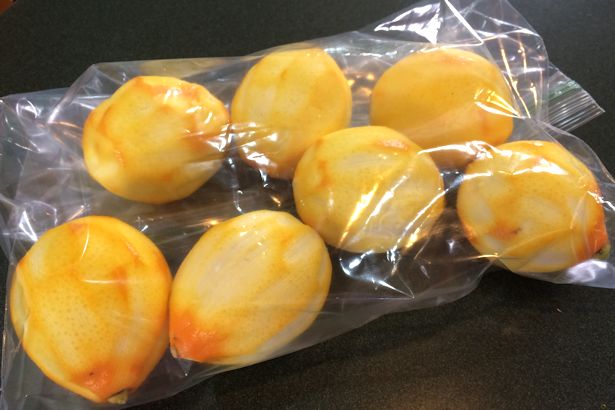 Don't throw out the naked Meyer lemons! You'll need their juice for the Margaritas, so keep them in the refrigerator until the tequila is done.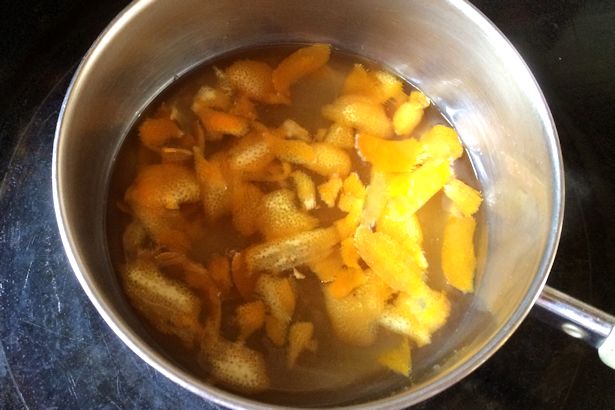 For Meyer Lemon Simple Syrup, place more Meyer lemon zest in a sauce pan with sugar and water. Bring to boil, then reduce heat and simmer a couple of minutes.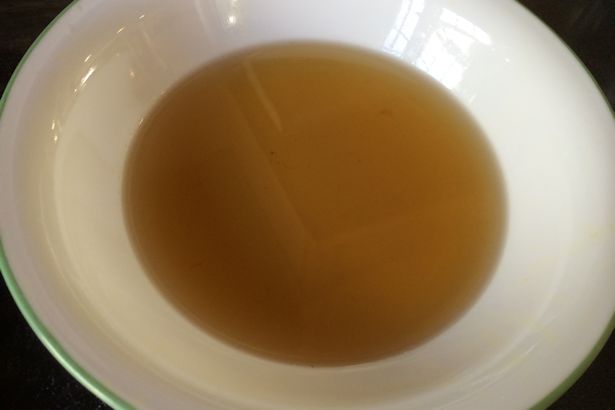 Allow the syrup to cool, then strain to remove the zest.
I expected the Meyer Lemon Simple Syrup to be bright yellow like the lemons themselves, but it was actually brownish and kind of yucky-looking. Despite its appearance it tasted yummy!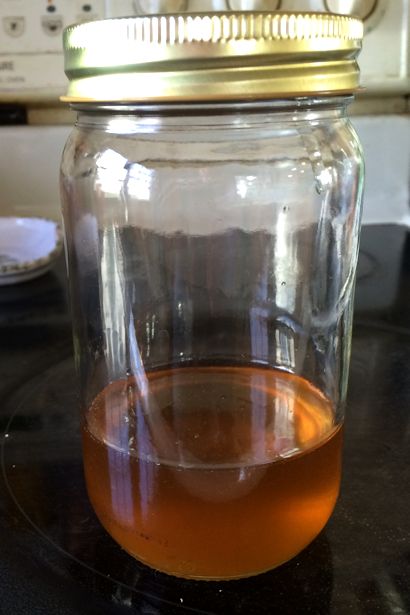 Pour into a covered container and refrigerate for several weeks. Remember to label it so your kids don't use it for something! The voice of experience…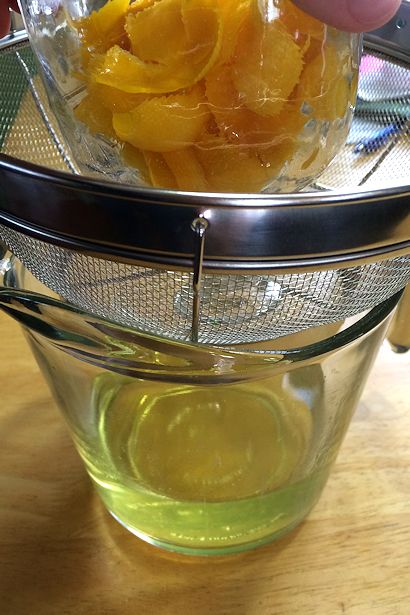 After the four days have passed, strain the zest out of the tequila. Now it's ready to use!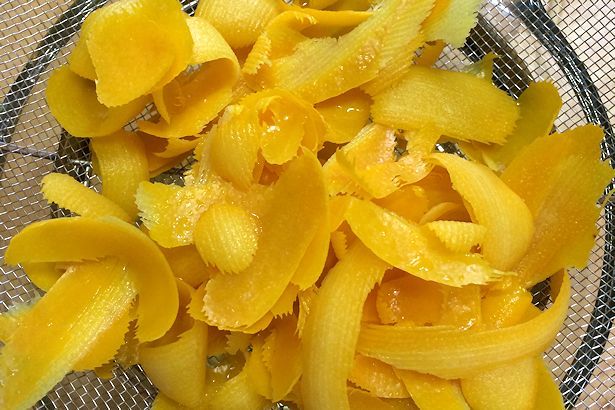 Unlike the zest in simple syrup, this zest kept it's bright yellow color.
I'll bet it's full of tequila too… I'll bet I could've used it to make a rockin' lemon bread. Something to try next time!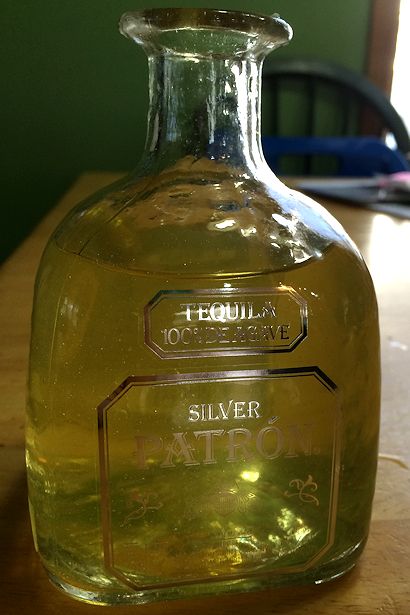 Store the Meyer Lemon Tequila in a covered glass container. It'll keep a month or two without any loss of flavor – if it lasts that long.
Now that the prep work is done it's time to make some Meyer Lemon Margaritas!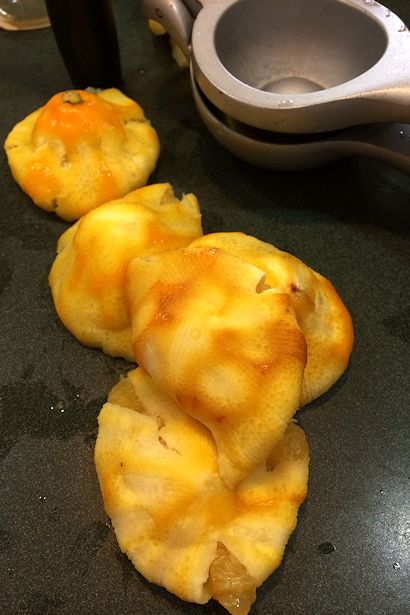 Juice about 4-5 Meyer lemons into a large pitcher. Teacher always squeezes twice – once with the rind side down and once with the rind side up. Add some Meyer Lemon Tequila, Meyer Lemon Simple Syrup, and triple sec (official recipe below).
Stir to mix, then pour into an ice-filled shaker and shake until very cold – about 15 seconds.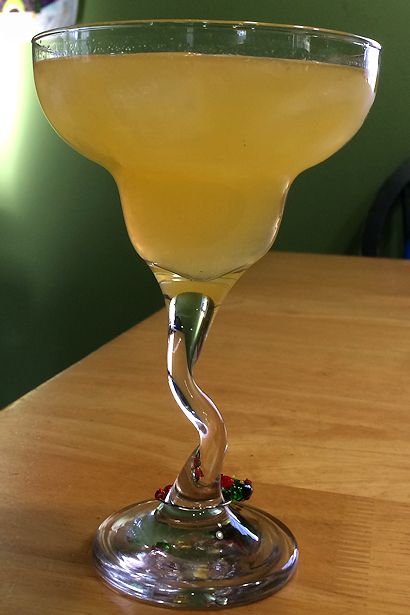 Strain into Margarita glasses Christmas-themed charms optional, garnish with a lemon twist also optional, and enjoy!
Meyer Lemon Margaritas – Official Recipe
This is Rick's "Pitcher Recipe for a Party" which makes 8 cocktails. Half a Pitcher Recipe is the perfect amount for Teacher and I to each have 2 Margaritas: – one to enjoy while making dinner and the other to enjoy while eating.
Meyer Lemon Margarita Recipe Ingredients
10 Meyer Lemons total
1 750ml bottle 100% blue agave blanco tequila
1 cup sugar
1/2 cup water
3/4 cup triple sec
Ice cubes
Lemon twists – optional
Meyer Lemon Margarita Recipe Preparation
Plan to prepare the Meyer Lemon Tequila and Meyer Lemon Simple Syrup at least 4 days beforehand.
Meyer Lemon Tequila
Using a vegetable peeler or knife, remove the colored zest from 8 of the Meyer Lemons in as big of strips as you can. Set the lemons for juicing later.
Place the zest in a glass jar. Add the tequila and cover.
Allow to stand for 4 days, tipping the jar back and forth several times each day.
After 4 days strain out the zest.
Store the tequila in a tightly-covered glass container for up to two months.
Meyer Lemon Simple Syrup
Remove the zest from 2 more Meyer lemons, like you did for the first 8.
Place the zest into a small saucepan. Add 1 cup of sugar and 1/2 cup of water.
Set over medium heat and stir until the sugar is dissolved. Continue cooking until the mixture boils. Reduce heat and simmer for 2 minutes.
Cool, then strain into a glass jar. Cover tightly and refrigerate. It will keep for several weeks.
Meyer Lemon Margarita Recipe – Directions
Now that the prep work is all done it's time to make some Margaritas!
Squeeze as many "naked" Meyer lemons as you need to get 1 cup of fresh juice. (Start with about 5-6, depending on their size.)
In a pitcher, combine the 1 cup of juice with 1 1/2 cups Meyer Lemon Tequila, 3/4 cup triple sec, and 1/2 cup Meyer Lemon Simple Syrup.
Fill a cocktail shaker halfway with ice. Pour in 1 cup of the Margarita mixture. Shake about 15 seconds, then strain into 2 Margarita glasses.
Garnish with a lemon twist if desired.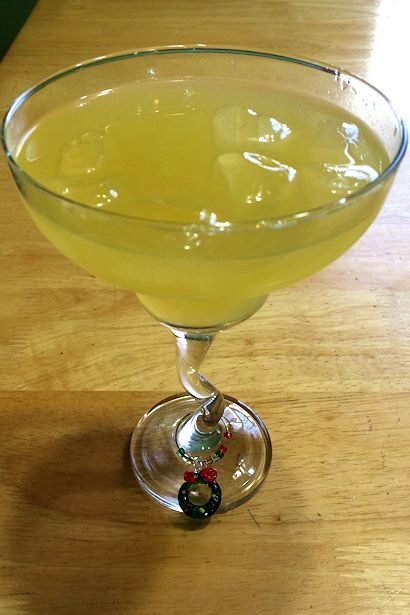 For the original recipe and many more incredible Margarita recipes, pick up your own copy of Frontera: Margaritas, Guacamoles and Snacks. This is NOT an affiliate link; I just believe that authors should receive payment for their hard work.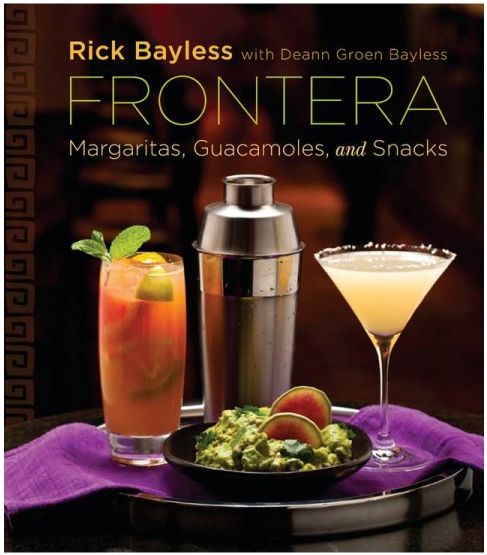 If you make Lemon Meyer Margaritas be sure to stop by and let me know what you think! If you can't find fresh Meyer lemons, try
Pineapple Margaritas
instead – they're just a good in a different way!