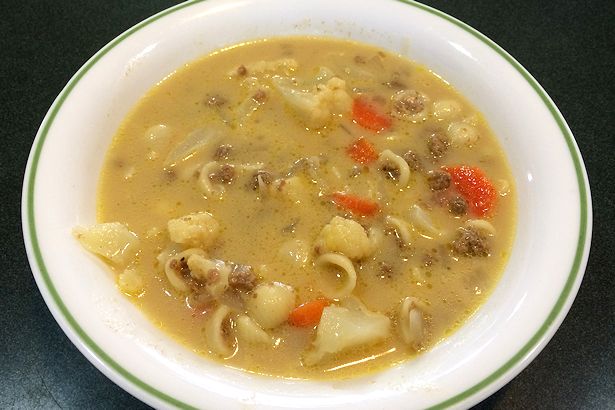 The first time I ever had Cheeseburger Macaroni Soup was at Teacher's house before we were married. He'd invited me to visit for a weekend and I was so head-over-heels for him that I jumped at the chance. Yes, his parents were there the whole time and we slept in separate rooms.
Teacher's mom made Cheeseburger Macaroni Soup for supper Friday night. My mom never made Hamburger Helper so I'd only had it once before, when I was babysitting. I didn't even know you could make soup from Hamburger Helper!
To make a long story short, I LOVED it!
Cheeseburger Macaroni Soup Recipe – with Pictures
We've made Cheeseburger Macaroni Soup many times over the years, and recently made a healthier version that was even better than the original!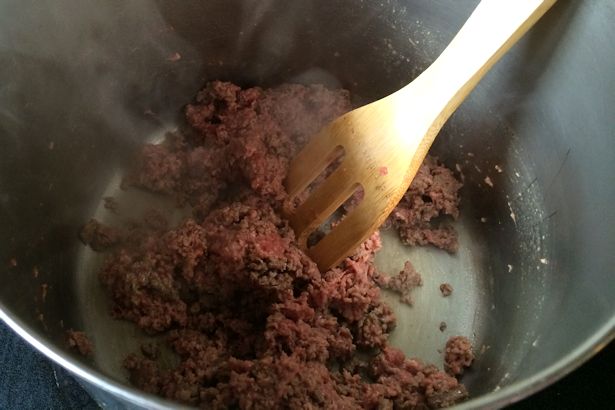 Start by browning some onions and hamburger or ground turkey. We usually use ground turkey, but Angel Face who doesn't eat red meat wasn't going to be home so we used grass-fed ground beef this time.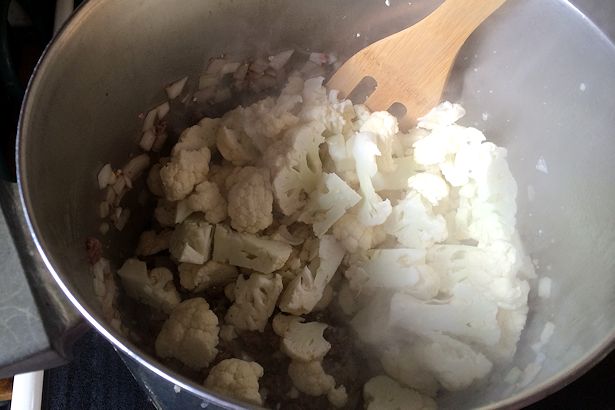 Add cauliflower florets.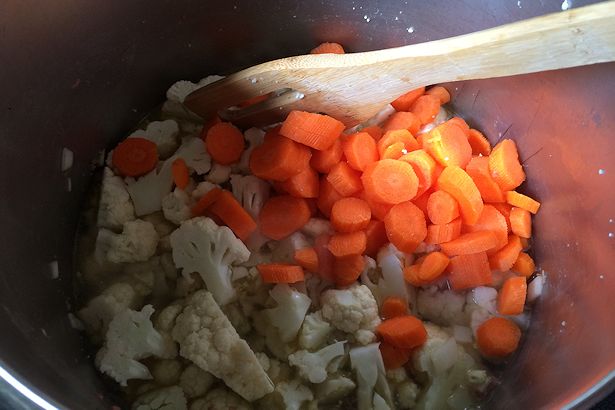 And sliced carrots.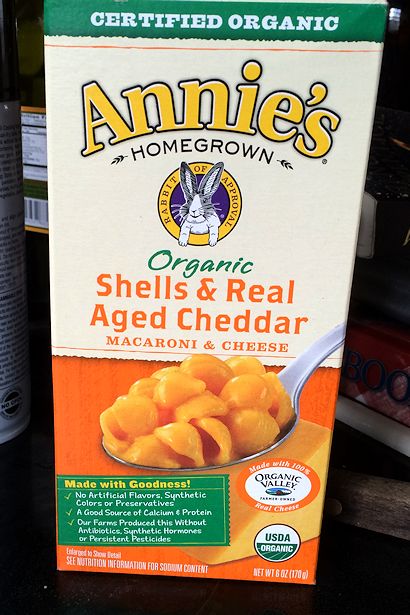 Instead of Hamburger Helper Cheeseburger Macaroni mix we used an organic Annie's mix. We'd been planning to use an organic Cheeseburger Macaroni mix but the store was all out both times we went so we bought shells & cheese instead. It worked great!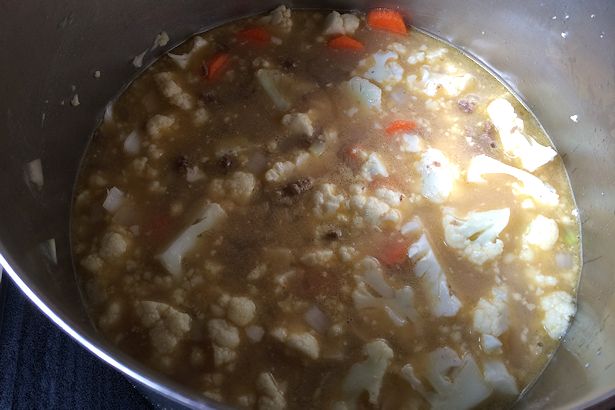 Stir in the cheese packet, then add some water. Bring to boil then reduce heat and simmer for about 10 minutes. Meanwhile, cook the pasta separately, then add to the soup.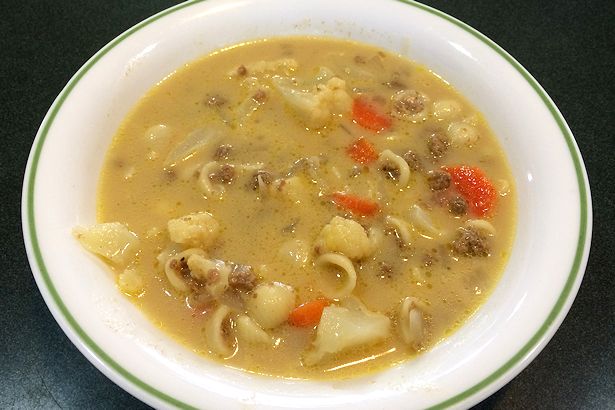 Stir everything together, add salt & pepper to taste, then enjoy!
Cheeseburger Macaroni Soup – the Official Recipe
My mother-in-law's recipe called for Hamburger Helper, ground beef, frozen cauliflower. Our version is a bit healthier with fresh cauliflower, an organic mix, and ground turkey or grass-fed beef. Soup is so versatile, you can adapt the recipe to your own taste. Put in more carrots and use less cauliflower, or vice versa. Replace the pasta with more veggies for a low-carb option. Use your imagination!
Cheeseburger Macaroni Soup Ingredients
1 lb ground beef or turkey
1/2 cup onion
1 small head fresh cauliflower, cut into florets
3 medium carrots, sliced
1 box organic Cheeseburger Macaroni (or shells & cheese)
6 cups water
Salt & pepper to taste
2 Tbsp fresh or dried parsley, optional
Cheeseburger Macaroni Soup Directions
Cook onions and ground turkey together until turkey is done. Drain if needed.
Stir in cauliflower, carrots, and seasoning packet. Add water and stir to combine.
Heat to boiling, stirring often. Reduce heat, cover, and simmer 10 minutes, stirring occasionally.
Meanwhile, in a separate pot cook macaroni until tender. Drain.
Add to soup mixture. Add salt, pepper, and parsley as desired.
The recipe makes about 8 cups soup. For more flavor, substitute chicken broth for some or all of the water. For extra cheesiness, double the cheese packets (save the pasta for future use), add cheese packets from macaroni and cheese (again, save the macaroni for future use), or add powdered cheddar cheese.
What family recipes have you adopted from your spouse's family? Post them in the comments below so we can try them too!
Happy cooking,