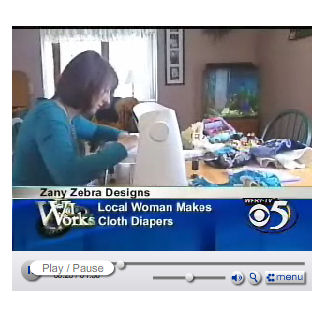 Don't bother clicking on the picture; I couldn't figure out how to link to the video. Super-Geek I am not.
A couple of weeks ago I warned you that I was going to be on TV, and this morning the segment finally aired. Since the day after the interview Teacher has been recording the show and fast-forwarding through it every morning to see if I was on. I had started thinking that maybe they decided not to air it at after all, but this morning there it was!
When I checked my email later I found a message from Millaine at Channel 5 telling me that the segment was going to air today. Since the email was sent at 3am and the show started at 5am there's no chance I would have gotten the email before the show, but it was nice of her to let me know anyway.
Of course hindsight is 20/20 and over the past couple of weeks I've thought of a thousand things I should have said and a thousand better ways to say what I did say, but overall I can't complain.
Anyway, here it is… Enjoy!
The Interview
Anyway, it went well and I wish I'd known how to download it so I'd have it forever, but oh well…