Last week I wondered if the CPSC's attack on slings would result in the end of babywearing.
As I wrote I thought of our family's experience with babywearing. As I said last week, Teacher and I were babywearing parents before we knew there was an official name for it.
It all started with College Boy – sometime after he was born we acquired a baby bjorn style carrier for him. I don't remember what type it really was, or where it came from, but I do remember that it was a lifesaver. Looking back I realize that College Boy was colicky, but at the time I thought that all babies cried as much as he did. I used to tell people that it couldn't be colic because colicky babies fussed at certain times of the day and College Boy fussed all day. He wanted to be held all the time, so I would wear him around the apartment as I cleaned or did dishes. Teacher would pop him in the carrier and take him for walks on campus; to the library, to the Student Union, down to the Phi Mu Alpha house, etc.
Shortly after Princess was born, I made a ring sling from the Elizabeth Lee Designs pattern. Princess was a small baby, just 6 pounds, 6 ounces at birth, so I was able to sling her for months before she got too heavy. One of our favorite weekend activities was to window shop at the Galleria mall, and I would sling Princess the whole time. With the ring sling I could even continue browsing while she was breastfeeding. When Angel Face and Jo-Bear came along they were worn in the ring sling also.
About the same time that I discovered the wonderful world of cloth diapers I also discovered the wonderful world of babywearing. Suddenly I was exposed to countless varieties of baby carriers and slings, from the low tech and basic wraps to the sophisticated Ergo.
As much as I loved my ring sling I wanted to try some of the other types of baby carriers, so first I made a pouch sling. Since it was basically one piece of fabric cut into a pouch and seamed together, it was incredibly easy to make. It's incredibly comfortable too; the sling I used most often when Z-Man and Little Guy were young, and the one I still use with the daycare babies.
Although I don't have any photos of the older four in slings – that was before digital cameras came along – I'd like to share some photos of Z-Man, Little Guy and Peanut in our baby carriers.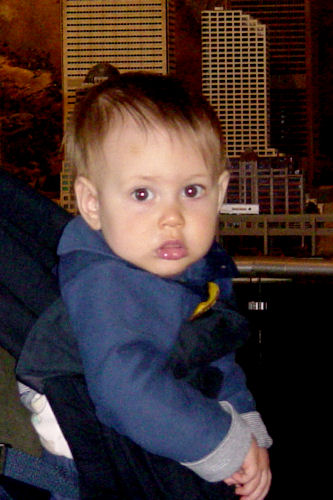 Teacher with ten-month-old Z-Man in our Baby Trekker on one of our middle school band trips to Chicago. Using a baby carrier was SO much easier than dragging a stroller around! I don't even want to imagine the nightmare of trying to get a stroller on and off the El.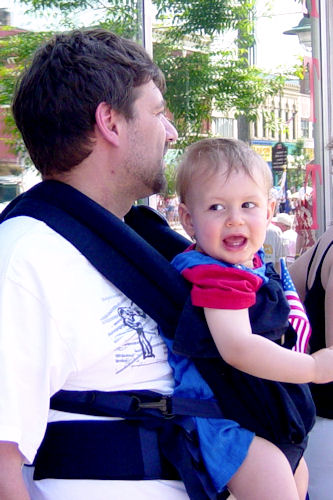 Almost-one-year-old Z-Man hangs out with dad at a parade. Again, it was much easier to Trek him than try to stroller him around. Not to mention that there's something hot about a handsome man with a baby.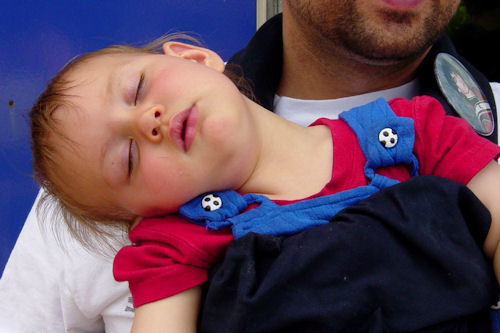 We loved our Trekker and used it a lot until we discovered that the Ergo is better for babies' spinal and hip development than carriers that don't provide proper hip placement and support.
I could swear I had a photo of Little Guy in the Ergo on Teacher's back in Chinatown, but I couldn't find it. I fear it's among the photos I lost when my hard drive crashed.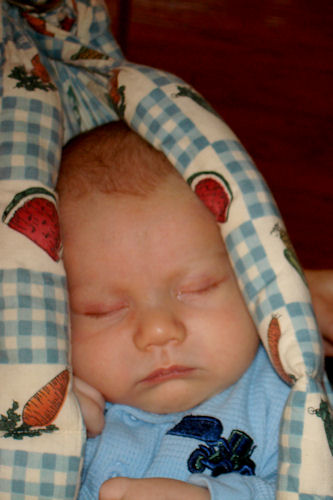 Little Guy at about six weeks, sleeping in the Elizabeth Lee ring sling I made when Princess was a baby.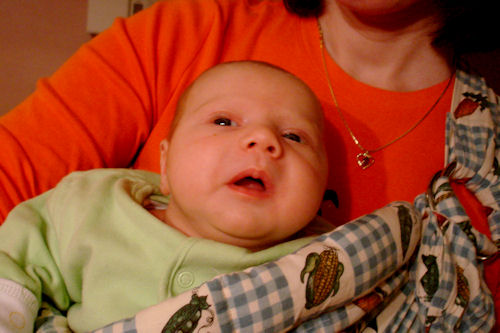 At two months old he watched everyone carving their Jack 'O Lanterns from the sling. I loved the ring sling's versatility; babies can lie down, be upright, face inwards or outwards, and they're great for supporting toddlers on your hip.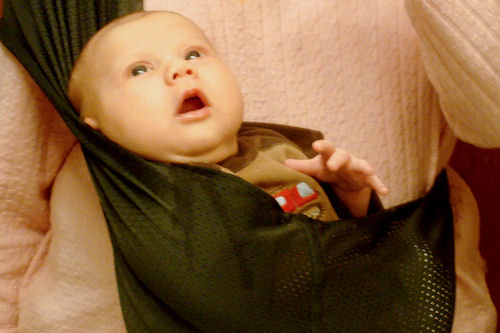 This is the pouch sling I made for Little Guy – it's my favorite sling because the mesh is so comfy and the pouch style is easy to use.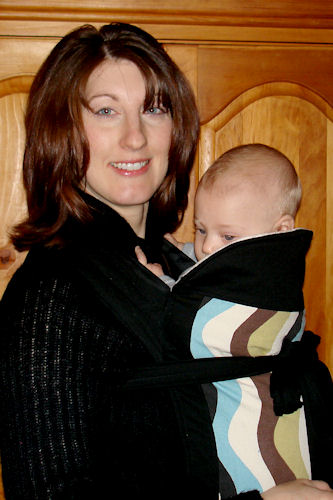 I was intrigued with Mei Tai baby carriers, and after finding online tutorials for making them I couldn't rest until I made a Mei Tai of my own.
I had a photo of Angel Face wearing Little Guy in the Mei Tai too, but fear it's another photo lost to the hard drive crash.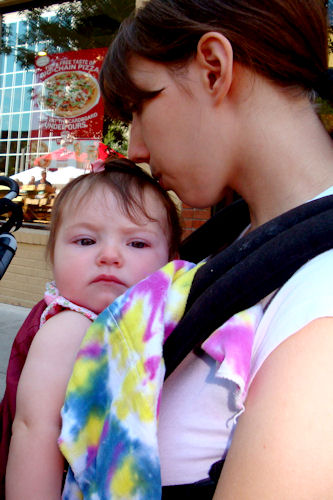 I wore Peanut in the pouch sling but since it was sized for me it didn't fit Princess comfortably. She used the ring sling and Mei Tai, but her favorite was the Ergo.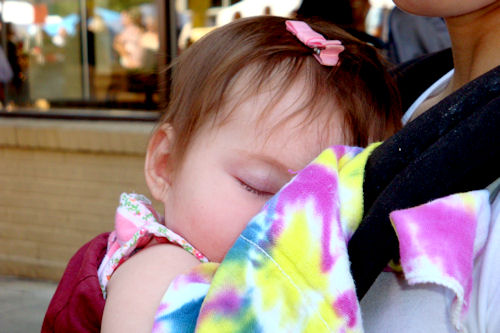 Peanut likes the Ergo too.
What is your babywearing history? Do you have a favorite carrier? Share your babywearing story… please?