Teacher and I love the 1920s floor we uncovered and by "we" I mean "he and Jonah", but aren't sure what kind of wood it is. I think it's maple, but I have no reason to think that except it sounds like a nice kind of wood to me.
One day I was looking at the floor and it occurred to me that maybe Bennett catalog #18 where I found the Flanders plan specified a wood for the flooring. Why didn't I think of this sooner?! I went back to the Daily Bungalow to look, but to my dismay the catalog wasn't there anymore.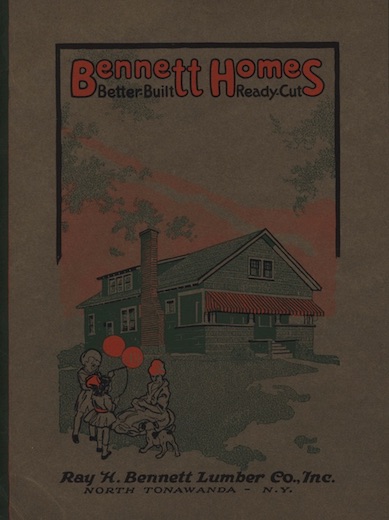 Luckily Teacher had introduced me to the Wayback machine so I searched there and found Bennett Homes Catalog #18. Hooray!
On one of the General Specifications pages I found information about the flooring:
I was excited until I realized that unless our home was built from a kit, which I doubt, the builder could've used any type of wood for the flooring. Back to Step One. Boo!
Then I started wondering what style of millwork i.e. doors, interior trim, mouldings, baseboards, etc. the Bennett plans called for.
In the past Teacher and I had discussed replacing the ugly 1960s trim with something more 1920s. We both thought it was a good idea but it wasn't a priority so "briefly discussing" and "it's a good idea" was as far as things went. Until we uncovered the 1920s floor, which started me dreaming about 1920s millwork again. I looked through the catalog for pictures of trim, and when I didn't see any I went back to the General Specifications pages. Eureka!
Now THAT's what I'm talking about!"
I clicked to pages 36 and 37 so fast that my laptop didn't know whether it was coming or going.
32… 33… 34… 38… 39… WAIT! What happened to 35, 36, and 37?!
I clicked through again, more slowly; I must be blind.
I went back to the very beginning of the catalog and clicked through v-e-r-y s-l-o-w-l-y, just in case the pages were out of order.
Nooooooooo!!!!!! The universe must be playing a joke on me. A NOT FUNNY joke!
I searched online. I searched the Wayback Machine. I searched every possible combination of words that might uncover those pages. And I found several #18 Bennett Catalogs. For sale. Priced over $100.
I didn't want to see those pages THAT badly!
Then it occurred to me that if I couldn't find what I was looking for in catalog #18, maybe I could in catalogs #17 or #19. I figured that trim styles probably didn't change too quickly back then, so I searched the Wayback Machine again.
No catalog #17 or #19.
No catalog #16 or #20.
Then… Eureka again! I found catalog #21, published in 1922, and catalog #24, published in 1923. Better yet, both had the exact same millwork photos! Since #18 was published just a couple years earlier I think it probably had the same photos as #21 & #24. Happy Dance!
Here are the millwork photos I worked so hard to find: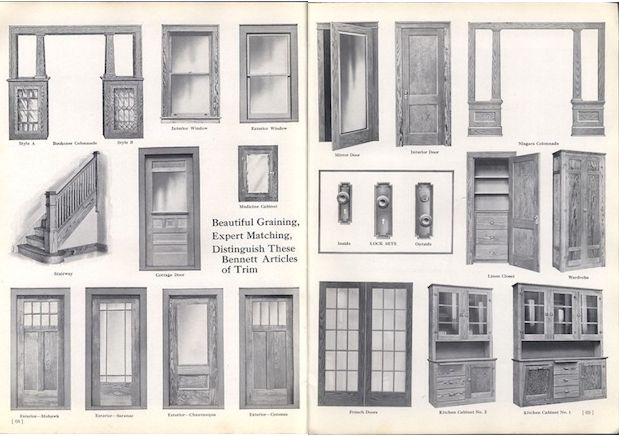 I love SO MUCH on these two pages!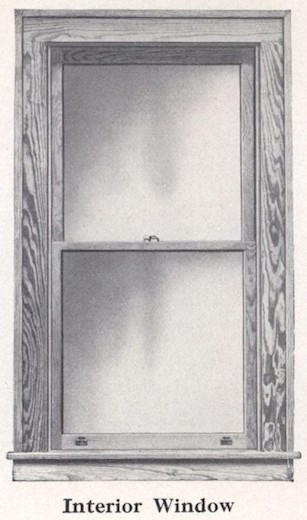 This is what I want to replace our window trim with. It's not terribly fancy, but is prettier than what we have now.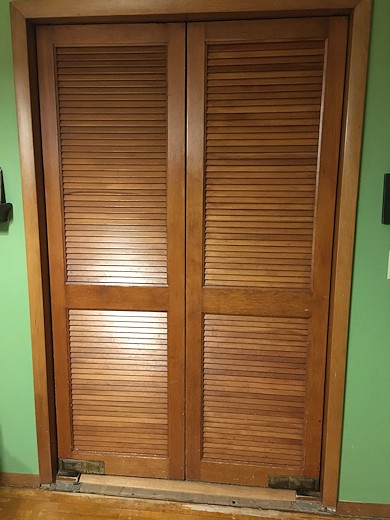 These doors are between the dining room and play room. The doors themselves are OK, but the trim around them is just plain boring.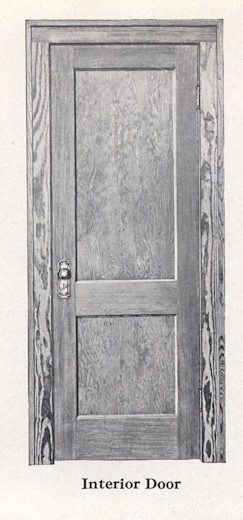 I would be thrilled if we could replace all our hollow core doors with something like this, and definitely want to replace the trim around the doors.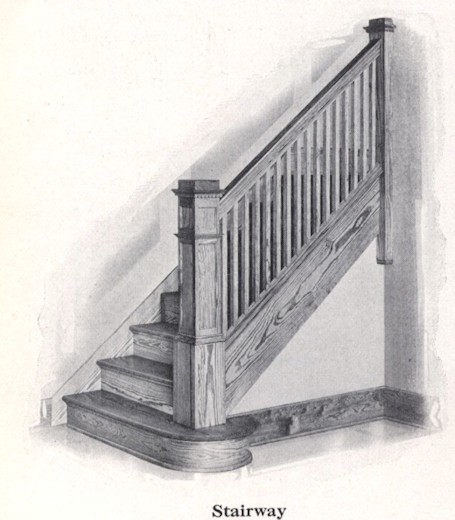 And while I don't think we're up for rebuilding the staircase again, we could easily add the wide lower trim and "fancy up" the newel post a bit.
I'm not thrilled with the way these look here, but like the way they look on the door photo above. They'd be last on my Wish List.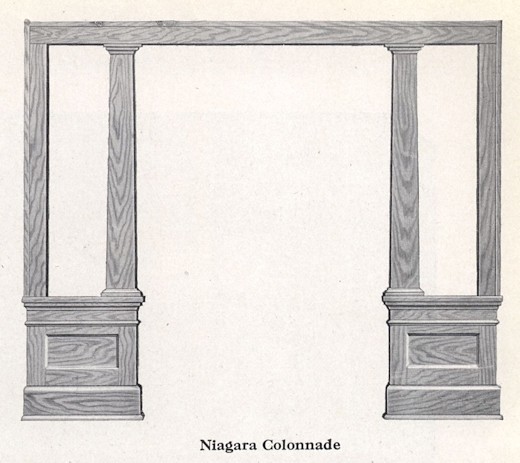 I think a colonnade would look great by the front door where there's currently a shelf we use for DVDs. Come to think of it, I wonder if that shelf used to be a colonnade- that would explain why it's there! I always thought it was a weird place for a shelf.
On the other hand, I wouldn't want a full colonnade because it would break up the room too much. I wonder if a colonnade would look dumb…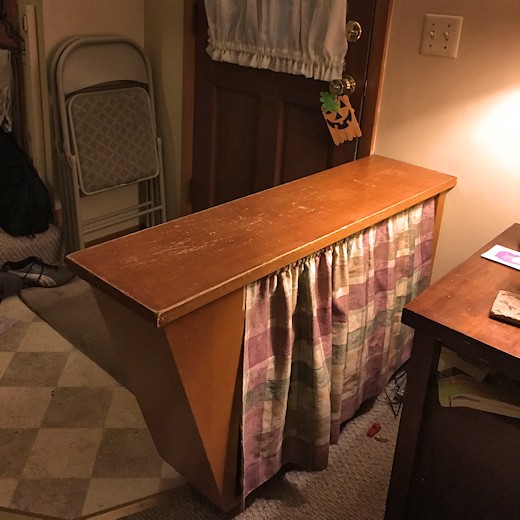 What do you think – could we rebuild this as half a colonnade? I'll bet it was a wall originally, to form an entryway and help keep the cold out of the living areas.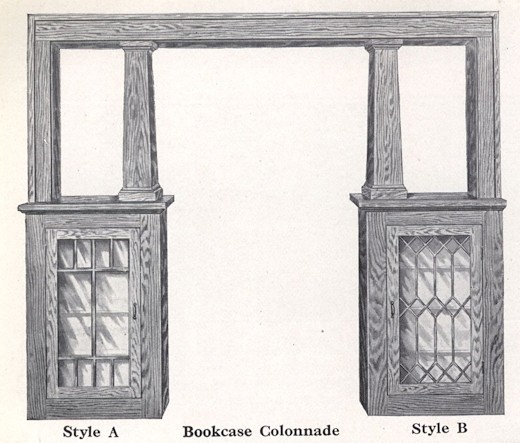 I almost wonder if the shelf had been a Bookcase Colonnade. Our DVD shelf is shorter and longer than the one in this picture, but I suppose the original builder could've built it the way. Plus it would explain the shelves. Although I suppose the regular colonnade was hollow and shelves could've been added during the remodel…
Yes, I do think in circles like this. All. The. Time. It drives poor Teacher crazy!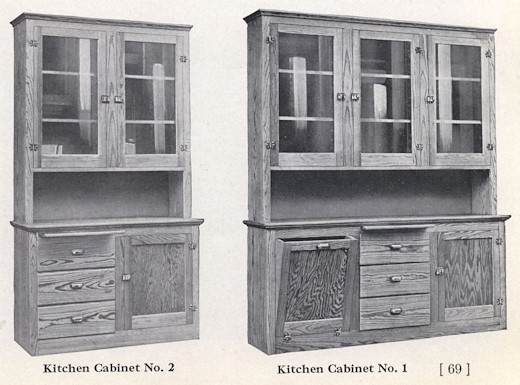 I love the look of these kitchen cabinets too. If we ever decide to remodel the kitchen again I'd definitely want cabinets that look like this. Except not glass on top because I don't want anyone seeing what a disaster the inside of my cabinets is!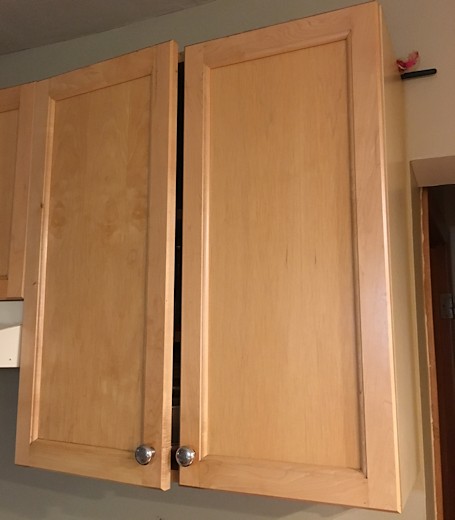 Our kitchen cabinets have a similar look to the 1920s cupboard. Maybe they just need different knobs.
Do you ever dream about redoing your house? What would you do if you had all the time and money you needed?