OK, so it's been forever since I wrote… I have too much of a perfectionism streak and if I don't think I have time to do it "right" I just won't do it. But I've decided I need to write, even if it's just a little bit.
So what's new… Our Little Guy was born on Sept 21 and is 2 mos now. He's quite the cuddler and likes to be held whenever he's awake… and sometimes when he's asleep too! I made a pouch sling from mesh fabric from Nicole at Cuddle-Me I think it turned out great, and our baby's been spending lots of time in it! Here's a pic:
I have to post a pic of my babies together because they're soooo cute! they're in matching shirts from
Little Earth Angels
and my favorite longies from
Adventure Knits
. They both have on
Zany Zebra
dipes too, but you can't see those, LOL! Aren't they adorable?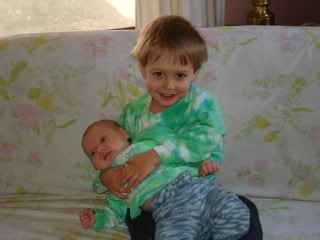 Custom update: I'm working on Ashley's order… Baby was cranky yesterday but I hope to get lots done tonight. My goal is to ship them by Monday. 🙂
TTYL!