One of the best things about choosing Fox Banquets for Princess and Cowboy's wedding reception was that we didn't have to do anything except show up on time. We purchased their decorating package so all we had to do was stop by two days before the wedding to drop off any special items we wanted included in the decorations.
Pardon these first few photos – my point and shoot camera doesn't like low lighting and I was too excited to do more with it than just point and shoot.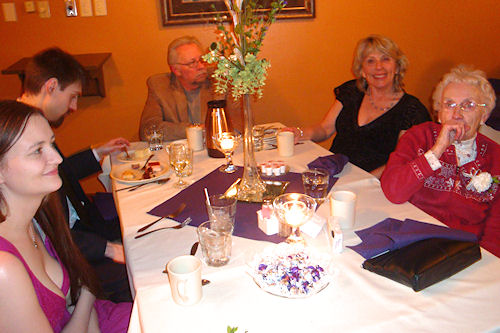 Fox Banquets put purple napkins on the tables, and we gave them purple silk flowers and Hershey's Kisses in dark and milk chocolate – because they're wrapped in purple and silver foil. Hello Irish Girl, College Boy, Uncle Roger, Aunt Betty and Grandma. Who's got Sweet Pea?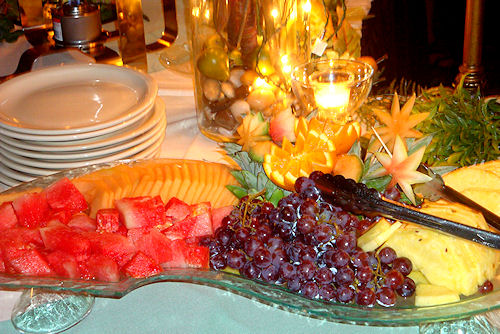 The food tasted amazing, especially the artichoke dip, and the buffet was gorgeous. I wish I'd taken a photo of the buffet for ideas next time we have a party!
It wasn't long before the kids took over the dance floor. Dancing kids are fun to watch – they just move to the music and don't care what they look like. I think Little Guy is doing "The Dinosaur."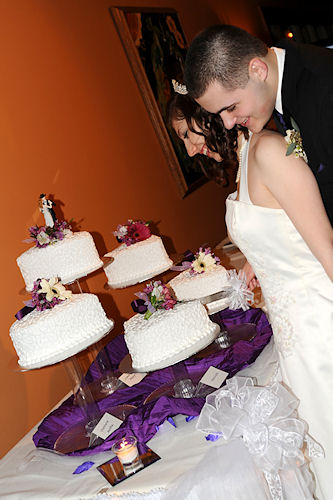 Princess and Cowboy had stopped for some outdoor photos on the way to the reception so as soon as they arrived they had to cut the cake.
The wedding cake was even more beautiful than I'd imagined, and the yummiest I've ever had. Instead of a traditional tower-shaped cake we wanted five heart-shaped cakes in different flavors: almond with hazelnut filling, mocha with chocolate filling, raspberry swirl with raspberry filling, poppyseed with lemon filling, and chocolate with chocolate filling.
I was very impressed by the personal attention Jennifer from Simple Simon Bakery gave us. She didn't just help us place our order, she also decorated the cakes, arranged the flowers we brought her, and did the setup at Fox Banquets herself. Talk about personal attention!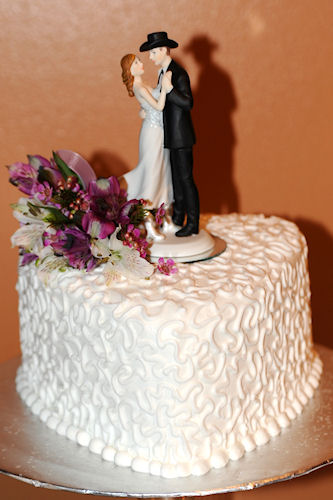 Princess was very easygoing while we were planning the wedding, but the cake topper was one of the few things that Princess really wanted. We'd ordered it from Marlene's, a local wedding shop, more than a month before the wedding. Marlene looks like she's in her 80s and her shop has been around forever – I went there when I was planning my wedding to Teacher! I expected the cake topper to arrive within two weeks after we ordered it, but two weeks before the wedding it still hadn't arrived and I was getting nervous. A week before the wedding it wasn't scheduled to arrive for another 4-5 days and I was beginning to seriously freak out. Thankfully it arrived ahead of schedule – just 5 days before the wedding!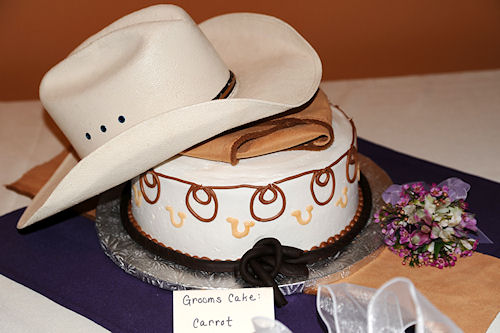 Teacher and I had never heard of a groom's cake, but when Jennifer told us about it Princess loved the idea of having a special cake for Cowboy. He's obsessed with carrot cake so we ordered carrot cake with cream cheese filling. Flipping through Jennifer's cake book I thought he'd go for a camouflage or deer head cake, but he liked the cowboy-themed one and was excited about adding a personal touch with his cowboy hat.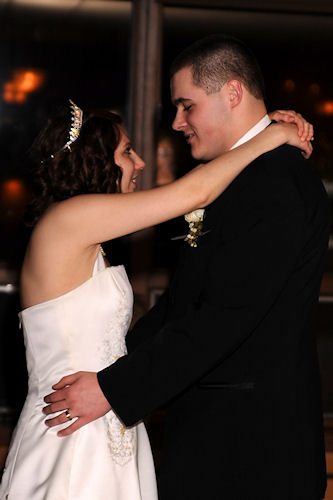 After cutting the cake Princess and Cowboy grabbed a bite to eat, then officially opened the dance floor to "What's Left of Me" by Nick Lachey.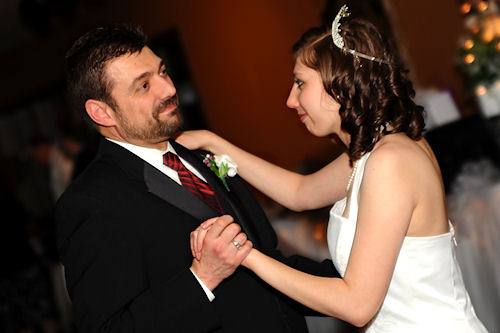 Next Teacher and Princess danced the Father-Daughter dance to "Cinderella" by Stephen Curtis Chapman. I always get choked up when I hear that song, and watching them dance to it nearly did me in. They were a little misty-eyed too.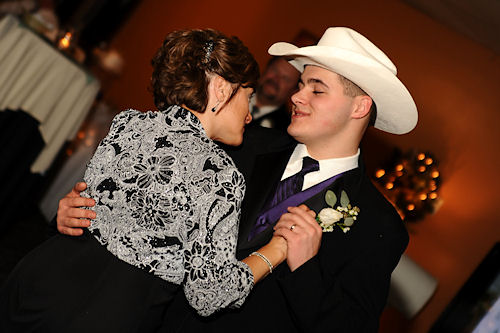 Cowboy and his mom danced to a country song that I didn't know – I don't know many country songs. I like to tease Princess and Cowboy about his country music, but I don't hate it as much as I pretend to. Shhh, don't tell!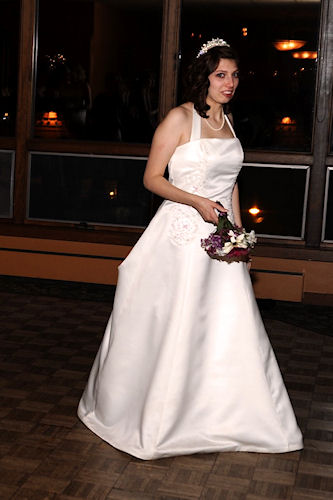 No Midwest wedding reception would be complete without the bouquet toss. Princess looks a bit apprehensive – for good reason…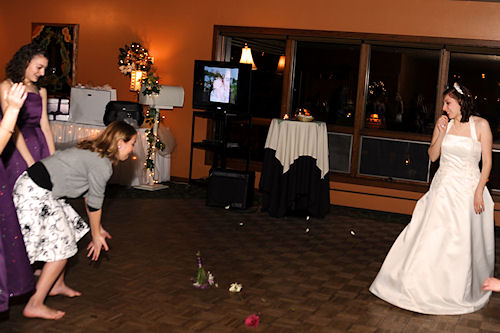 The bouquet bounced off the ceiling and kamakazied into the floor – Oops! Dive girls! Dive! Is "kamakazied a real word or an Amy-Sue-ism?
Martha, Princess's best friends' little sister, was the quickest and nabbed the bouquet off the floor. Good grab Martha!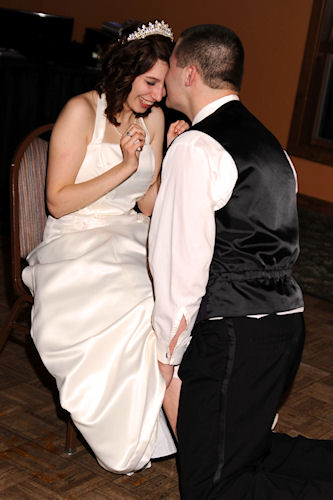 Time for the garter toss… the guys started chanting "Teeth! Teeth! Teeth!" and I don't know who was more embarrassed, Princess or Cowboy.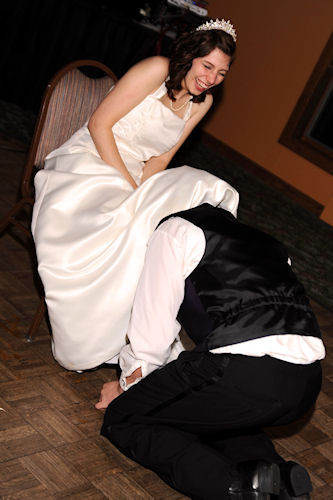 Here's where I could've used your help… Was it weird to let Jo-Bear stand out there with the rest of the guys trying to catch his sister's garter? Should I have made him sit out? As Princess's mom should I have watched Cowboy go under her skirt to get the garter or should I have closed my eyes?
Why didn't anyone warn me that I'd be faced with these situations?
What would you do if it were you?
Cowboy flicked the garter over his shoulder, and the mad grabber was…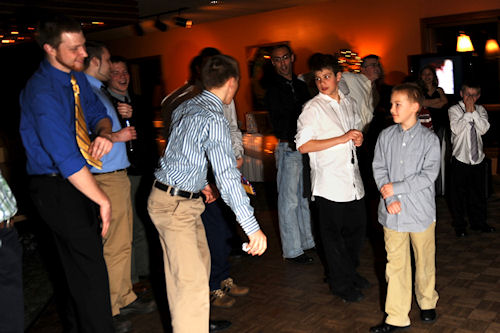 Martha's big brother, Paul! Front and center in the striped shirt. Their family sure is lucky – or fast.
Why is it always someone embarrassing who catches the garter?! When Teacher and I were married my new brother-in-law caught my garter and hung it on his bedpost. It stayed there for the longest time and made me blush every time we visited Teacher's parents.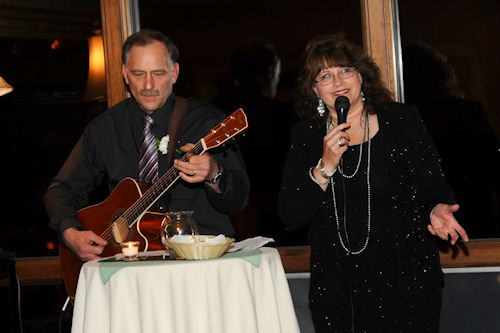 Shortly after the garter toss Cowboy's aunt started the toasts. She had sung "Could I Have this Dance" by Anne Murray at his parents' wedding reception, and since then it's been a family tradition for her to sing at their family wedding receptions. We thought it was sweet that she wanted to her sing for Cowboy and Princess too.
I'll always remember the song they were playin', The first time we danced and I knew,
As we swayed to the music and held to each other, I fell in love with you.
Could I have this dance for the rest of my life? Would you be my partner every night?
When we're together, it feels so right. Could I have this dance for the rest of my life?
Princess and Cowboy started dancing at the beginning of the song, and both sets of parents joined them at the second verse.
I'll always remember that magic moment, When I held you close to me.
'Cause we moved together, I knew forever, You're all I'll ever need.
Could I have this dance for the rest of my life? Would you be my partner every night?
When we're together, it feels so right. Could I have this dance for the rest of my life?
I just love slow dancing with Teacher and wish we had more opportunities to dance together.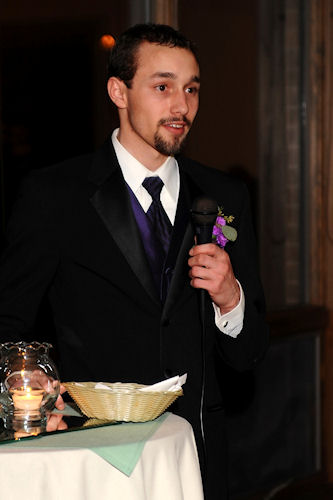 After the song Cowboy's best friend and best man, "Luke" gave his toast. His real name isn't Luke, but Princess didn't know why Cowboy called him that until the toast.
Luke was a "city boy" and once when he was spending the weekend with Cowboy's family they all went to a rodeo. Being a city boy Luke didn't have any "cowboy" clothes so Cowboy's family outfitted him with everything from hat to boots, including a huge cowboy-sized belt buckle. The buckle was borrowed so it had a big "L" on it. Cowboy's buckle had his first initial – B – on it, so the whole weekend they were "Bo" and "Luke," and the name stuck.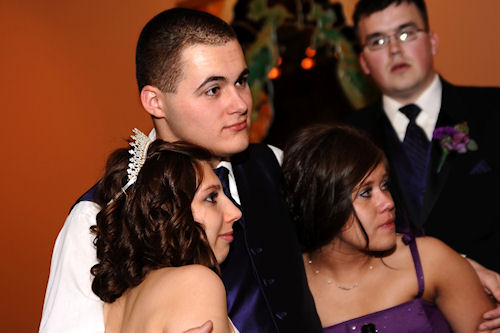 Luke's love and affection for both Cowboy and Princess shone through his entire speech, and there were many teary eyes in the crowd before he finished.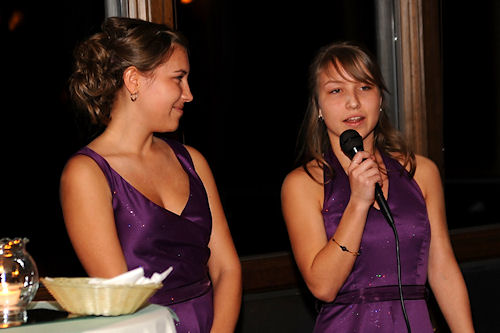 Next up were Princess's best friends from up the street, Katy and Eileen. They took turns talking about how they prayed for another girl to move to the neighborhood so they could have a friend and Princess was the answer to their prayers.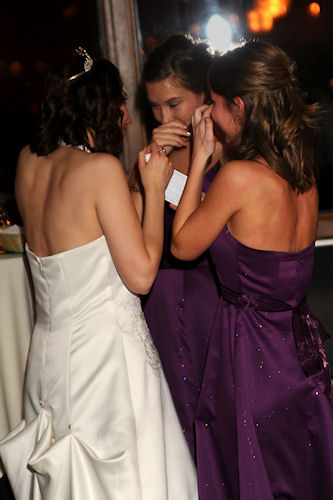 I don't think there was a dry eye in the place by the time they finished – the three girls were definitely crying.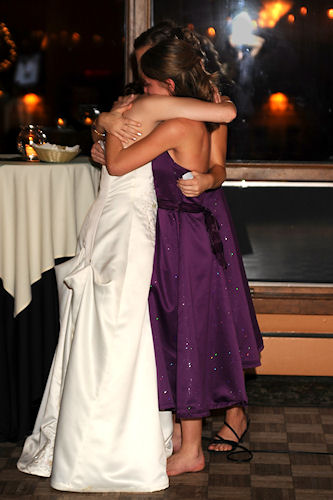 Not everyone has the gift of friendship like these girls have, and they know how blessed they are.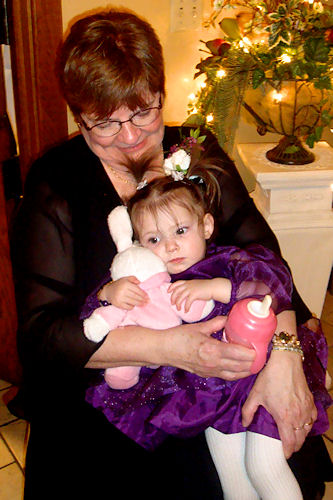 Poor little Peanut was drooping by this time. Her great-grandma, aka my mom, cuddled her in a quiet corner for a little while, but she was too wound up to settle down. My parents were ready to go home anyway so they brought Peanut back to our house and put her to bed. She'd been a real trouper all day but was all worn out.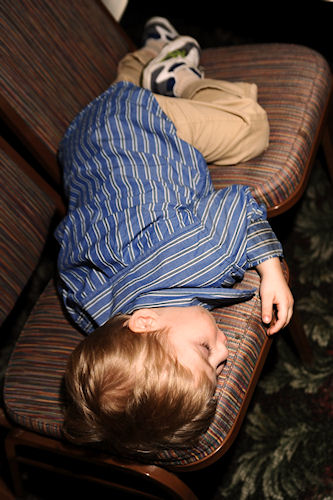 She wasn't the only one! Little Guy wouldn't take a nap so he ended up falling asleep on a chair. My poor tired baby!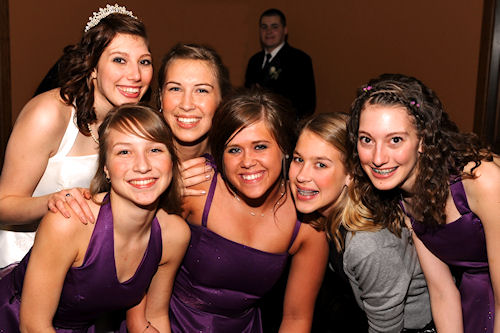 As I come to the end of my post I had to include this photo because I love it so much. Princess is with the girls who are important in her life, with Cowboy looking on in the background.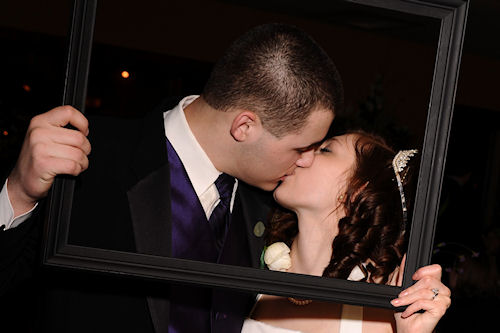 Could I have this dance for the rest of my life? Would you be my partner every night?
When we're together, it feels so right. Could I have this dance for the rest of my life?
~ Performed by Ann Murray, words and music by Wayland Holyfield and Bob House.
I have a feeling that their "happily ever after" is just beginning.