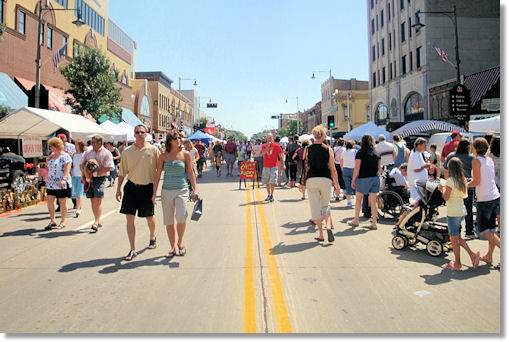 From Memorial Day to Labor Day every Saturday morning is Market Day in our hometown. The Farmers' Market is one of the reasons our family looks forward to summer and we go every Saturday that we can. Most of main street is blocked off to traffic and filled with vendors and shoppers.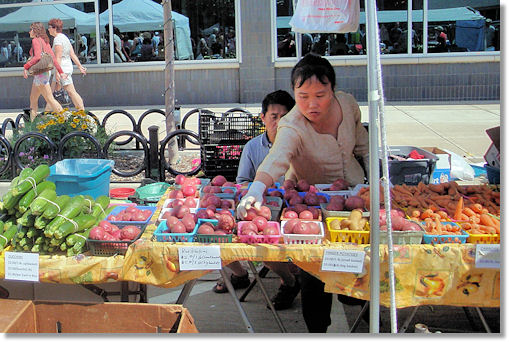 There are several favorite stalls we hit every week, like the tomato guy who grows heirloom, orange and yellow tomatoes in addition to luscious red ones. Although there are only a few certified organic produce farms there are many, many Hmong vendors who aren't certified organic but use organic methods passed down for generations.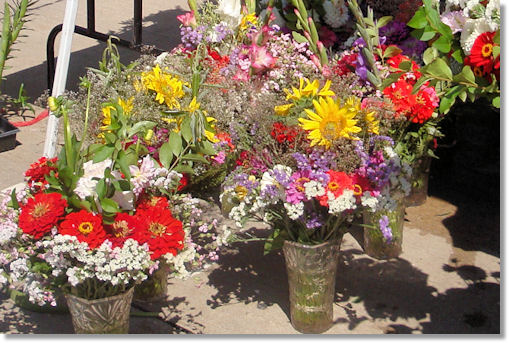 The flower vendors are always popular. Up and down the street there are bouquets of colorful flowers bobbing through the crowd. They've gotten expensive though – we used to get a nice big bouquet for $5 – $7 and now they're around $20.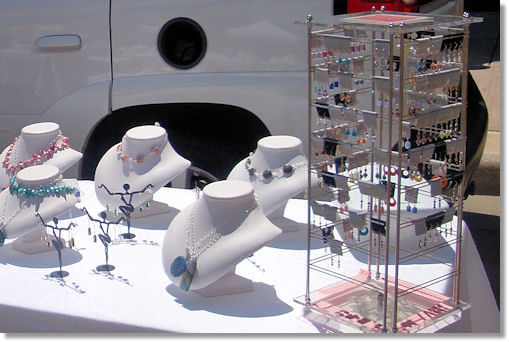 If you're in the mood for more than produce you can browse for almost any kind of craft. Jewelry, paintings, glassware, wooden goods – you name it, it's there. Some are really pretty like the jewelry above.
And some are really, really, REALLY ugly.
No matter where you go, from beginning to end and up the little side streets in the middle, the Farmer's Market is alive with noise. Above the constant murmuring of the shoppers and vendors are musicians playing their hearts out.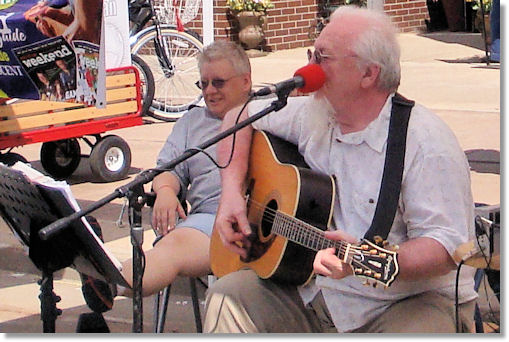 This guy is there every week, right smack in the middle. He's sings children's songs – the ABCs, Wheels on the Bus, etc – and is pretty good. That's his wife next to him, and sometimes their son is there, singing along.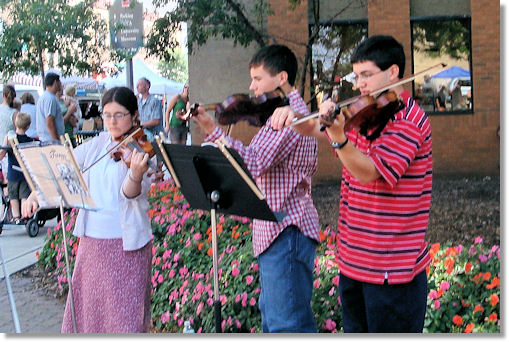 There are student groups from the local high schools, and other local organizations – like this strings trio who played classical music. Beautiful!
Mixed in with the produce booths and artists' stalls are food vendors – we rarely eat breakfast before going because we know we'll find lots of yumminess there!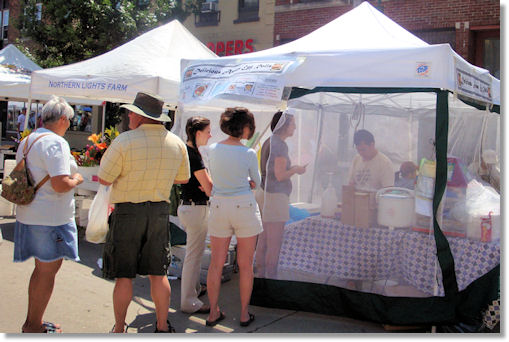 One of our favorite places is the Hmong eggroll tent. It's a family-run operation, with children and grandparents making the eggrolls in the back of the tent, parents cooking them in the next parking space, and teens selling them to us. Hmong eggrolls are very different from Chinese eggrolls – instead of cabbage, "glass" noodles are the main ingredient. Inside the crispy outside the inside has a fun, springy texture.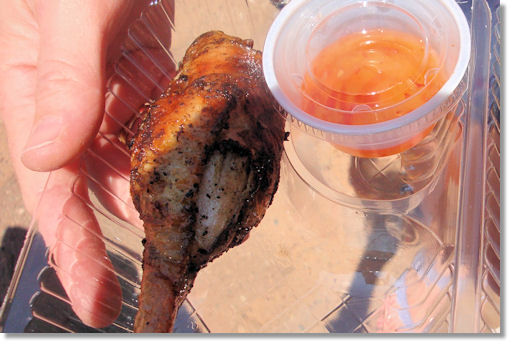 Another of our favorite places offers chicken wings stuffed with a similar glass noodle/pork/veggie mixture as the eggrolls. Yummmmmm! Little Guy loves these too, and usually eats over half of mine.
Jo-Bear looks forward to getting a soda from Stone Cellar Brewery – a local microbrewery. Princess seems to be enjoying her hers too. In Wisconsin it's called "pop" instead of soda – when I was a kid I didn't know what "soda" was.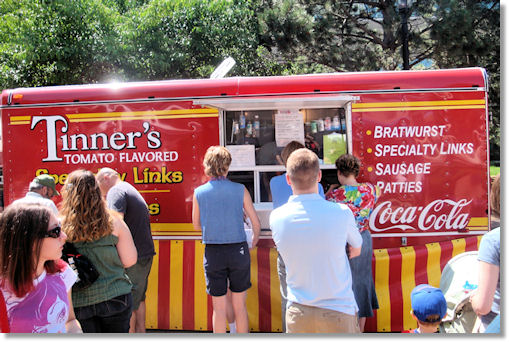 Tinner's Tomato Flavored Links is another favorite breakfast treat. Yes, they really are tomato flavored, and boy are they good! Angel Face is in the lower left corner of the pic, debating if she wants one today or not.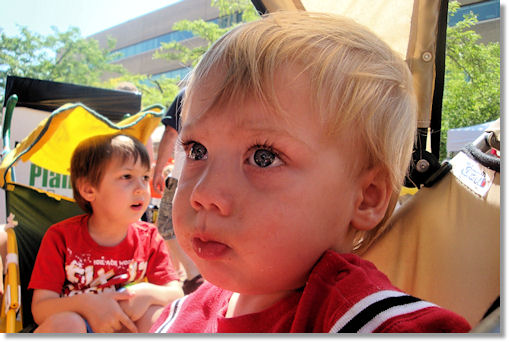 Little Guy wanted some Tinners – look at his eyes beg! Z-Man passed on the Tinners and is waiting patiently for his popcorn.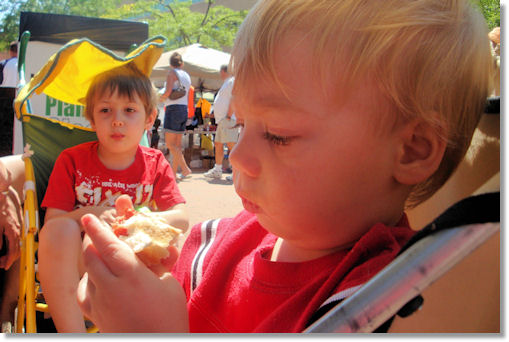 Angel Face caved and gave him the last of her Tinners. In typical Little Guy fashion he ate the sausage and gave the bun back – he never eats the bun.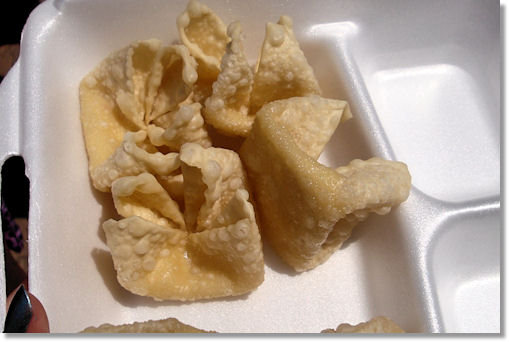 Right next to Tinner's it the crab rangoon booth. We don't get crab rangoon every week, but sometimes it hits the spot.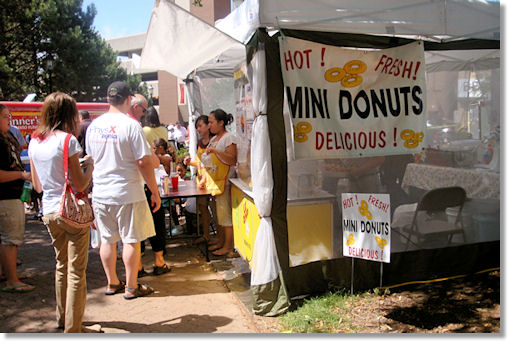 The donut stand always has a long line, but every week we have to get a dozen cinnamon sprinkle ones for the boys to share. Half of the fun is watching the donuts being made – the donut-making machine is right in the front of the tent so you get a good view while you're waiting. A funnel drops batter into hot oil and little fins at the bottom of the oil push the donuts along a narrow trough filled with hot oil. About halfway through the the trough the donuts float onto a set of metal tines which flip them over so the other side can cook. At the end of the trough another set of metal tines flip the steaming donuts into a bin of sugared cinnamon. More cinnamon and sugar are sprinkled on the donuts before they're bagged and handed over to eager customers. Yummmmm!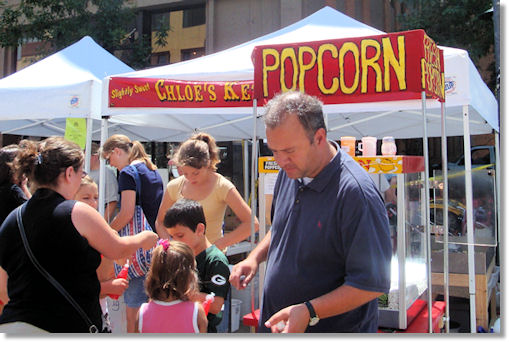 Finally, popcorn for Z-Man! Chloe's Popcorn Stand has regular popcorn and kettle corn. Z-Man likes regular popcorn and Kettle corn is my favorite so we get both. The cool thing about this stand is that all the proceeds are going to Chloe's college fund. Chloe is the one in the yellow shirt. I'm sure she'd rather sleep in on Saturday mornings, but she's been at the Farmer's Market every week instead for the past few years.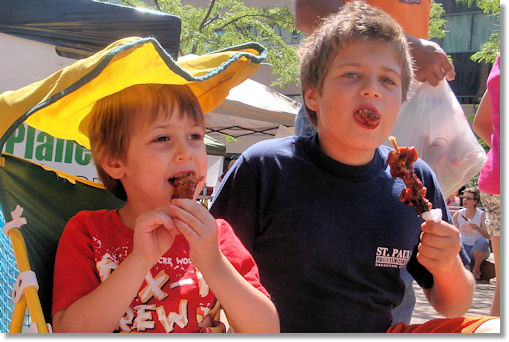 Barbecue pork on a stick is another one of Z-Man's favorite snacks. Jo-Bear likes it too – Jo-Bear likes just about everything.
Ah yes, another healthy breakfast at the Farmer's Market, LOL! No worries, the green beans, beets, raspberries, blueberries, zucchini, and other produce we bought will make up for it.