Want a chance to win a free diaper?
Hurry over to the Etsy HS Street Team blog!
This week I've been the featured artisan and in addition to a short blurb about Zany Zebra and a brief interview, I'm giving away a FREE diaper.
This diaper to be exact: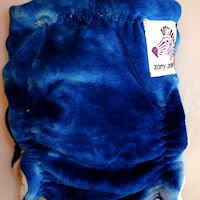 It's a luscious bamboo (viscose) fitted – size small (will fit babies from about 10-20 pounds). The outer velour was hand-dyed by Teacher in shades of blue, and the inner is undyed natural velour. The snap-in soaker is velour-topped fleece, and features our exclusive stitching as a special surprise for you. Retail value: $22.00.
The drawing is open to residents of the USA and Canada, but you have to enter at the Etsy HC Street Team blog, not here. Hurry, the winner's name will be randomly drawn on Monday, May 17.
Good luck!