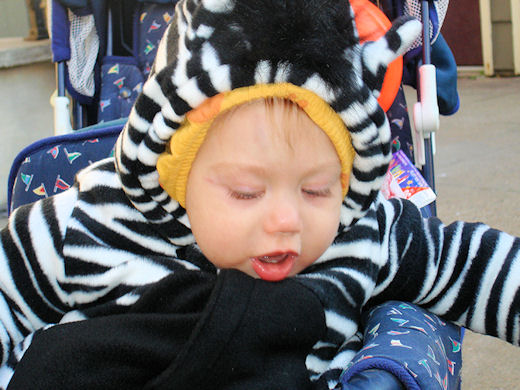 Little Guy dressed as a zebra, of course! The costume was warm, but I still made him wear a sweatshirt outfit and jacket underneath the zebra coat. The poor boy couldn't move his arms but I fed him M&Ms along the way so he was happy. He loves M&Ms just like his mommy.

Here's Z-Man in our driveway. I told everyone he was going as himself. It's true – sometimes he is a little devil!
We went to Uncle Jay first – he lives just 2 1/2 blocks away – and I begged him to come along with us. Are you SURE you don't want to come too? You don't really want to paint the ceiling, it'll still be there tomorrow… the boys would love to have you along…" I whined until he gave in. He gave me a bunch of Halloween candy too – the good stuff like Snickers and Crunch and Reeces Cups, yum!! I love my brother!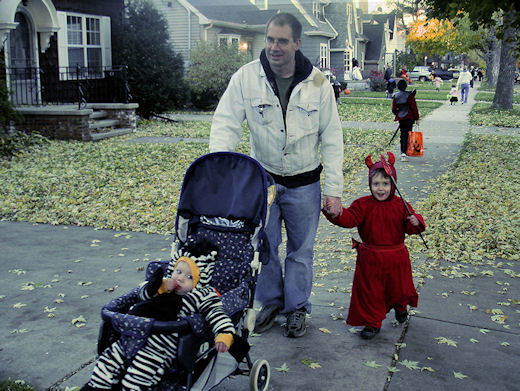 Here's Uncle Jay with the boys. Ladies – he's tall, smart, funny, handsome, and SINGLE! Ignore the smudge at the top and the bluish coloring – the camera was in my pocket and I didn't notice it was on a weird setting when I took the photo. I'm such a dork.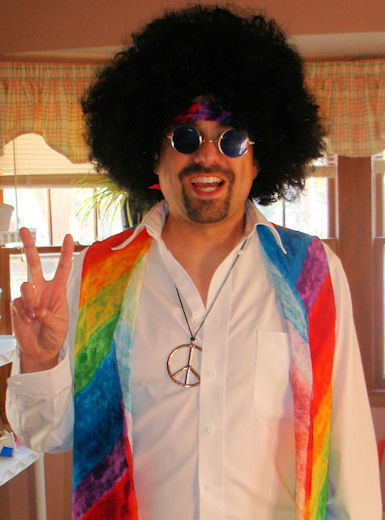 Teacher couldn't Trick or Treat because had to work at Pottery Barn, but he dressed as a hippie for his classroom party. The wig is even scarier in real life than in the photo! When Teacher first put it on Little Guy took one look and shrieked in fear; he wouldn't go near his dad until the wig came off and then he wouldn't go near the wig.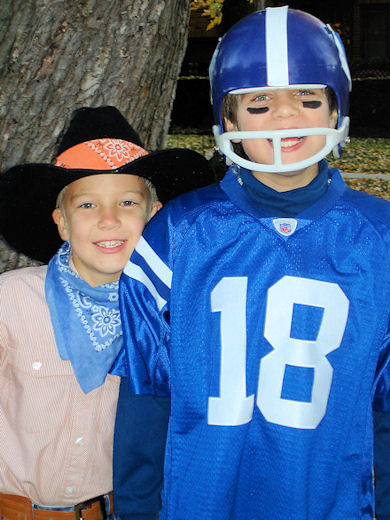 Jo-Bear was going to be "Luke Skywalker X-wing Pilot" until he got a Peyton Manning jersey for his birthday. He changed his mind and decided to be Peyton Manning, which was much easier to put together than Skywalker. Can you believe that Matt is the same age as Jo-Bear? He's an adorable cowboy! Did I mention Uncle Jay loves kids?

Angel Face was going to go as a cowBOY so Teacher and I got her a big furry black mustache but then Angel Face changed her mind. I think the mustache scared her.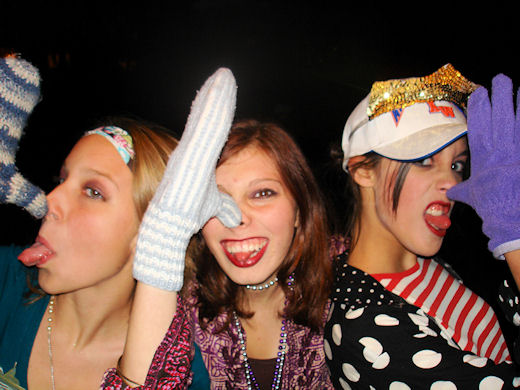 Princess and her friends dressed as gypsies. I told them I wouldn't give them a treat until they showed me a trick. I won't make that mistake again, who knew teenage girls could be so scary?!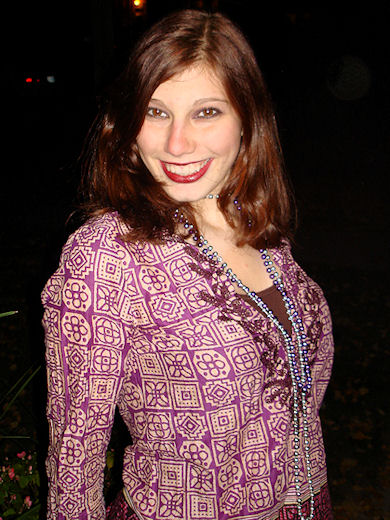 Here's Princess with her normal face on. She's not as scary now.
It was a fun Halloween, now I just need to stay away from the kids' candy bags. I hope you all had a Happy Halloween and got lots and lots of chocolate.