One of my goals is to raise independent children who can take care of themselves. Being able to feed themselves is toward the top of my list, so beginning when they're young my general rule is "If you hunt it and kill it, it's yours."
For instance, if you crawl to the open pantry, grab a box of crackers, manage to pry it open and get a handful, you can have them.
Even if we just ate.
Or if it's almost time to eat.
I figure anyone who works that hard deserves to be rewarded.
Over the years my rule has resulted in some pretty amusing – and messy – situations.
Like the time I walked into the kitchen to see eighteen-month old Princess sitting in the middle of the table surrounded with the entire contents of a box of Rice Krispies.
Or the time ten month old Angel Face crawled into the refrigerator to gum a watermelon half on the bottom shelf.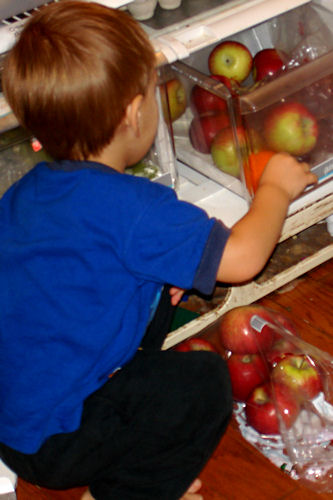 When Z-Man was two his favorite snack was an apple, peeled and cored but not sliced. That was Princess's favorite snack when she was that age too.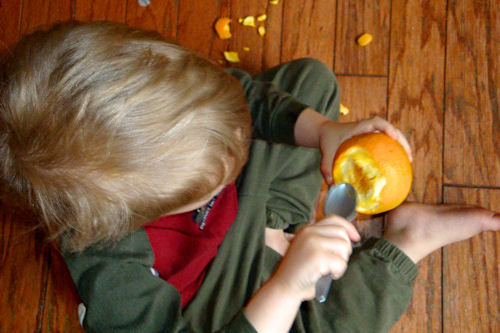 Little Guy uses his creativity – and a plastic spoon – to get into an orange.
Don't worry, I took pity on him and finished peeling the orange after snapping the photo.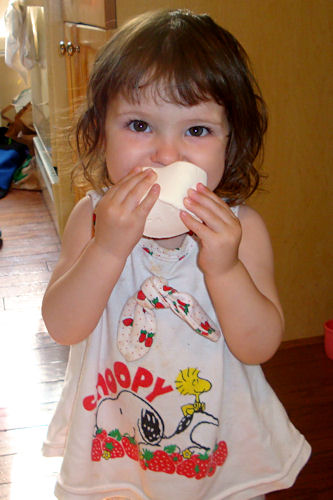 Peanut's learned how to play the "hunt and gather" game too, but her tastes run more toward sweets – like this giant marshmallow – than fruit or veggies.
I figure that when Teacher and I get too old to cook for ourselves our kids and grandkids will have this hunting and gathering thing down pat and will be able to feed us.
Unless they adopt my "If you hunt it and kill it, it's yours" rule.
Then I'd be in major trouble.