I fell in love with potato skins when I was in college and they've been one of my favorites ever since. Several years ago Teacher introduced me to jalepeno poppers, which became another favorite. Then he combined the two into Jalapeño Popper Potato Skins and I thought I'd died and gone to heaven.
Jalapeño Popper Potato Skins – With Pictures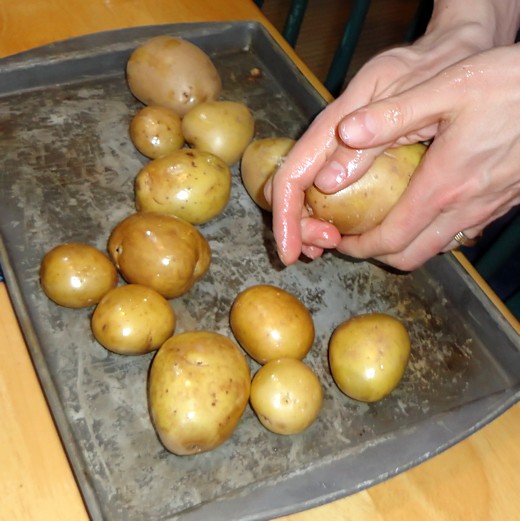 Rinse and dry your potatoes, poke them with a fork, then rub with oil. We used organic yellow potatoes but reds or Russets would work as well. It would be easier – and prettier – if they were all similarly sized, but we're not picky so we just used what came in the bag.
Bake at 400° for about an hour.
While the potatoes are baking, prepare the other ingredients…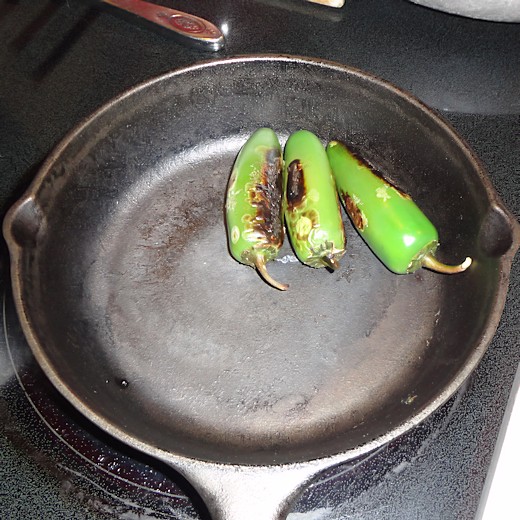 Roast some jalapeños in a screaming hot skillet until blackened on the outside. Use more jalapeños for spicier poppers, less for less spicy. Obviously!
Carefully remove to a bowl and cover. Let sit several minutes to loosen the skin. Teacher learned this trick from Rick Bayless – our Mexican cuisine idol.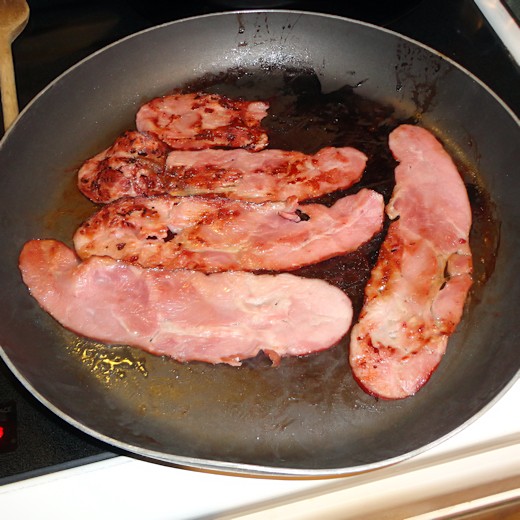 Cook up some bacon. Because everything is better with bacon, right?! Since Princess and Angel Face don't eat beef or pork we used turkey bacon this time. I actually like turkey bacon more than regular bacon most of the time, plus it's got less fat.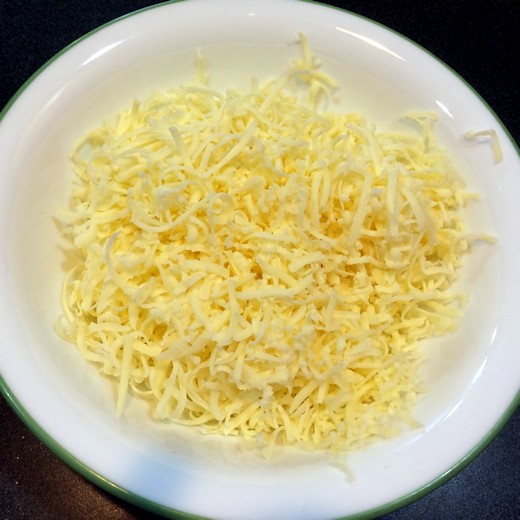 Shred some cheddar cheese. We prefer organic sharp cheddar but you use your favorite. I'll bet it would be really good to mix some Pepper Jack in with the cheddar. Why do I never think of these things at the right time?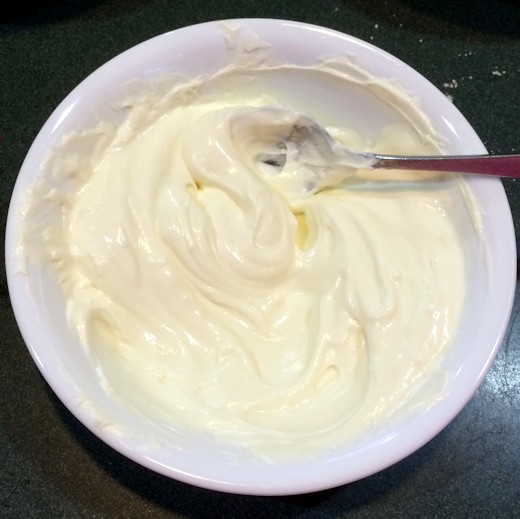 Soften the cream cheese. Again, we use organic. For less fat use neufchâtel cheese.
I know, it seems funny to worry about fat in jalapeño popper potato skins, but every little bit counts.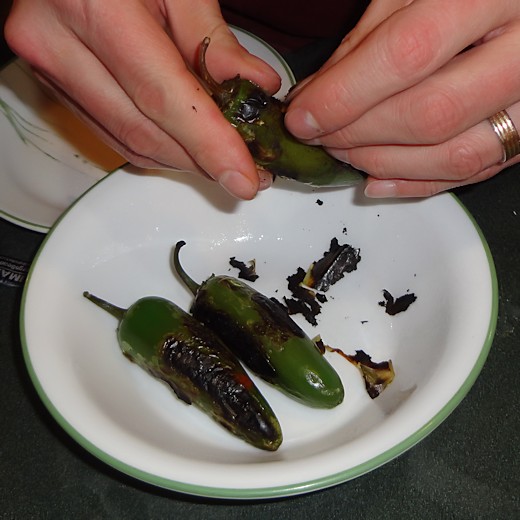 Once the jalapeños are cool enough to handle, carefully peel off the skins and remove the membrane and seeds. You may want to wear gloves when working with hot peppers, since the oils don't always wash off completely. If you choose not to wear gloves I recommend you avoid touching your eyes, nose, or nether regions for a loooooooong time. Otherwise you might be sorry. Voice of experience…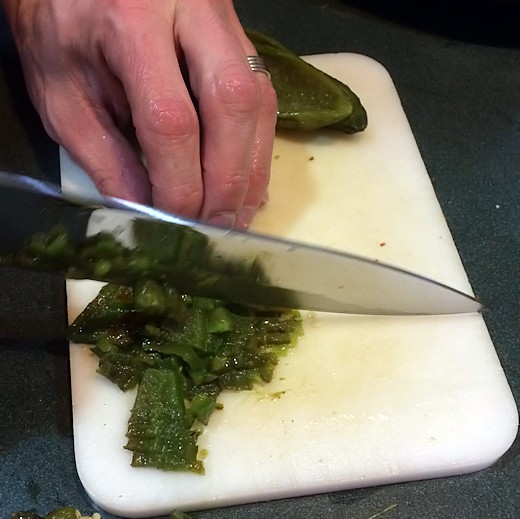 Chop the peppers…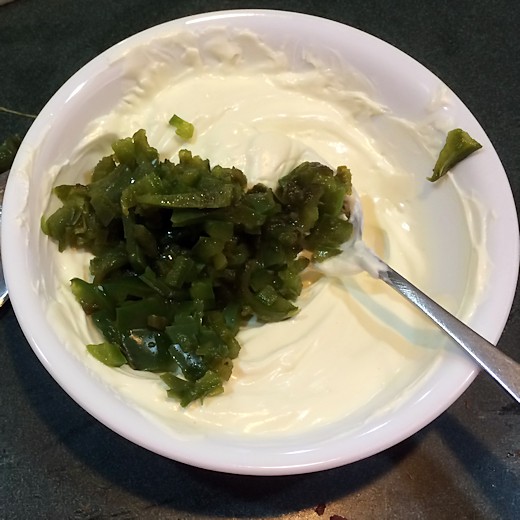 Add to the softened cream cheese…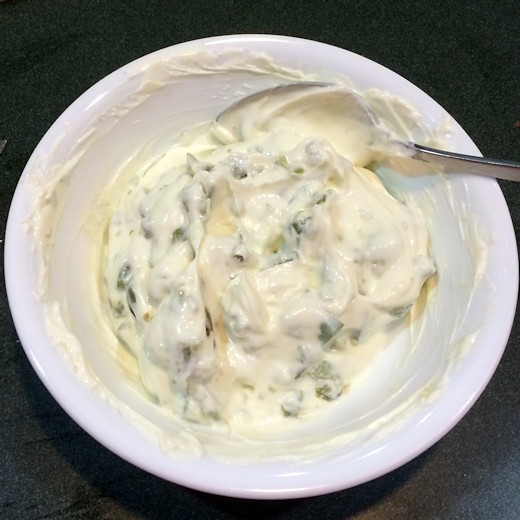 And blend well, then set aside – on the counter, not the refrigerator.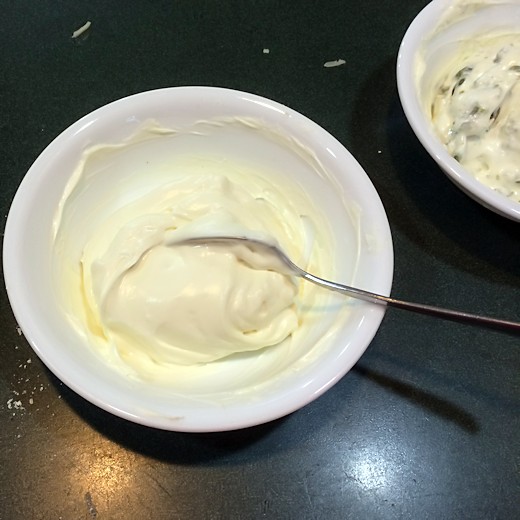 We left some cream cheese plain for the younger boys and other family members who can't take much heat. AhemPrincess! Set this aside – not in the fridge – also.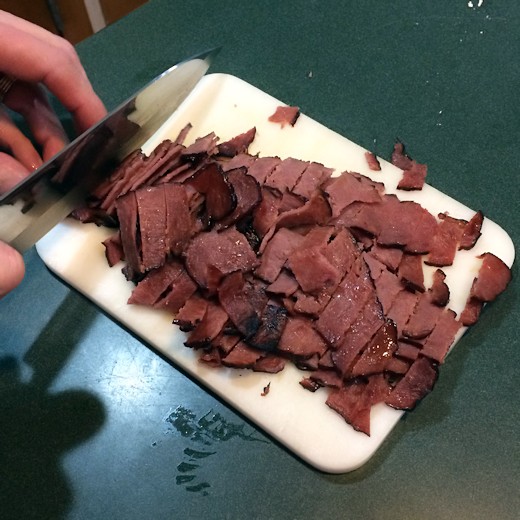 When the bacon is done, chop it and set it aside too.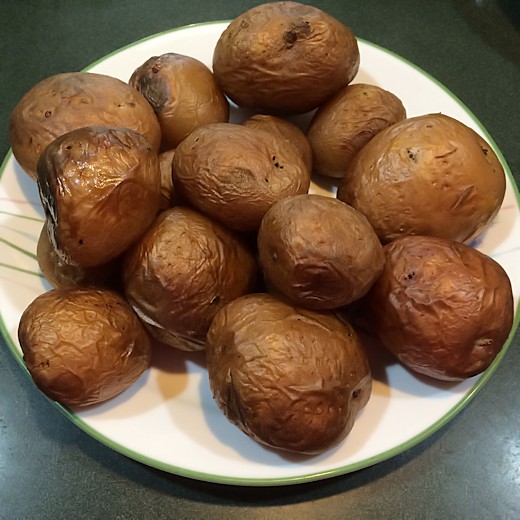 By this time your potatoes should be done, so set them aside until they're cool enough to handle.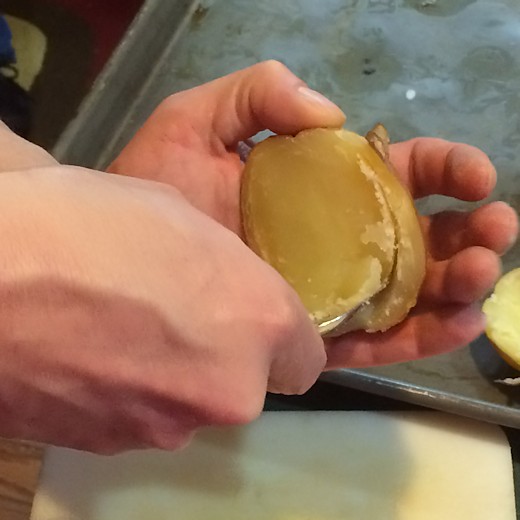 Now the fun begins! Slice each potato in half and scoop out the insides, leaving about 1/4″ of potato attached to the skin. Save the potato innards for mashed potatoes, potato patties, papas con chorizo, or something else yummy…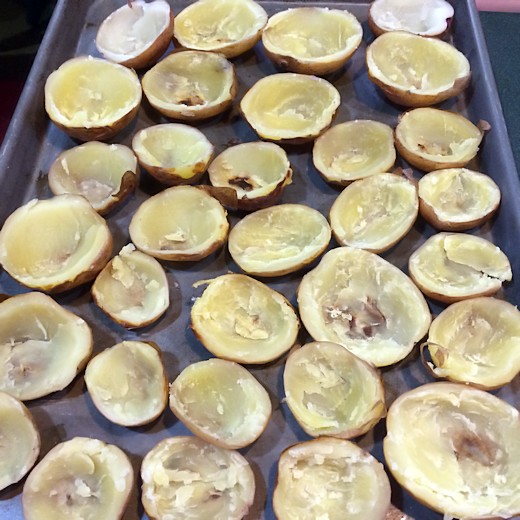 Place the hollowed-out skins on a baking sheet and repeat until all the potatoes have been scooped out. Spray with vegetable oil, sprinkle with salt, then bake for 10 minutes at 450°.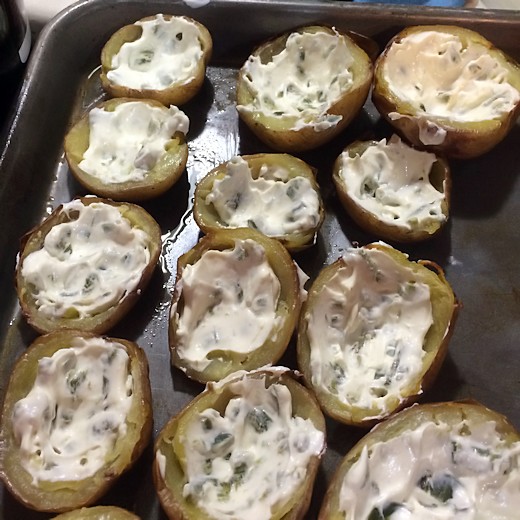 Spoon some jalapeño/cream cheese mixture into the potato skins, spreading it around to cover the inside.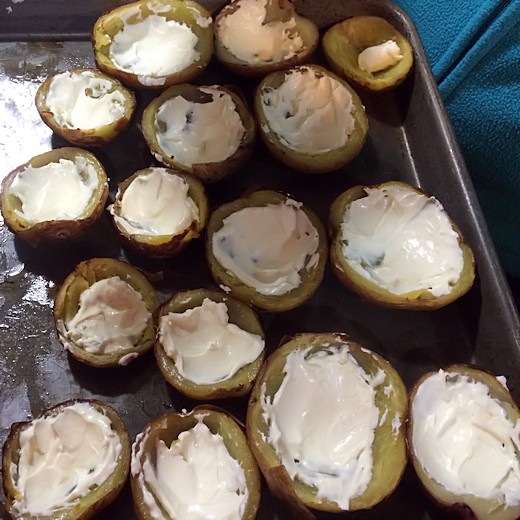 Don't forget the non-spicy ones!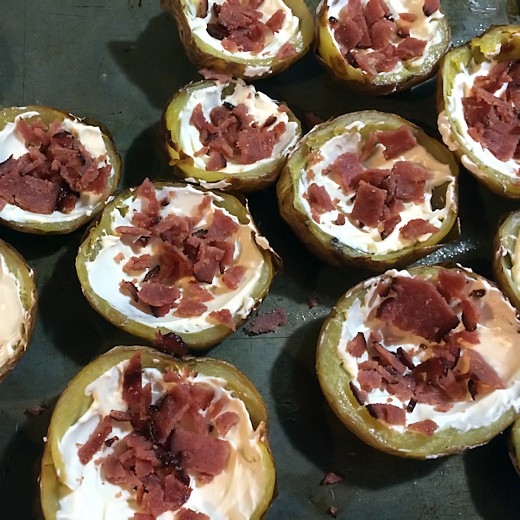 Add a generous amount of bacon…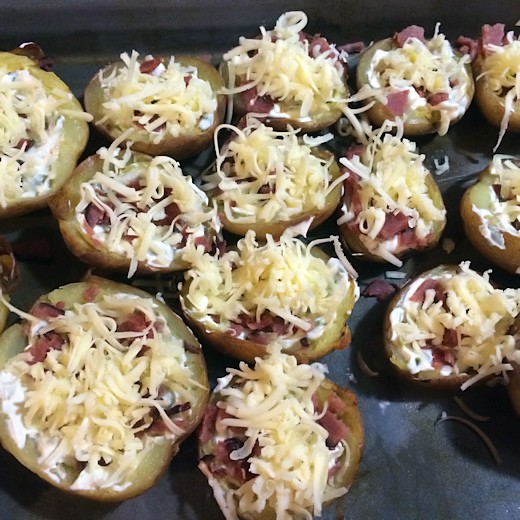 Then top with shredded cheese.
Place back into the oven and broil until the cheese is melted and your jalapeño potato skin poppers are golden brown and delicious.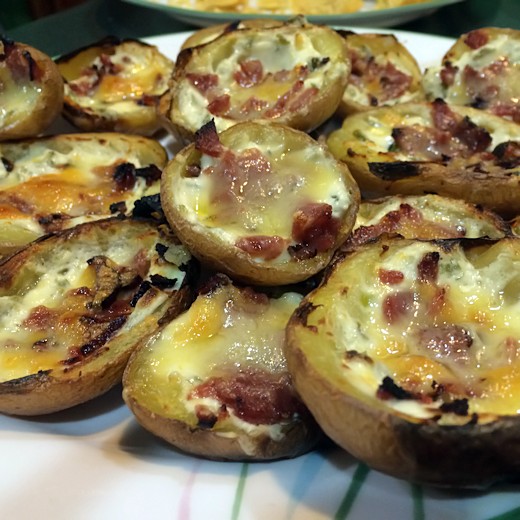 Now that's what I'm talking about! Serve warm, with a dollop of sour cream if you like.
Jalapeno Popper Potato Skins – the Official Recipe
(Adapted from Iowa Girl Eats – one of Teacher's recipe muses.)
Roasted Jalapeno Popper Potato Skin Ingredients:
2-3 jalapeño peppers
2 lbs small red or yellow potatoes
Vegetable oil
Vegetable oil spray (optional)
Salt
8oz cream or neufchâtel cheese, softened
1 C sharp cheddar cheese, shredded
6 strips bacon – turkey or pork
Sour cream for serving (optional)
Jalapeño Popper Potato Skin Directions:
Preheat oven to 400°. Wash and dry potatoes, prick with a fork, then coat all sides with oil. Bake for 30-60 minutes, depending on potato size, or until a knife goes into the center easily. Remove from oven and set aside to cool.
Meanwhile, roast jalapeños over high heat in a dry cast iron skillet, turning occasionally, until the skin is blackened but the peppers have not begun to soften. Remove to a bowl and cover with a plate. When jalapeños are cool enough to handle, peel away the skin and remove the seeds and membrane. Chop. Combine with softened cream cheese and set aside.
Cook bacon, following the directions on the package. Cool slightly, then chop and set aside.
Raise oven temperature to 450°. When potatoes are cool enough to handle, cut in half and scoop out, leaving 1/8 to 1/4″ potato inside the skin. Spray (or brush) the skins with vegetable oil, sprinkle with salt, then bake for 10 minutes. Remove from oven.
Switch from oven to broiler. Spoon jalapeno cream cheese mixture into each potato skin, then top with bacon and shredded cheddar cheese. Broil for 1-2 minutes, or until cheese is melted and slightly browned. Serve with sour cream if desired.
I hope you love these Jalapeno Popper Potato Skins as much as I do! If you try them be sure to let me know what you think, and what you did with the potato insides.
Happy eating!