So here's something funny… I apparently forgot to schedule a date for this post to be published when I finished writing it, so it's been sitting in my Dashboard for over a month. Whoops!
After a couple of emotional posts it's time for something more fun – my Walmart Winter 2016 Beauty Box arrived!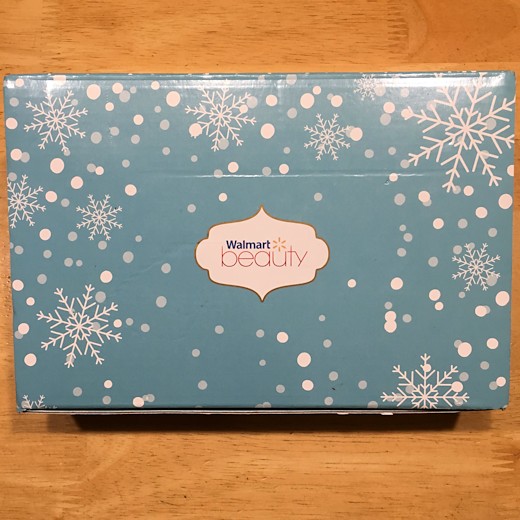 Before we dive into this beauty I have a short story to tell.
One of my New Year Resolutions was to use up some of these samples I've been accumulating. When the box arrived I was so gung-ho on that resolution that I forgot about taking photos, and put all the samples away to use.
When I was rinsing my hair in the shower the next morning I realized I'd forgotten to take photos – OOPS! By that time it was too late for the shampoo and conditioner samples, but I gathered the rest of them for photos.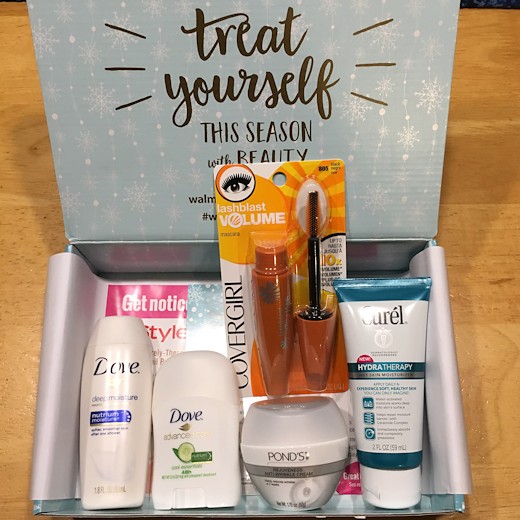 Here's what came in my Walmart Beauty Box, except the shampoo and conditioner.
I'm signed up for the Trendsetter box, but I noticed that my box contained both Trendsetter and Classic samples. I guess I'm a Classy Trendsetter! That's better than thinking that I'm at the end of the line and end up with whatever's left over…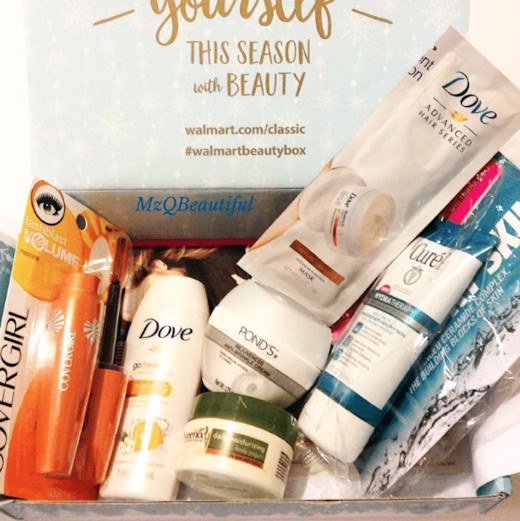 For comparison, here's the Classic box pictured on My Subscription Addiction. It looks like I actually got more Classic samples than Trendsetter, and I'm OK with most of them except I wish they'd sent me the Neutrogena sample instead of the Pond's. Oh well!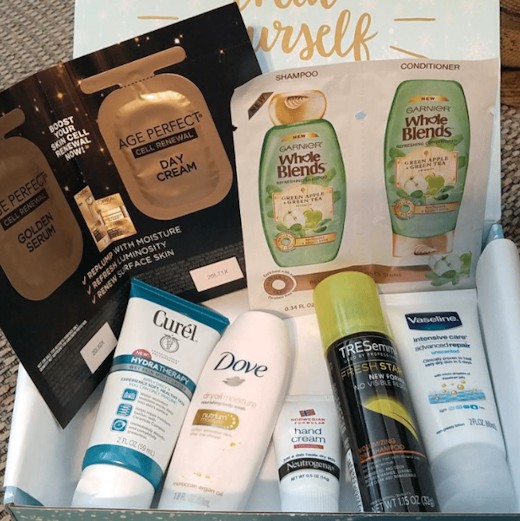 And the Trendsetter box from My Subscription Addiction. The Garnier Whole Blends Green Apple & Green Tea shampoo and conditioner pictured here is what I received and used before taking a photo. I LOVED the green apple scent, but I need a more hydrating formula to tame my flyaways.
Dove Deep Moisture Nourishing Body Wash. This is definitely moisturizing – I used my normal lotion afterwards and my skin feels softer than usual. The scent is a little medicinal, but I generally use products scented with essential oils so I'm probably more sensitive than most people.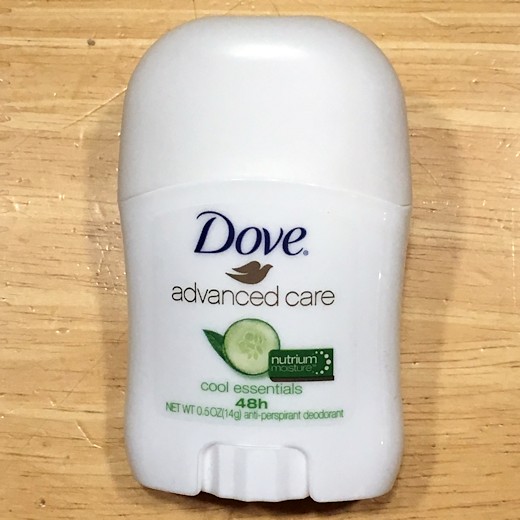 Dove Advanced Care Cool Essentials Antiperspirant Deodorant. I LOVED the fresh cucumber scent of this deodorant! I only use aluminum-free deodorant so I passed this on to Angel Face.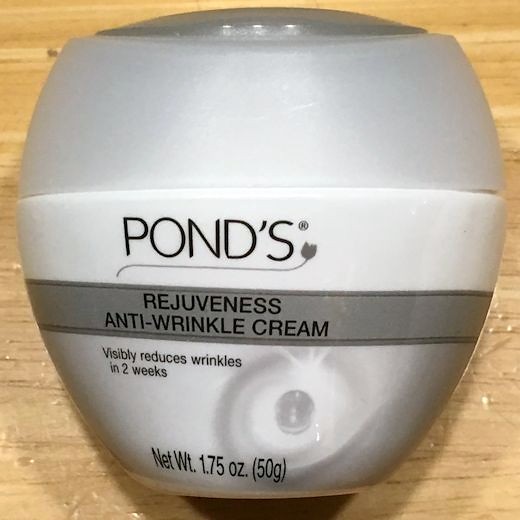 Pond's Rejuveness Anti-Wrinkle Cream. I have to admit to a bias against Pond's, because when I was a kid, Pond's was an "old lady" cream. I was prepared to give this cream a chance, but when I opened it the scent was way too strong. I'll probably have Princess trade this for me.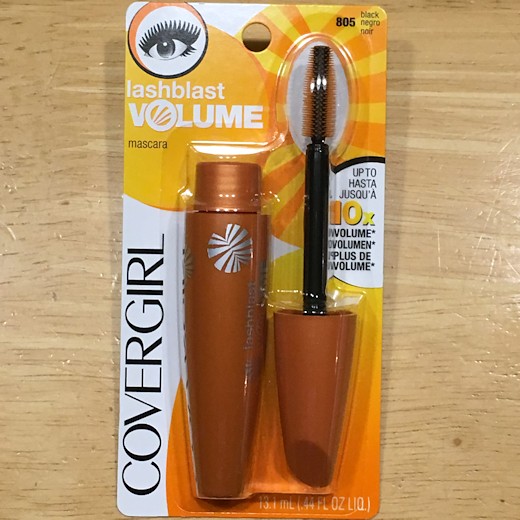 CoverGirl LashBlast Volume Mascara. Unlike Pond's, when I was young I LOVED Cover Girl brand – did any girl from my generation NOT want to be Christie Brinkley?! I really like this mascara; it works great and doesn't flake into my contacts.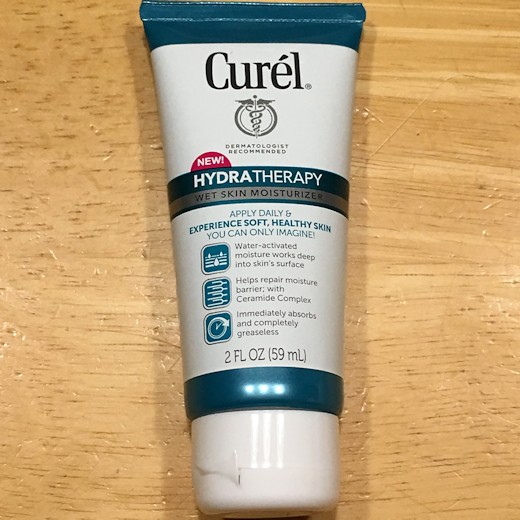 Curel Hydra Therapy Wet Skin Moisturizer. Princess swears by this moisturizer, so I gave it an honest try. In the past I haven't liked wet skin moisturizers because I hate to stay cold, wet, and dripping the extra minutes it takes to apply a wet skin moisturizer. It did make my skin feel softer all day, but I'd still rather dry off and get warm right away.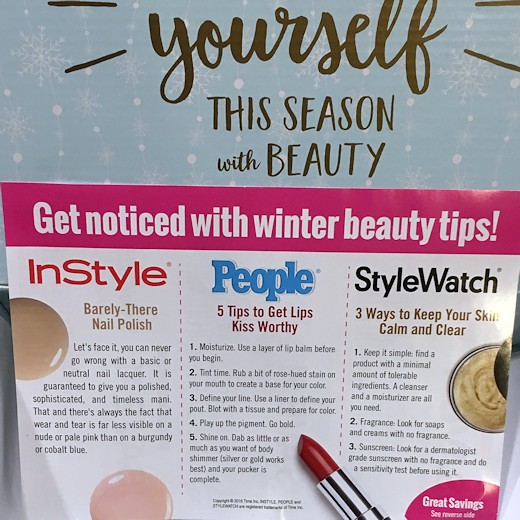 At the bottom of the box were coupons for $1 off InStyle, People or StyleWatch magazines. I put those out by the sign-in for daycare parents to take if they wanted.
So, that's the Winter 2016 Walmart Beauty Box – once again I thought it was totally worth the $5.00 price!