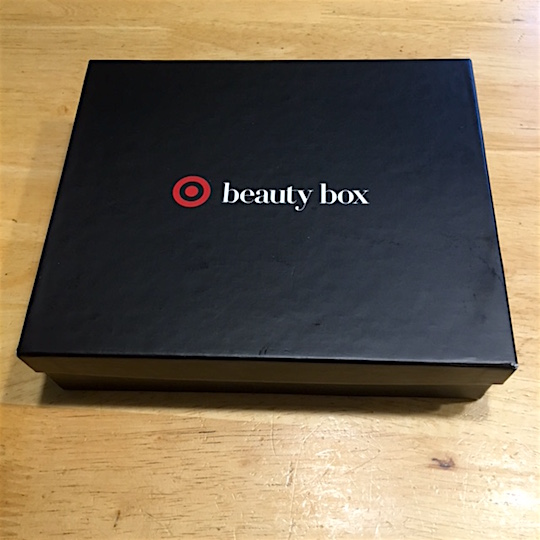 It's April, and that means it's Target Beauty Box time! I can see why Princess is so obsessed with sample boxes – now I am too!
One of the best things about the Target Beauty Box is that it arrives so quickly! Princess ordered it on Monday and on Friday it was at my door – despite the weather.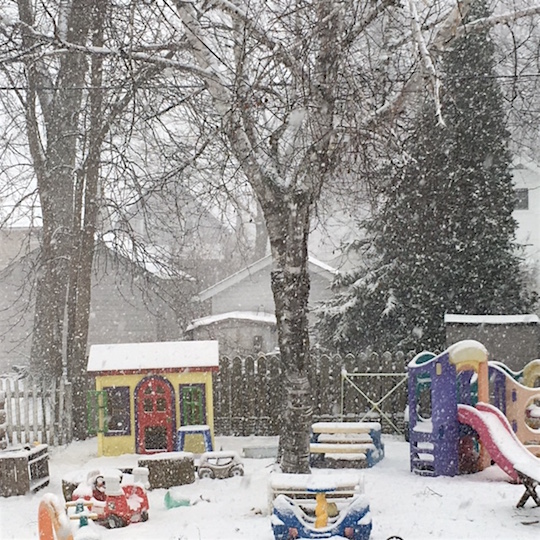 Gotta love Wisconsin…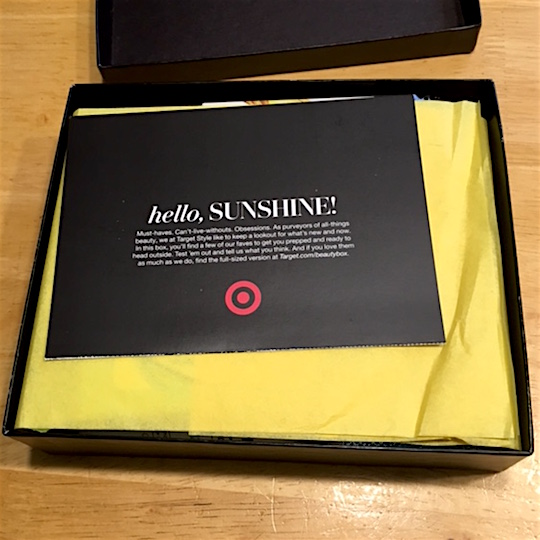 "Hello Sunshine!" What a great beginning on this snowy April day.
I couldn't wait to see what's inside! Princess always looks for previews online but I love surprises so I don't look for previews, and won't let her give me any hints about what's in the box either.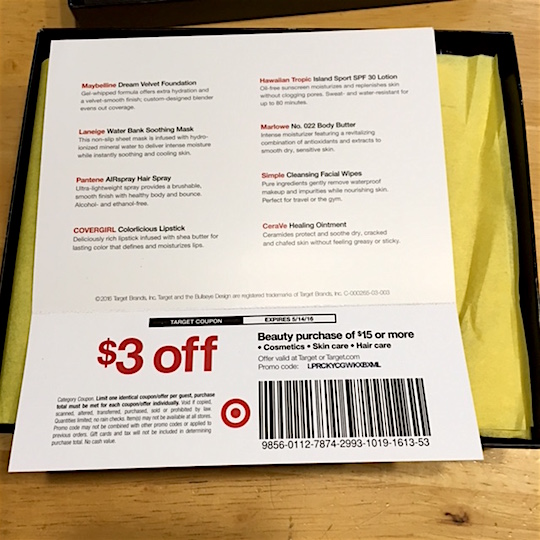 Again there was a coupon of $3 off a $15 purchase. After trying most of the products I'm sure I'll use it this month.
Are you ready? Here we go…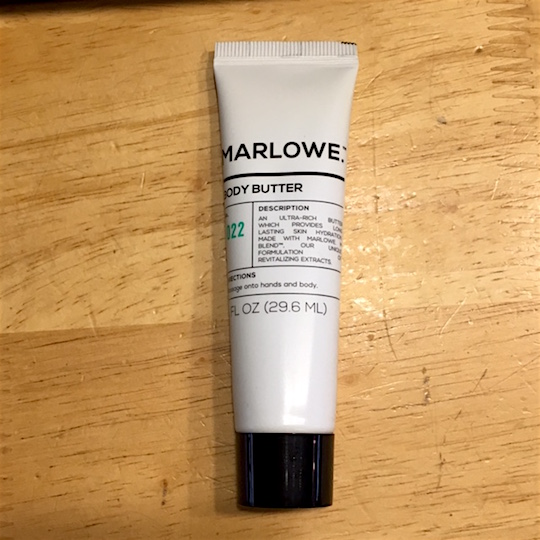 Marlowe No.022 Body Butter. "Intense moisturizer featuring a revitalizing combination of antioxidants and extracts to smooth dry, sensitive skin."
I love this Body Butter! It's definitely moisturizing, and has no scent! I mean NO scent – not even the chemical-y smell some "unscented" products have. I'm not against scents but it's too much when every beauty product I use has a different scent.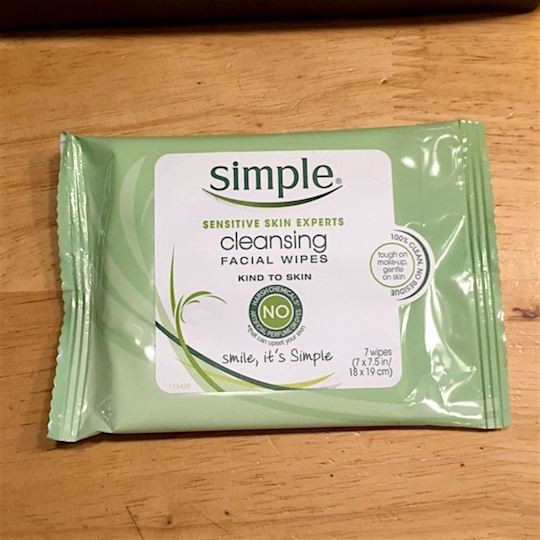 Simple Cleansing Facial Wipes. "Pure ingredients gently remove waterproof makeup and impurities while nourishing skin. Perfect for travel or the gym."
These felt weird to me because I'm used to washing my face with my hands instead of a cloth. It did work great on my mascara. Usually I have to follow my cleanser up with Mary Kay's Eye Makeup Remover to get all the mascara off, but I didn't need to do that after using one of these wipes. My skin did feel a little dry the next morning, so I'm setting the rest of these aside to try again this summer when the humidity makes my skin more oily.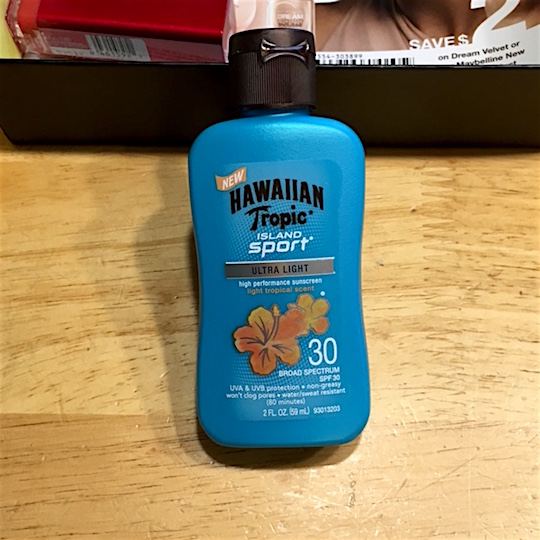 Hawaiian Tropic Island Sport SPF 30 Lotion. "Oil-free sunscreen moisturizes and replenishes skin without clogging pores. Sweat and water resistant for up to 80 minutes."
I can't wait for summer to arrive so I can use this sunscreen. It smells so amazing – like coconut and the beach – that I may even wear it in the house!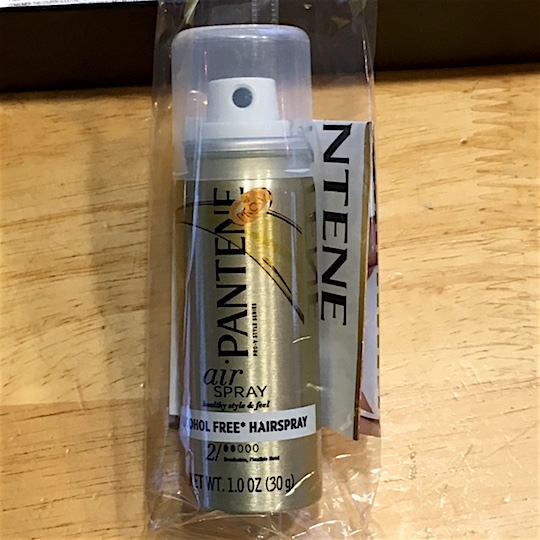 Pantene AIRspray Hair Spray. "Ultra-lightweigher spray provides a brushable, smooth finish with healthy body and bounce. Alcohol and ethanol free."
I love this hair spray! It smells like green apples and definitely lives up to its description. It goes on lightly and holds well but doesn't make my hair feel stiff. The only weird thing is that it comes out in a burst rather than a smooth stream like most aerosol sprays. But since it's alcohol and ethanol free I'm not going to complain. It came with a coupon, that I'll probably use when the sample is gone.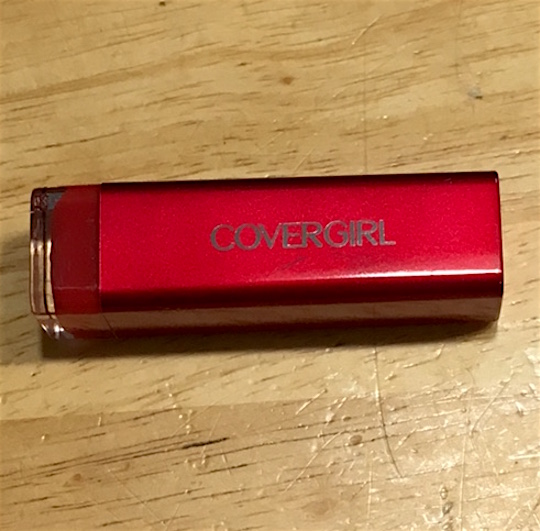 COVERGIRL Colorlicious Lipstick in Succulent Cherry.
Deliciously rick lipstick infused with shea butter for lasting color that defines and moisturizes lips."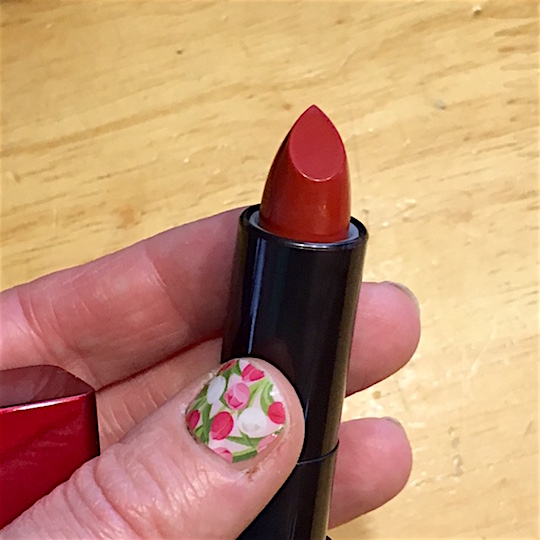 I was equally excited and disappointed to see this lipstick in my Beauty Box. Excited because who wouldn't love a free full size lipstick?! Disappointed because there's no way I'd ever wear a red this bright. Princess has the coloring to pull off bright lipsticks, but me not so much.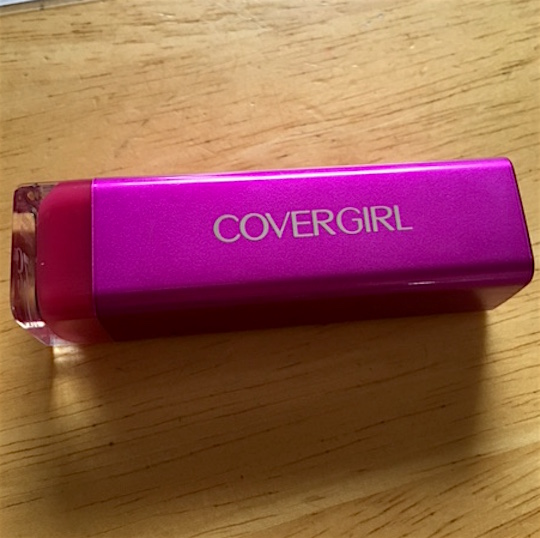 I was hoping Angel Face would get a different color so we could trade, but her hot pink Spellbound isn't my cup of tea either. Oh well, Princess will trade it for me – maybe she'll find a shade I'll actually wear.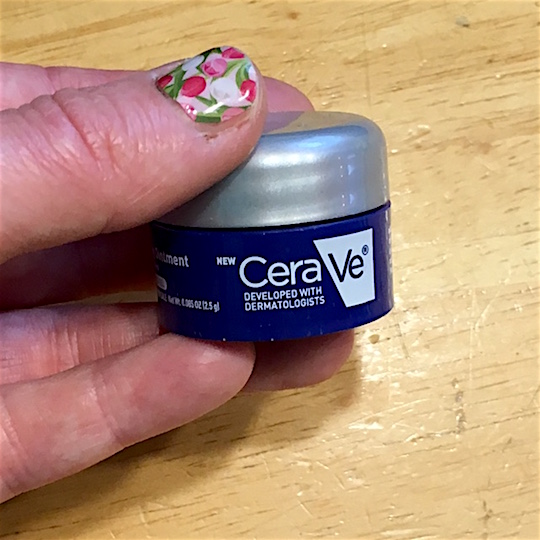 CeraVe Healing Ointment. "Ceramides protect and soothe dry, cracked and chafed skin without feeling freaky or sticky."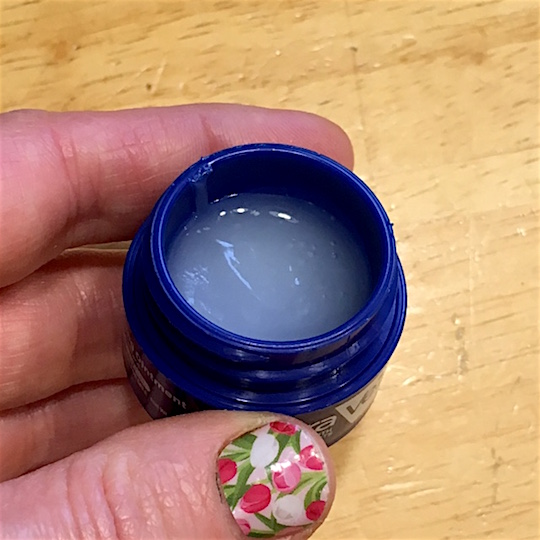 We were all surprised that the jar was only half full, but after trying it I understand – a little goes a long way! At first it felt like Vaseline luckily without the nasty smell but it absorbed better than Vaseline and I definitely have to agree that it doesn't feel "freaky or sticky" on my hands.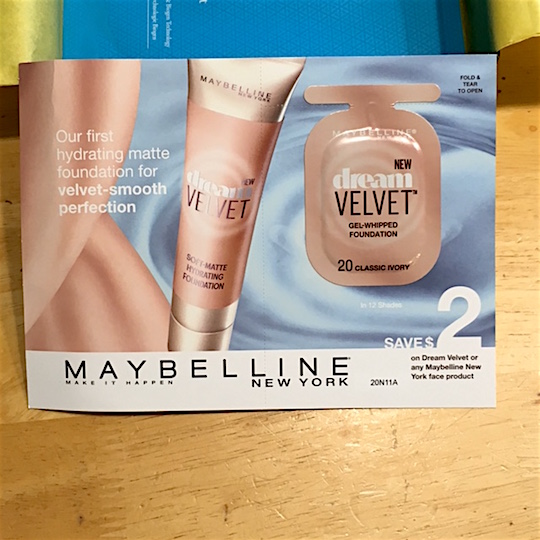 Maybelline Dream Velvet Foundation. "Gel-whipped formula offers extra hydration and a velvet-smooth finish; custom designed blender evens out coverage."
Teacher generally loves anything I do with my hair and makeup – except when I wear foundation. Every time I try it he says that can't see my face under the makeup, so I usually avoid foundation like the plague. But in order to give you my opinion I thought I'd give it a try.
I hated it. I started applying it to my cheeks and immediately washed it off. Maybe the shade wasn't right for me, or it was because I used my fingers to apply it instead of their special sponge pictured on the back of the sample, but not included. Whatever the reason, I could see the foundation on my face and it made my pores MORE noticeable, not less noticeable. I mean really, who notices the pores on their CHEEKS? It may work great for women who are used to wearing foundation, or if I had a better color match, or if it was applied with their special sponge, but for now I'm sticking with my regular routine.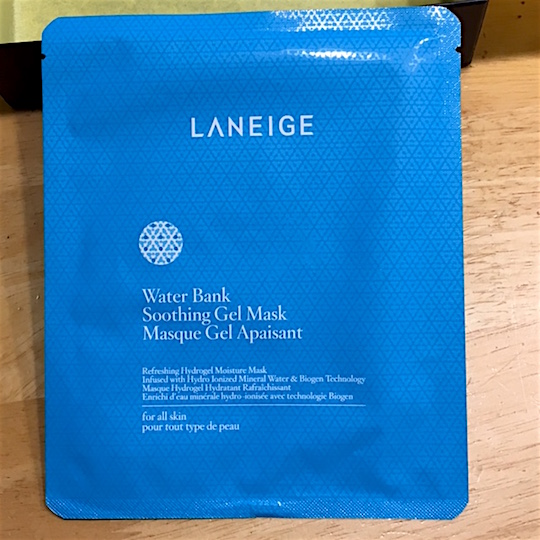 Laniege Water Bank Smoothing Mask. "This non-slip sheet mask is infused with hydro-ionized mineral water to deliver intense moisture while instantly soothing and cooling skin."
Something about sheet masks scares me maybe it's my claustrophobia but Princess LOVES them so I told myself to put on my big girl panties and try it. I'd planned to do it when I got ready for bed the other night, but then I read the directions. It's supposed to stay on for 30 minutes – I don't have time for that at night! I'll have to find another time and report the results. In the meantime, let me know if you've ever tried the Water Bank Smoothing Mask and what you think of it.
All in all I was thrilled with the April 2016 Target Beauty Box and can't wait for the May one!