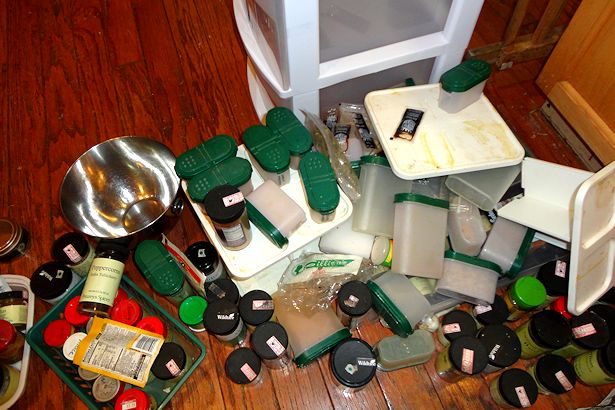 Hey, who made this big mess?
Me…
But I had a good reason!
Let me go back to the beginning…
It was 1999 and we were moving into our new home. I was especially excited about setting up the kitchen because we had totally redone it from the floor up.
Since Teacher likes to cook we've amassed about a gazillion containers of herbs, spices, oils, vinegars, and etc. I decided to set up the corner cupboard, with it's double-decker lazy susan, as our spice cupboard.
It sounded like a good idea at the time but after a couple of years I realized I'd made a mistake. The lazy susan shelves were always crammed full of stuff and defied all efforts at organization. Whenever you turned the top shelf, at least a dozen containers flew off into the far recesses of the cupboard. And you could hardly turn the bottom one because it was so buried by containers and other stuff crammed into the corners and sides of the cupboard.
It was a mess.
We tried in vain to organize the area with shoe box lids, small plastic containers, Tupperware spice carousels, and art bin containers. It would look nice for a while, but eventually became a disaster again.
Teacher and I had pretty much resigned ourselves to the chaos – we had more important things to worry about – until one day when I broke the lazy susan the lazy susan broke.
I was looking for cinnamon and started turning the upper lazy susan shelf slowly to keep the rest of the containers in place. It was very hard to turn, but this happened a lot; stuff got caught between the edge of the lazy susan and the wall. Usually if you kept turning the stuck item dislodged and the shelf would turn freely again.
So I kept turning.
It got really hard to turn, so I pushed really hard, to dislodge whatever was stuck. Suddenly there was a CRACK and the whole shelf dropped about three inches. I jumped about three feet into the air, then froze and stared stupidly at the shelf.
Did I mention the word "stupid"? Of course, I tried to turn it again.
It wiggled, but wouldn't turn.
Looking more closely I saw that it was being held up by the tall containers on the bottom shelf, and there was a mangled half-circle of plastic lying near the center pole on the bottom shelf.
Ruh roh, Raggy – I think it's a goner!
I couldn't do anything about it at the moment so I grabbed a flashlight, crawled half-way into the cupboard to find the cinnamon, and finished making breakfast. A girl's gotta keep up her strength, right?
The next day I told my mom about the lazy susan and she told me about a home improvement show that had put drawers in a corner cupboard instead of a lazy susan. We decided that drawers wouldn't necessarily waste any more space than a lazy susan, would be easier to organize and would be less likely to have things fall off than a lazy susan.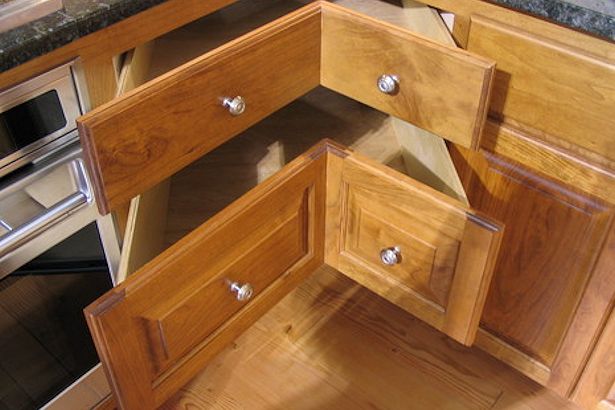 I couldn't quite figure out how the corner drawers would work, so I did a Google search and found the above photo at Curbly, a DIY community. I could spend HOURS there getting more ideas than we'd have time or money for in our whole lifetimes. What a cool place!
That option would require more time and money than we were willing to put into it, so Teacher and I discussed other ideas. We finally decided to try plastic drawer units. He measured the cupboard space, then we went shopping.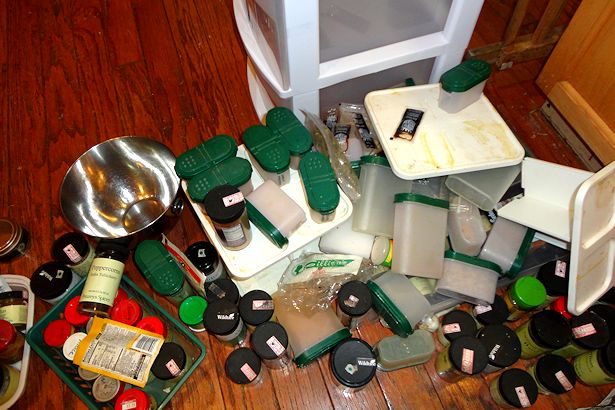 Now you can see where the mess came from. The first thing we had to do was empty the cupboard.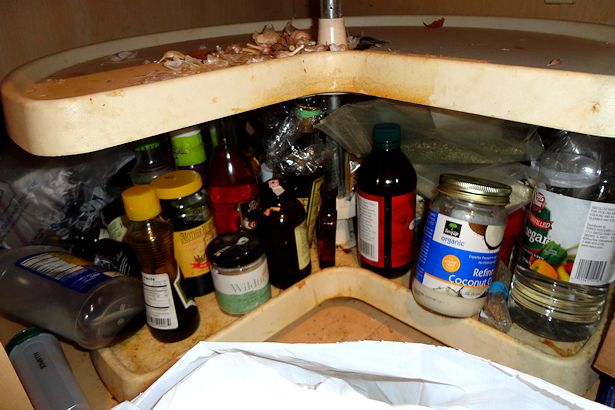 Yuck! I really have cleaned it out – several times in fact – since 1999!
Once I had almost everything out of the cupboard Teacher took apart the lazy susan. Ain't nothing hotter than a man with a tool in his hand… Unless it's a man wearing a tool belt with a tool in his hand. Mmmm-mmm!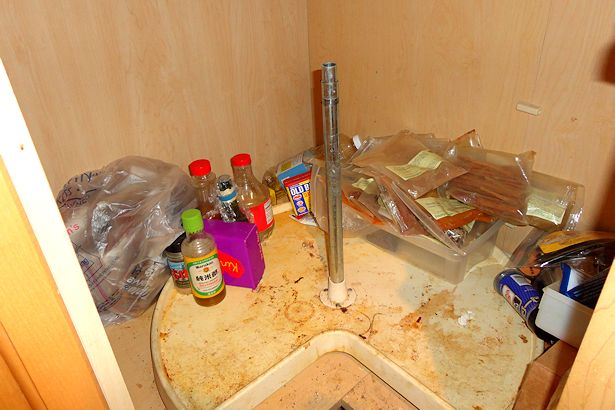 Now I can reach the rest of the stuff more easily.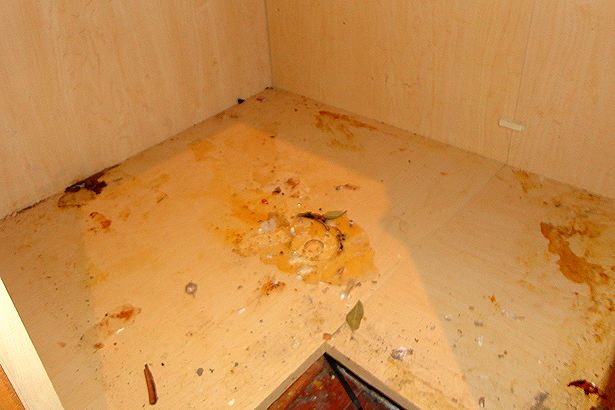 And it's out!
Ew, ew, ew, ew, ew, ew! I didn't know it was that yucky in there! Obviously we've had some spillage… Looks like corn syrup, oil, and I'll bet more than one of those little soy sauce packets exploded in there.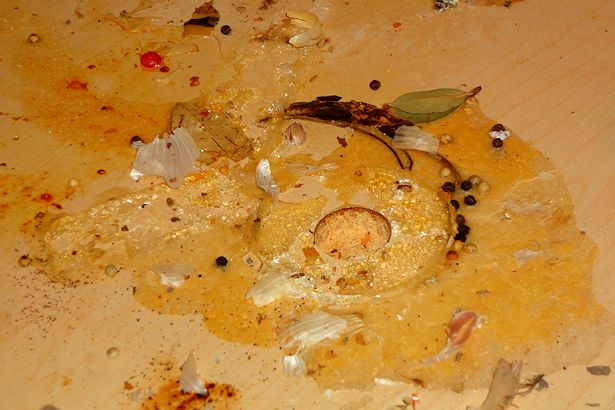 I think the petrified corn syrup is going to be the most difficult to clean up.
This is a job for Super Mom!
Cue superhero music… Believe it or not, I'm walking on air; I never thought I could be so free-ee-ee…
Name that superhero!
Flying away on a wing and a prayer, who-oo could it be-ee…
What? Procrastinating? Me? Naw… OK, yes. You caught me – time to tackle that grossness.
I scrubbed and rinsed and soaked and scrubbed and rinsed, and finally discovered that Teacher's putty knife was the most effective at scraping the petrified corn syrup off.
Then it was time for supper and Margaritas and dishes and putting the boys to bed, and I forgot to take a photo of the clean cupboard. You would have been awed and amazed though. Really!
Teacher helped me put the drawer units into the cupboard and the spices into the drawers.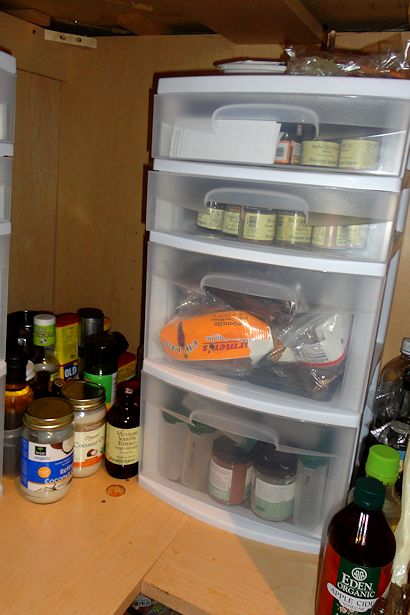 Since it was Sunday night we didn't worry about organizing them much; it was more important to get them off the kitchen floor.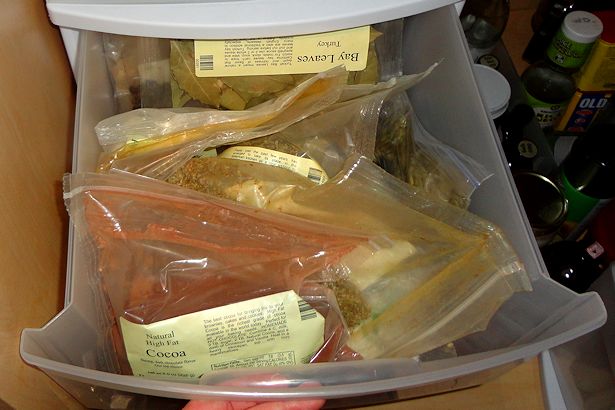 There's a big drawer for our Penzeys refill bags. Which have since been alphabetized.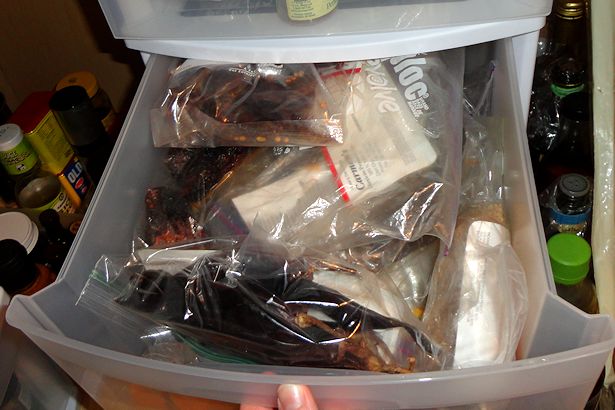 And another for dried peppers and other Mexican ingredients.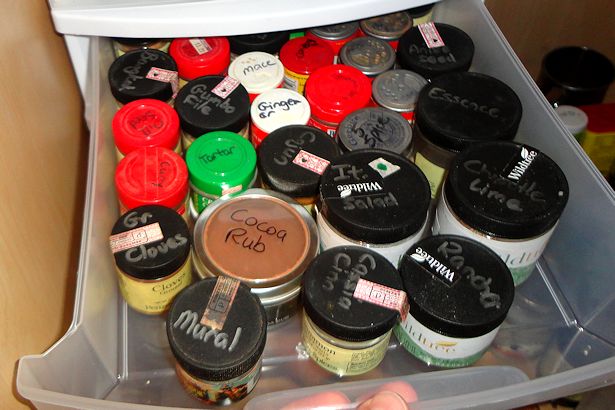 I labelled the top of each jar with its contents using a black or silver Sharpie. If I was cool like my friend Nicole I'd have a label-maker, but I'm not that cool.
What an improvement – it looks good, and we can find what we're looking for!
Why didn't we think of this years ago??