Uncle Jay lived in Savannah, Georgia for over 9 years and when he moved back he brought little pieces of the South with him – like a fondness for sweet tea I don't know what he's thinking there… a habit of calling people Bubba, a cat called Lucy, and something called "Low Country".
Low Country isn't just dinner, it's a party and the more the merrier! Invite your family and friends, have everyone bring something to toss in the pot, grab your favorite beverage, I'll take a Margarita on the rocks! and you'll have the easiest party you've ever put together.
The first thing you need is a pot – the kind used for deep frying turkeys. Uncle Jay's secret is to rub some liquid dish soap on the bottom to make it easier to clean later. It really works too!
We used pink Palmolive, but any kind will do.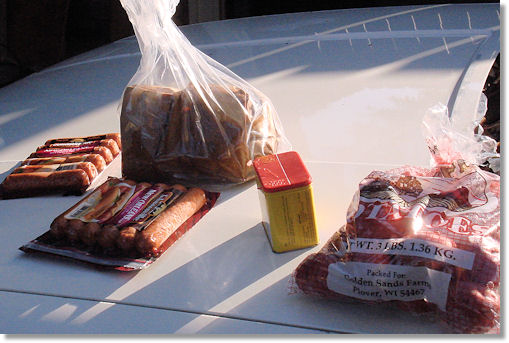 Next you need some goodies to put into the pot. Of course you'll want to use the freshest ones you can get your hands on. You'll need about 4-5 lbs red potatoes, 4 lbs shrimp, 8-10 cobs of corn, 2-3 lbs sausage (
andouille
is traditional) a lemon or two, and Old Bay seasoning. Johnsonville makes a decent andouille but the best ones come from a small meat market and are well worth the extra trip. You can use less spicy sausage if you want; we use equal amounts of spicy andouille and mild sausage to keep everyone happy.
Southern hillbilly tip: put the food on the hood of your car to keep it off the ground and away from the varmints… or the hungry kids.
Use your garden hose to fill the pot with water. Crank up the heat and enjoy your drink while you wait for the water to boil and get the ingredients ready.
First slice the sausage into 1-2″ slices. We slice the andouille on the diagonal and the mild sausage straight so we can tell them apart. Then shuck the corn – this is great job to keep the kids out of trouble! Some people make Low Country with frozen corn but we'd rather go without if we can't get fresh. Frozen is just nasty. Chop the corn in halves or thirds depending on how many people you've got to feed. Obviously you don't want the kids hacking the corn into pieces – let a relatively sober adult wield the knife!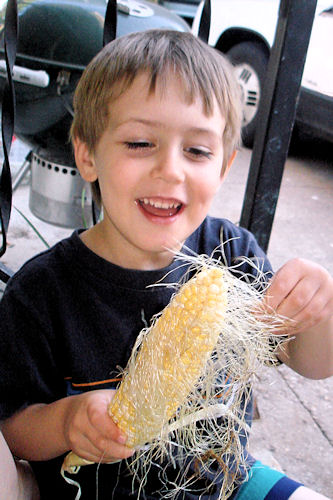 Look at this adorable face! Not only does Z-Man love shucking corn, he's a whiz at it too! He's not so great at taking off the silk but that's my job anyway cuz I'm totally obsessed with getting Every. Last. Piece. Off.
Just a tad bit AR sometimes…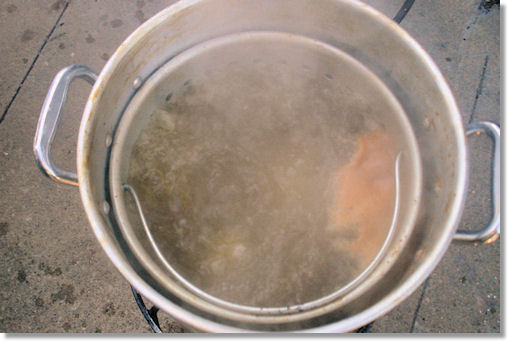 Once the water is boiling, cut the lemon in half and toss it into the water with some Old Bay.
Use two lemons if you want, it's your party.
You can tie the Old Bay in cheesecloth so you won't have random spices stuck to your food when you're done but we like the extra seasoning so we throw it in loose.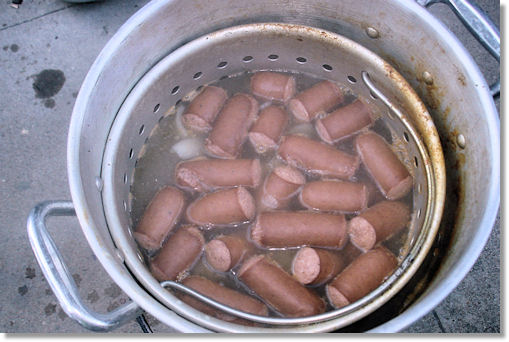 Next toss in the red potatoes and let them cook about ten minutes. Then toss in the sausage and let it cook about five minutes. While you're waiting take a deep whiff of the sharp spicy aroma… heavenly!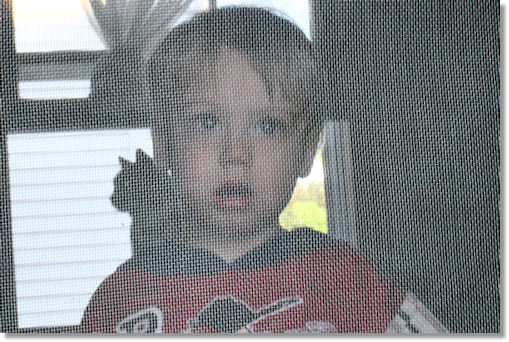 Poor Little Guy! He wants to come outside but his mama was worried he'd get too close to the fire so he's locked inside and has to watch through the screen door. Don't cry sweetie, we'll feed you too!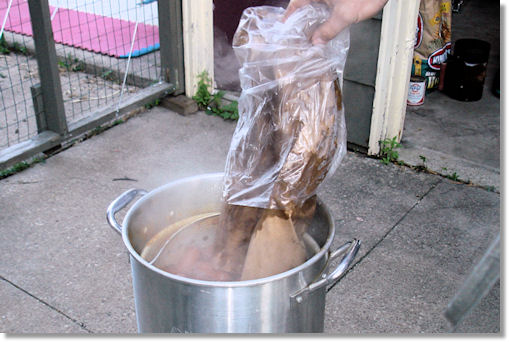 Most Low Country recipes have you throw the corn in now, but we always save the corn for the end so it doesn't overcook. There's not nothing worse than a soggy water-logged cob of corn.
Ugh, ga-ross!
Toss in your delicious shrimpies instead – leave the shells on cuz they're easier to peel after cooking.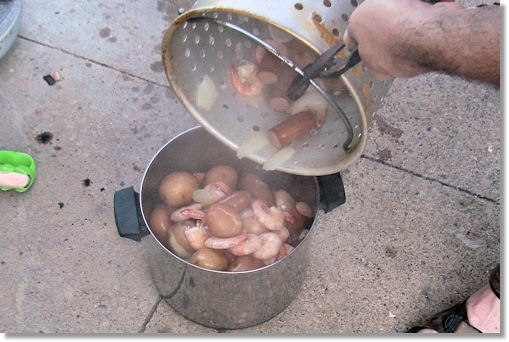 Let the shrimpies cook four to five minutes, until they're bright pink and oh-so-yummy looking. Then lift the inner cooking basket thing out of the pot and dump the goodies into a big container.
Hide them from everyone until the corn is done or you'll be eating all the corn by yourself and won't get anything else!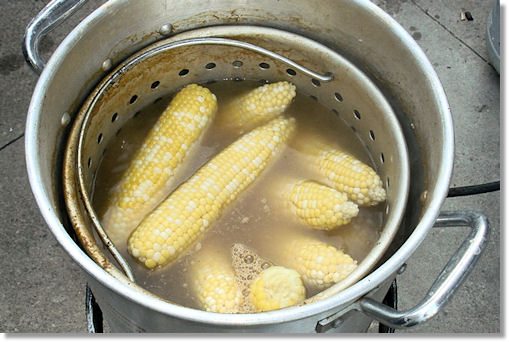 Toss in the corn and cook for about four minutes.
It'll seem like forever but you can do it. Don't go peeking at the shrimpies and stuff or everyone'll know where you hid them.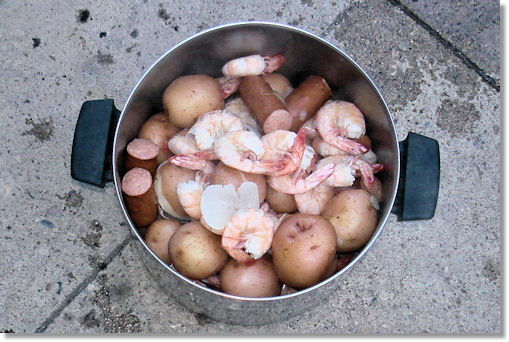 Oh baby, doesn't that look delicious?! Add the corn to your other goodies, take everything to the table and dig in! Be sure to have lots of napkins and some containers for the shrimp shells and corn cobs. We serve Italian bread with lots of butter on the side. Yummmmmm!
Coming next… vacation photos! I promise no long boring stories or endless photos of the Grand Canyon.