If I were one of those super-organized food bloggers I'd be whipping up recipes way before a holiday or event so I could post the recipes BEFORE the event, instead of after the fact like I usually do. Some day I'll be super-organized like that, but for today I'm just happy that I have matching socks.
Mini Corn Dog Muffins are the perfect go-to food when you want something kind of snack-y that is healthier and more substantial than chips, but doesn't require a lot of work or time. We made them for our little Super Bowl party, but they're the kind of thing that would be a hit anytime.
Like most of my favorite recipes they're quick and easy, and since you make them yourself they're somewhat healthier than the mini corndogs in the grocery store freezer.
Mini Corndog Muffin Recipe – in Pictures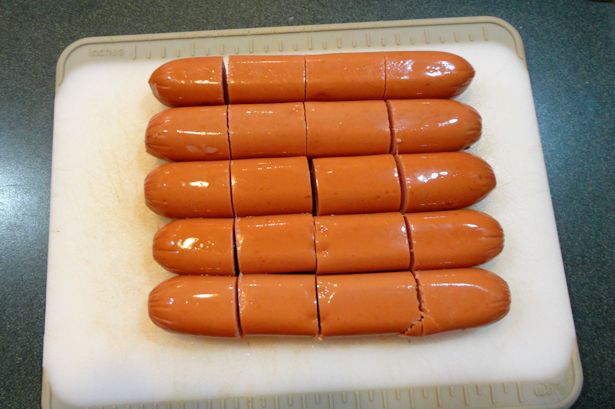 Start by cutting your hot dogs into quarters. Since neither of the girls eats beef or pork we used turkey hot dogs. See – healthier already!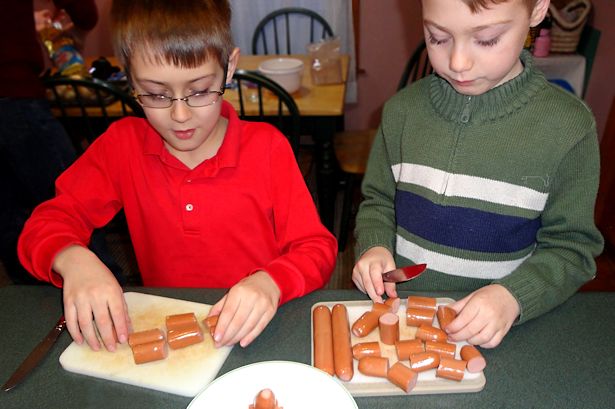 This is a great job for kids; the hot dogs are soft enough they be cut with butter knives.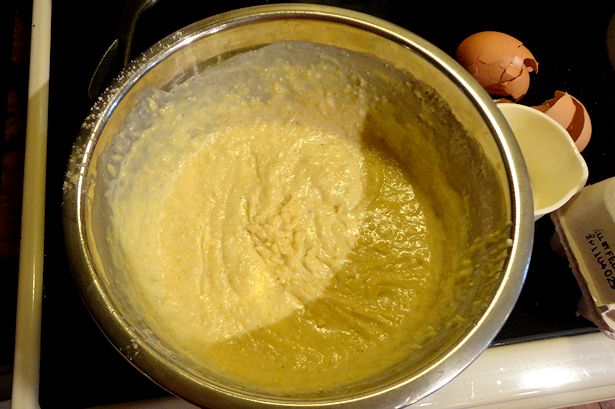 Next, whip up the cornbread batter. Teacher was so fast I didn't have a chance to take photos of all the steps, but I know you're smart enough to figure it out without step-by-step pictures; just follow the recipe at the bottom of the post. Be sure to use a fine-ground cornmeal – we all agreed that our usual coarse-ground cornmeal is too crunchy for mini corndog muffins.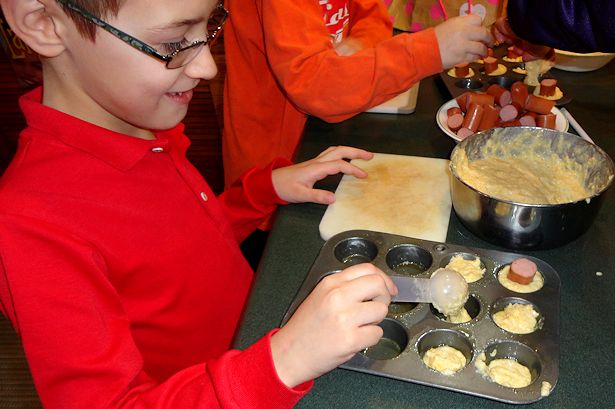 Spoon a tablespoon of batter in the bottom of greased muffin tins, then place a hot dog quarter in the middle of each cup.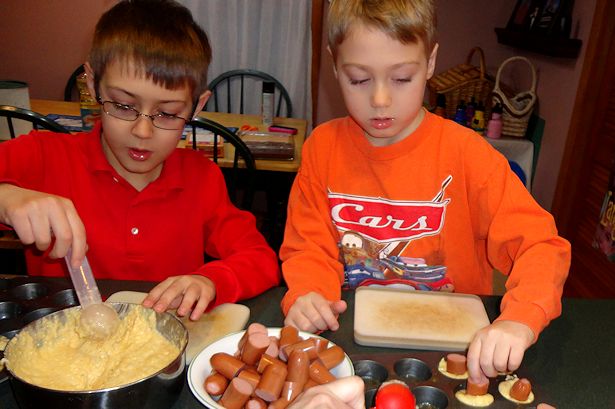 The boys had a great time with this step!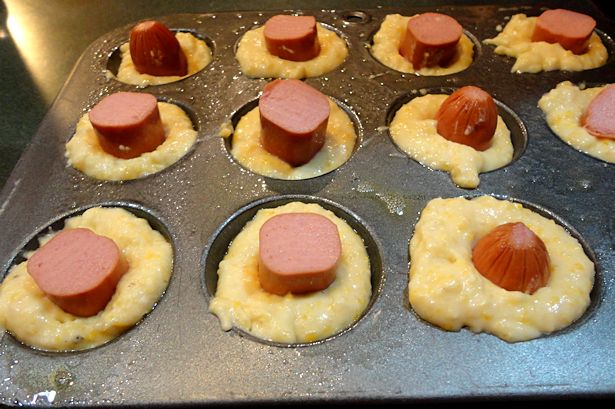 Bake in a 375° oven until golden brown and delicious – about 10-12 minutes.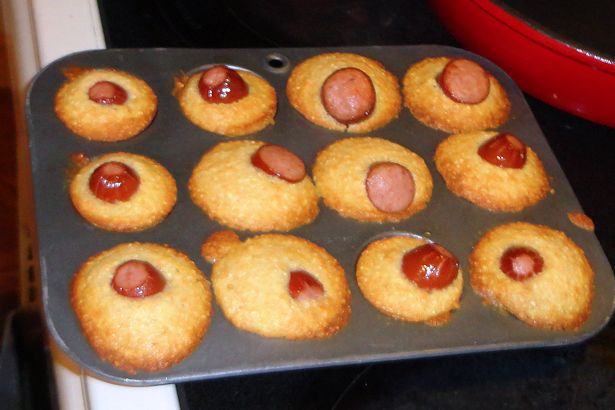 OK, so they look a little wonky – that's real life, right? Trust me when I say they taste AMAZING!
Allow to cool about 5 minutes before removing them from the pan. Leftovers if there are any should be refrigerated; microwave 30 seconds to reheat.
But I'll bet there won't be any leftovers. They're just THAT good!
Official Mini Corndog Muffin Recipe
Ingredients:
1/2 cup butter, melted
1/2 cup sugar
2 eggs
1 cup buttermilk (or sour milk: mix 1 tablespoon white vinegar with enough milk to make 1 cup; let stand 5 min)
1/2 teaspoon baking soda
1 cup cornmeal
1 cup whole wheat pastry flour
1/2 teaspoon salt
1 package turkey hot dogs
Directions:
Preheat oven to 375°. In a bowl, whisk the melted butter into the sugar. Add the eggs, one at a time, and whisk to combine. Whisk in the buttermilk.
In a large separate bowl, combine baking soda, cornmeal, whole wheat flour and salt. Pour half the dry mixture into the wet mixture and whisk to combine. Add the remaining dry ingredients and whisk to combine again.
Spray a mini-muffin tin with olive oil spray. Spoon 1 tablespoon of cornbread batter into each cup. Stand one hot dog segment on end in the middle of each cup.
Bake for 10-12 minutes, or until golden brown and delicious. Cool in tin about 5 minutes; remove from tin. Repeat with any remaining cornmeal batter and hot dogs.
Store leftovers in the refrigerator; and microwave for 20-30 seconds to reheat.
I hope your family enjoys Mini Corndog Muffins as much as my family does! After you try them be sure to stop back and leave a comment telling me what you think of them.
Happy snacking!