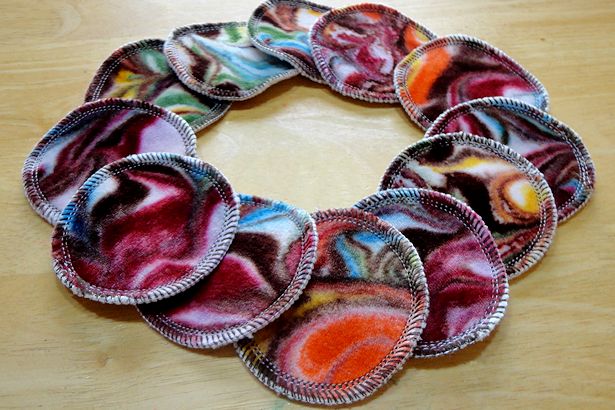 The other night I was browsing Facebook when a photo of reusable cotton rounds by My Beautiful Girl caught my eye. I know I can make these myself, but since I needed more and didn't have time to make any, and LOVED the swirly colors I hurried over to My Beautiful Girl's Etsy shop to snap them up before someone else did.
I've known Sam owner of My Beautiful Girl for several years and have worked with her a couple of times. I know what a great seamstress she is and how amazing her products are, and couldn't wait for my order to arrive.
Luckily I didn't have long to wait – they arrived just a couple of days after I ordered them. Woo hoo! I've got mail!
She had them packaged nicely, with a hand-written note on the back of her business card. I also noticed that she uses an eco-friendly polymailer, which I plan to check out when I've got time.
I was a little surprised by how big her rounds are – about twice as big as the ones I made. My fault; she included the size in her product listing but I didn't read it carefully.
At first I wasn't sure I liked the larger size, but after a couple of days I decided they're the perfect size. Instead of using two cotton rounds each night, one for removing eye makeup and one for applying toner, I can use the opposite sides of just one round for each job.
I'm keeping my eye on My Beautiful Girl to see if any more cool swirly cotton rounds appear. Hopefully in jewel tones with lots of purple… Hint-hint, Sam!
Fair warning: if you've got your eye on swirly purple cotton balls from My Beautiful Girl you'd better act fast or I'll snap them out from under you. Don't say you weren't warned!