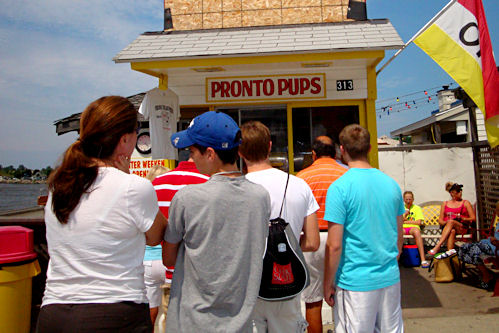 We have to go to Pronto Pups at least once when we're in Grand Haven. This time we were lucky and the line wasn't long.
When you eat a Pronto Pup you're experiencing corn dog heaven on earth. The batter is tempura-crispy and light instead of dense and heavy like the batter on frozen corn dogs. Inside, the dog is steaming hot with a salty juiciness that's as far away from Oscar Meyer as you can get.
Best of all, Pronto Pups are on a stick! nothing's better than walking down the sidewalk under a hot summer sun with the sound of seagulls above you and a Pronto Pup – on a stick – in your hand.
It's Jeff Dunham's fault that I'm obsessed with stuff on a stick. Back in the early 1990s Teacher and I caught Jeff Dunham and Jose – the jalapeno on a stick – on TV. We laughed our heads off! I can't think of many other times we've laughed as hard as we did at Jeff and Jose. Since then we've had a habit of turning to each other and saying "on a steek" at random moments.
"What's for dinner?"
"Spaghetti… on a steek!"
"What do you want to do tonight?"
Let's stay home and watch a movie… on a steek!"
I know it's dorky, but that's us.
On a steek!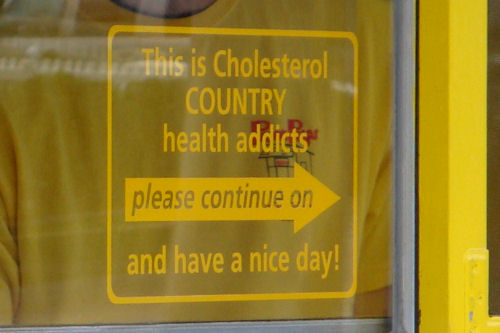 Pronto Pups come with their own warning.
I pretend I didn't see it.
Calories don't count when you're on vacation anyway.
Right?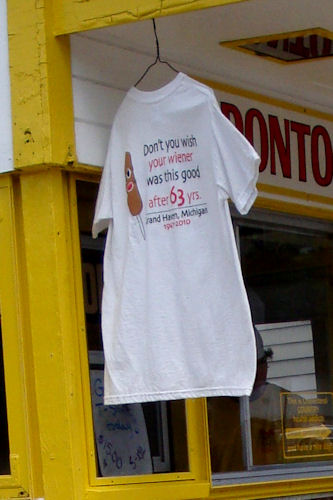 I wish I hadn't seen that; my imagination is too vivid. Ewww!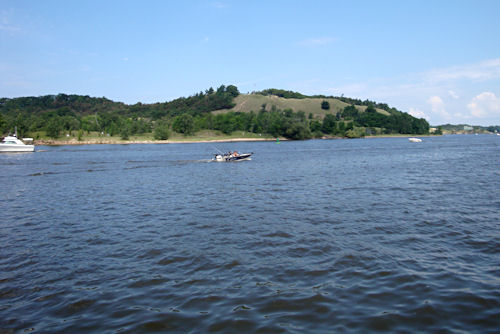 Pronto Pups is at the top of a hill so it has a fantastic view of the channel and the island.
The Fourth of July and Coast Guard Festival fireworks are always set off from the island. Teacher's dad was a firefighter and has hilarious stories about putting out fires on the island while fireworks exploded over his head.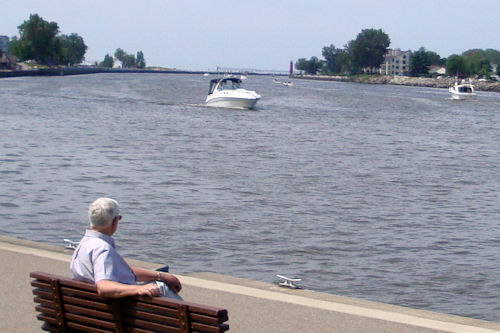 The channel curves around to the right and is marked by Grand Haven's famous light house in the far distance. We'll definitely take a walk out there before we leave Grand Haven!
The boys enjoy the view almost as much as I do.
They're so adorable together they make my heart hurt. Jay's girlfriend, Dee, calls that feeling "dying of cuteness." I have to agree.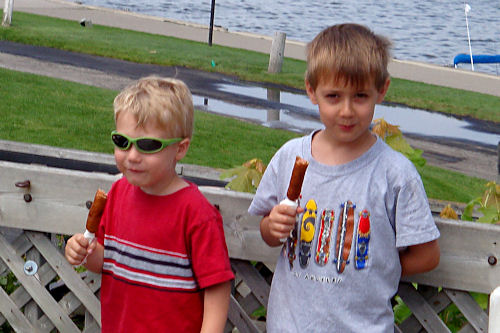 I think they enjoy their Pronto Pups more!