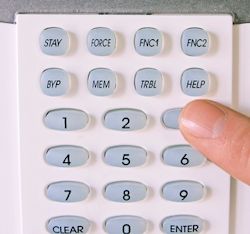 When getting ready for your summer vacation, the last thing you want to think about is "what if someone breaks in while we're gone?" But you should because an extended vacation is the perfect time for a burglar to get into your home. According to FBI statistics, 2,188,005 burglaries were committed in 2011, and 74.5 percent of these took place at residential properties. Keep these security tips in mind when you're planning your vacation, so you can truly be worry-free while sipping drinks on the beach.
Install a Security System
In many cases, you will pay more to have a security company install than the actual cost of the system. The process is simple if you own such things like a drill, and you can do it in about an hour tops.
Get a House Sitter
Consider having a house sitter while you're on vacation. When a home is visibly occupied, with the television going, lights on, and a car in the driveway, burglars are going to continue on for an easier mark. Ask friends and family if they'd like to house sit for you while you're gone.
Upgrade Your Doors
They just kick your door in. By investing in kick-proof doors, you make it more difficult for a burglar to gain initial entry. When it takes to long for a crook to get inside, they get nervous and give up.
Add Exterior Lighting
If you don't already have motion-sensitive lights outside your home, install them around entry ways, near your garage and in other outdoor walls. These lights should be placed out of easy reach, so a burglar doesn't have the option of disabling them to avoid the lights.
Reduce Hiding Spots
Instead of having huge hedges, fences, and bushes adjacent to your house, keep the immediate area around your home clear. You don't want criminals to have anywhere to hide while they're trying to break into your home.
Social Oversharing
Don't announce your vacation on social networks until you've already returned. Depending on your privacy settings, potential burglars could easily get your address, and other personal information to make it a snap to break in. While it's hard not to share your excitement, wait until you return home to start posting.
Keep Doors & Windows Locked
You don't want to forget this basic safety tip, but many people don't check the doors and windows before they leave on vacation. The burglar doesn't even have to try to break into the house in this situation, he can walk right in.
Activate the Alarm
Set your security system before you leave. Having a security system installed is all good, but it's useless if you don't remember to arm it before you go 1,000 miles from home. Some systems even call your cell phone if it detects any problems.