Apparently the place we had lunch the last two times we were in Chinatown had gone out of business, so this year we ate at House of Fortune. The restaurant itself wasn't as big as the other place, but the food was just as good.
As usual, Chuck had ordered a TON of food so the kids could try a lot of different things.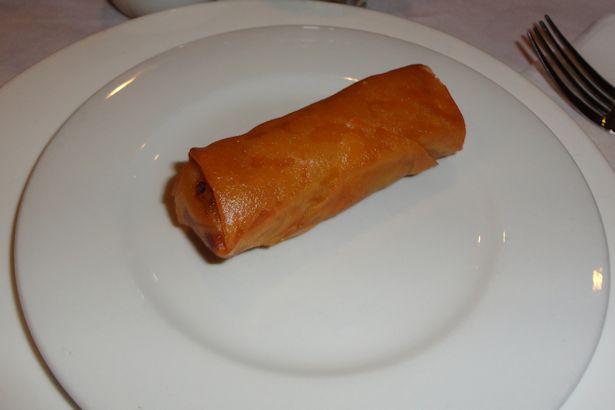 We started out with egg rolls.
I have to admit that I thought these were the most disappointing part of the meal. Although the outside was flakey and crunchy and the inside had a good peppery flavor, the cabbage was cooked to mush.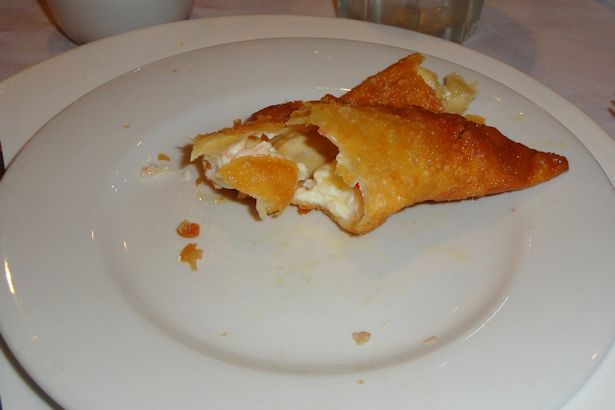 Next were giant crab rangoons. Obviously I was so hungry I forgot to take a picture before digging in. The whole meal was pretty much that way…
These were some of the best crab rangoon I've ever had! They were stuffed with crab and the cream cheese was flavorful but not overly sweet like some I've had.
Cashew Chicken was the first dish to follow the appetizers. It's not one of my all-time favorites, but was delicious; you could tell the vegetables were fresh, not frozen.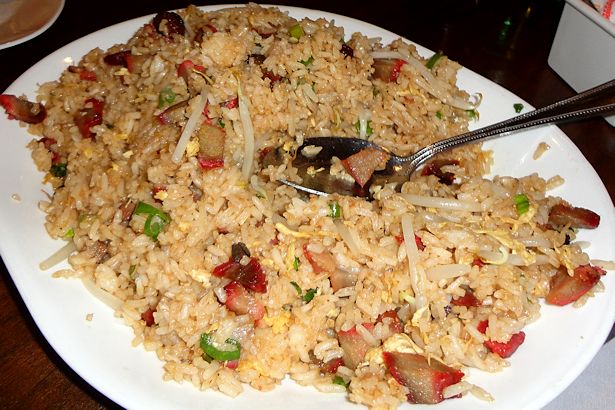 Next to arrive was some of the best fried rice I've ever had. Forget the bright yellow salty stuff you get at cheap Chinese restaurants; this fried rice was delicately flavored and chock full of meat and vegetables. I could've made a meal of just the fried rice and been happy.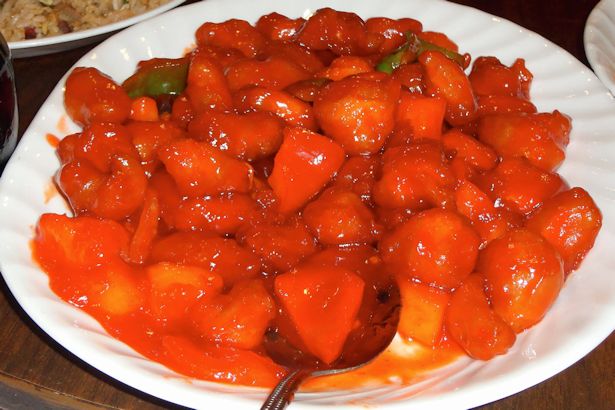 I've never been a fan of Sweet and Sour Chicken but this was surprisingly good! Most of the versions I've had feature soggy chicken in a gummy overly sweet sauce, but this version was different. The chicken's tempura coating was still crispy and the sauce was lightly sweet and not at all fakey-flavored. I even liked it enough to have seconds!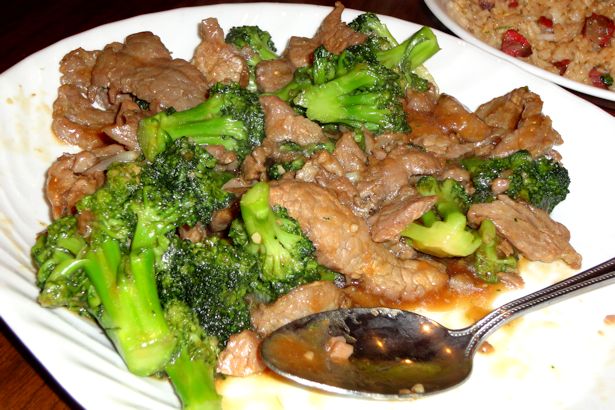 Our table's overall favorite was Beef and Broccoli. Again, unlike the cheap Chinese version which is usually swimming in a heavy brown sauce, this version was lightly sauced and the most "un-Chinese" flavored dish of the day.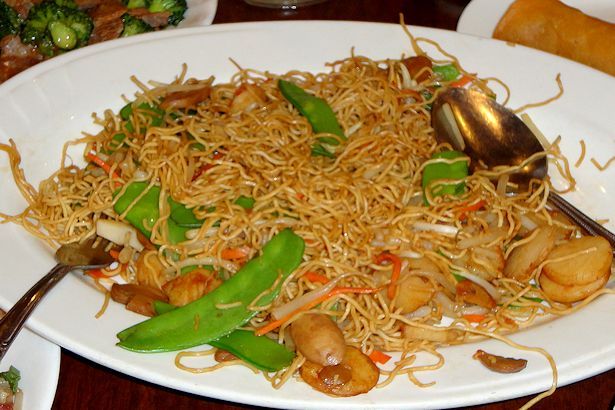 Veggie Lo Mein was the final dish brought out – aside from the fortune cookies, of course. Although I generally prefer pork lo mein, this was as delicious as the previous dishes had been. It wasn't heavy on the sauce so some of the students who hadn't eaten anything yet tried some noodles.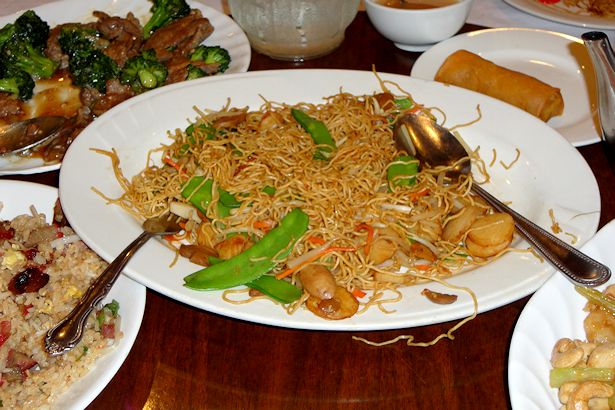 The entire meal was so delicious I wished I could eat more, but I was stuffed.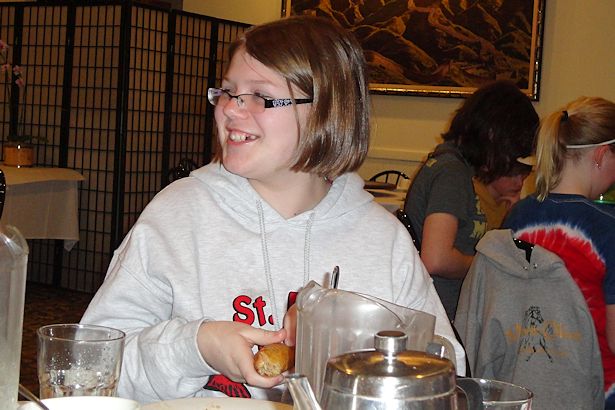 Here's E, finally trying some egg roll. She hadn't had Chinese food before and was scared to try any of it, but her sister finally convinced her to try the egg roll. And she liked it!
I was really surprised by how many people on our table – adults and students alike – had never had Chinese food before. The years we went to a Greek restaurant I assumed that most people would only be familiar with Gyros and maybe Baklava, but there are so many Chinese restaurants in our area that I figured most people would have had it at least once before.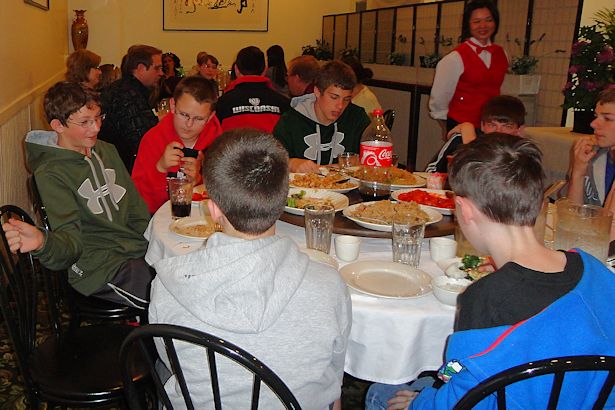 Looking around at the rest of our group, I noticed that the other tables had pretty much the same blend of people at them: some that didn't want to try anything, some that tried things hesitantly, and some that ate and loved it all.
Seeing how much Jo-Bear had enjoyed the meal I had a Proud Mommy moment when I realized how many new experiences Teacher and I have exposed our children to. We love to explore new places, see new things and try new foods, and enjoy sharing all of those things with our children.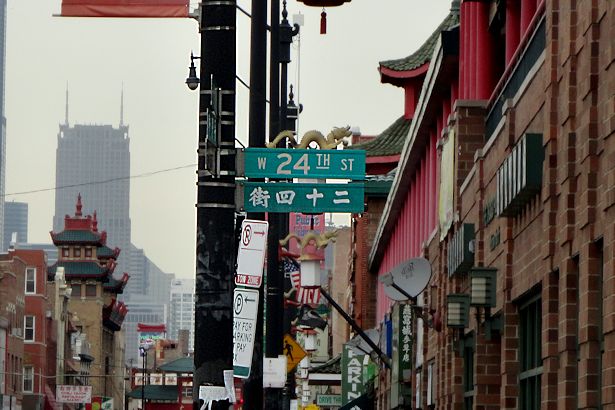 As we left Chinatown Teacher pointed out that the street signs were in English and Chinese. He also pointed out which characters signified "2" and "4" – my man is so smart!
Once more we lined up and waited for the bus. There's a lot of waiting for the bus, getting on the bus, riding the bus, and getting off the bus on these trips but I'm not going to complain; it's a lot easier than driving and trying to find parking in Chicago on our own!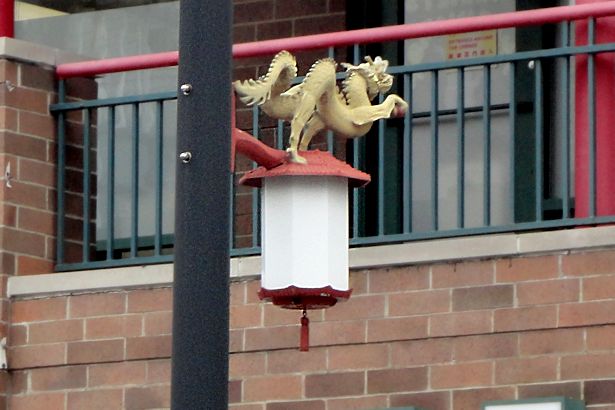 As we left I could't resist snapping a photo of the lamp post. Goodbye beautiful Chinatown; I hope we'll be back again soon!
To be continued at Vander Cook…