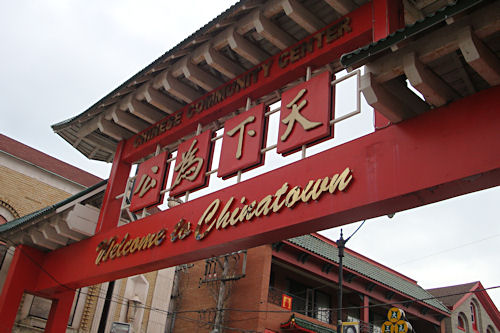 After our pre-dawn bus ride and intense clinic at VanderCook we were all hungry and ready to eat. The sign welcoming us to Chinatown is a welcome sight; we're almost there!
I remember the first time I had Chinese food. It was the summer after my Freshman year of high school, and I was working as a nanny for a Chinese family who were chemists in a local paper mill as well as managers of a local Chinese buffet.
Sometimes they'd have me babysit at night too, and one of those nights they brought home food from their restaurant for supper. It smelled good, but I was very nervous about trying it since the most "ethnic" thing we had at home was pizza, Kraft spaghetti, and crunchy shell tacos seasoned with one of those envelope packages. I was famished though, so I gathered up my courage and tried a steamed dumpling. It was delicious!
Remembering my first experience with Chinese food made me excited about introducing the band students to it.
Are we there yet?
Entering Chinatown is entering a new world, full of unfamiliar sights and smells. As we followed Bus One down the street Teacher and I chatted with the kids near us, sharing our excitement over the upcoming meal. Many of these kids have never tried Chinese food so this will definitely be a new experience for them, and we wanted to get them excited about it from the beginning.
Not only are Teacher and I looking forward to our Chinese lunch, we're also hoping for a little free time to shop for souvenirs. Angel Face requested a giant bag of fortune cookies and Jo-Bear wants a wooden snake to replace the one we got him two years ago that recently broke.
The restaurant isn't quite ready for us so we've got fifteen minutes to browse the shops- hooray! This sign is in a storefront near our restaurant. Chinese characters are so beautiful that a simple sentence is a work of art.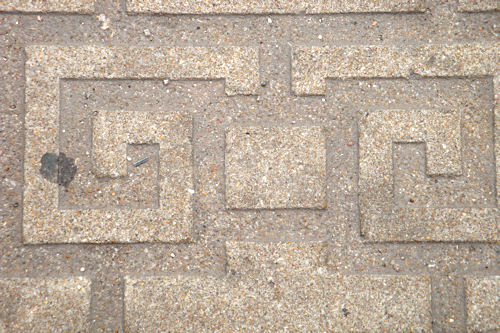 I had to stop to take a picture of the beautiful sidewalk details; I wish sidewalks everywhere were as pretty.
Our fifteen minutes flew by and we only got into two shops; neither of which had the fortune cookies or snake we were looking for. Hopefully we'll have time after lunch for more shopping!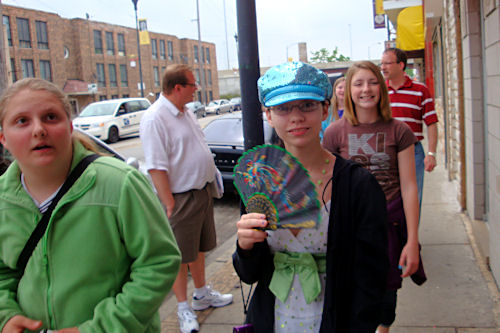 Are you girls ready to eat? Me too!
None of these girls are in my band this year, but they have been at one time. A (green shirt) and V (brown shirt) both play French Horn while C (blue hat) plays trumpet and baritone. Mr. B (red striped shirt) is V's dad and director of the percussion section. He's a tremendous help on Saturday mornings because percussionists are notoriously disorganized.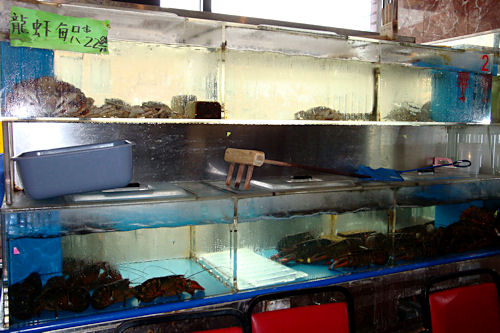 There are huge tanks of crustaceans in the front window of the restaurant. "Yum!" Teacher and I say to each other, but I notice many of the kids are looking at the tanks with apprehension.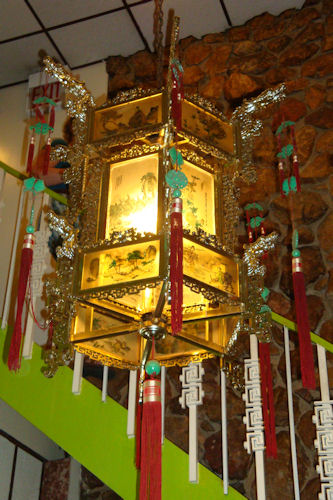 This stunning light fixture is hanging in the entryway near the shocking green staircase that curves its way up to the private dining room where our lunch will be served.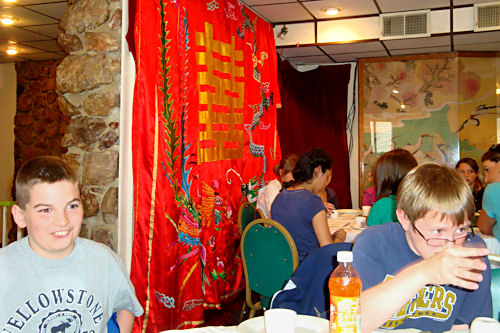 In the spacious room a beautiful – albeit plastic-covered – mural covers the long side wall and bright fabric banner hangs on the entry wall. Large round tables are set for eight diners; a glass "lazy susan" fills the entire center of the table.
M (grey shirt) and J (blue shirt) are both in Teacher's squad so we'll be spending most of the weekend with them. M plays baritone and J plays trombone; both in my band this year.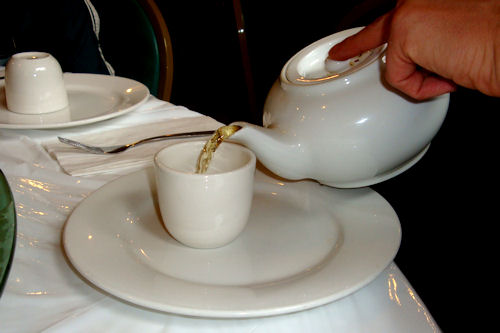 First they brought out pot of tea. After letting the tea steep several minutes Teacher and I each poured ourselves a cup. The other members of our table watched us carefully.
"What's that?"
"Just tea. It's a very mild, probably herbal one."
"What's that floating in it?"
"The tea leaves. Have you ever made tea at home with those little envelopes? This is what's inside those packets."
"Do you drink them?"
"Well, you could cuz they're just leaves like basil or like cinnamon is bark from a tree, so they won't hurt you. But generally they sink to the bottom and you leave them there."
The kids seemed satisfied with our answers, but no-one poured themselves any tea.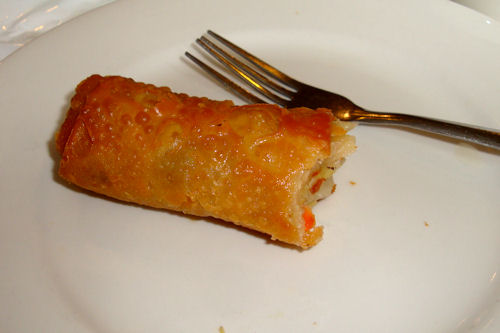 The server placed a plate with eight egg rolls on our table.
"Mmmm, egg rolls! They have the best egg rolls here!"
Teacher and I took an egg roll, then demonstrated how to pass the dish using the lazy susan. I was ready for one of the kids to spin it too quickly and send the food flying, but they were all very careful. Everyone at our table took an egg roll; some pulled them apart to see what was inside, others nibbled gingerly at the crispy outside.
M was convinced that the shaved mushrooms inside were seaweed. I didn't know if it would help or hurt our cause to say what they were, but he was so obsessed with the seaweed idea that we had to say something. Ironically the boy next to Teacher had been poking at his egg roll until he heard it had mushrooms in it. "I love mushrooms!" he exclaimed, and ended up eating the whole thing.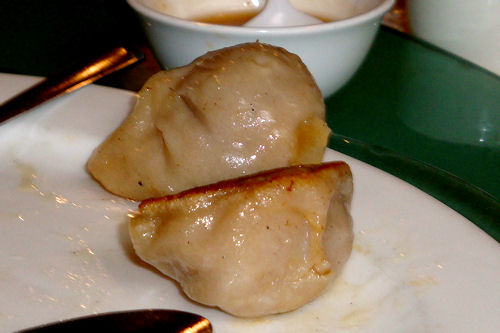 Next up were "pot stickers," a large version of the first Chinese food I ever had. Again, each of the kids took one and tried it. These were delicious, with a delicious ginger flavor that I loved. Some of the kids liked them but others just ate the outsides.
While we were waiting for the next course the other chaperone at our table poured herself some tea, then one by one the kids all did too. I was very excited to see them trying so many new flavors!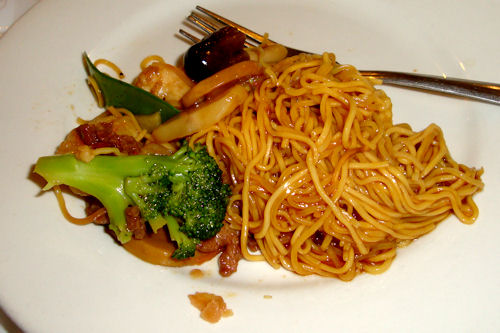 The "real" food began arriving. First was a noodle dish with shrimp, beef, chicken and various Chinese vegetables. This was my favorite dish, not counting the egg rolls, pot stickers and fried rice. All of the kids found something on the plate to taste, and most seemed to like what they tried.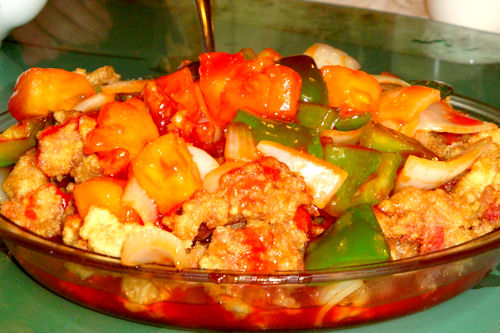 Sweet and sour chicken followed the noodle dish. I've never been a fan of sweet and sour anything, but wanted to be a good example for the kiddos.
"I've never liked sweet and sour, but this looks good. I'm going to try some."
"What is it?"
"Basically it's fried chicken with a sweet and sour sauce. It's really good" Teacher answered.
"Woah! The pineapple is HOT!"
"Oops, sorry – we should have warned you. The pineapple IS hot."
"I've never had hot pineapple before, but I like it!"
Baked chicken with lemon was next. We'd had the same dish the last time we were at this restaurant and I figured all the kids would like it; it was just plain chicken after all. However, unlike American chicken which is cut into thighs, drumsticks, breasts and wings, this chicken looked like it had been hacked into equal pieces willy-nilly. I was concerned that the kids would be put off by the irregular pieces and bone ends sticking out, but they were more suspicious of the panko breadcrumbs on top.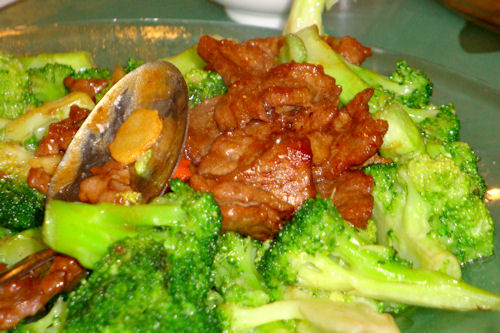 I was surprised that beef and broccoli turned out to be our table's favorite. As the server approached our table the kids craned their heads to see what was on the platter this time.
Yum – broccoli!"
"I love broccoli" They dug in with enthusiasm.
"Oh, try the beef; it's delicious!"
"It really is! This is the best beef I've ever had!" Teacher and I watched them chow down on the beef and broccoli with fond amusement.
Those of us who liked Chinese food were pretty full by now, and small groups of students and adults were drifting off to the bathroom. Suddenly the servers appeared with another platter; fried rice!
"I am m SO full, but this looks so good I've got to try some." I put a spoonful on my plate and passed the dish to Teacher. Everyone at the table tried the rice too, but obviously didn't like it as well as the beef and broccoli.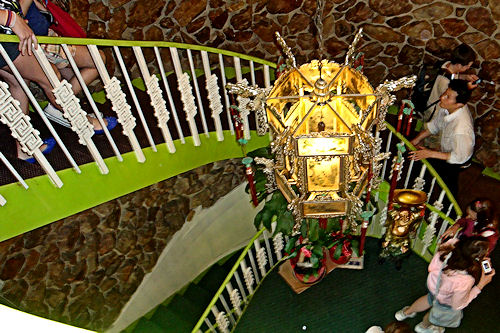 After the obligatory fortune cookie dessert we made our way down the staircase and were on the move again.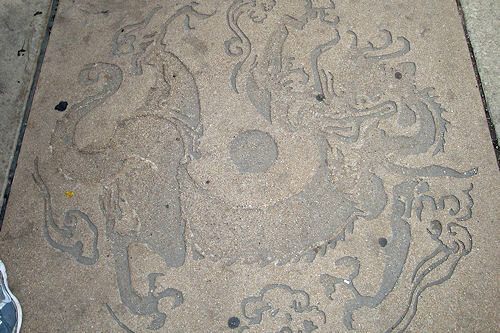 I had to stop to take a photo of this decorative corner block – simply gorgeous!
We walked several blocks to our buses for a short trip to the El station and another adventure.
To be continued at the El and Art Institute…