OK, I admit right off the bat that I took this idea from my friend, Pietra of Homestead Emporium. I really don't think she'll mind though because I'm only making them for myself and the girls: I don't serge small circles like this well enough to think about selling them (as you can see). But that's OK, they don't have to be perfect for me; I'm just excited to find another way to use some of the gorgeous fabrics I have leftover from making diapers.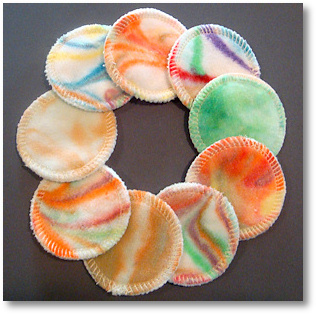 There's nothing I hate more than wasting fabric so I've been keeping all my scraps to make cloth pads and nursing pads but there's only so many of those that you need – especially if you're not nursing anymore. I did make some nursing pads for Princess but need more practice on those too. Luckily she doesn't mind if some of the circles are a bit wonky. It's frustrating that I can't serge as well as I sew, but since I've been sewing waaaay longer than I've been serging it makes sense. I don't have to like it though. But I digress…
Getting back on track: I took photos of Pietra's and my cotton rounds. In case you can't tell, Pietra's are on the top. There were 10 rounds but one went AWOL before the photo shoot. Her girls do all the work for them, including taking the photos and shipping, except the actual serging. I think that's SO cool! My girls help me whenever they have time – they especially like tearing out the stabilizer behind appliques and helping to package orders – but they don't have a product all their own. I was going to teach them to serge so they could do wipes and such but whenever I had time they didn't and vice versa. Oops, I'm digressing again…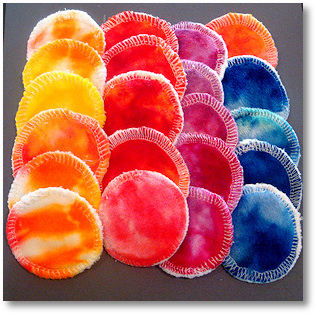 The bottom photo are the ones I made; obviously. They got better as I went along and figured out which side is best to have up (the dyed side) and what settings to have the serger on (for my serger it's the longest stitch length and neutral width). They're not as perfect as Pietra's, but I like them anyway.
Another disposable product eliminated from our household! After switching to cloth napkins, washcloths instead of paper towels for the daycare, reusable shopping bags, cloth pads, containers instead of ziploc bags for food storage, and now reusable cotton balls, I'm running out of ideas. Paper towels? Maybe, but we reserve those for gross things we don't want to see again – like cat puke. Q-tips? I haven't figured out how to do those "green" yet. Family cloth? Not likely – I likes my toilet paper!