My brother Jay's girlfriend, Dee, has become the official Dessert Maker for our family gatherings. She likes to make desserts, is good at it, and since she doesn't have kids she can make the cute desserts the rest of us don't have time to make.
We recently went to Jay's house to celebrate his birthday and Dee brought "Jay Desserts" – apple pie, funfetti cake with vanilla frosting, and Rubber Duck Cupcakes.
Jay was obviously dropped on his head as an infant, or maybe he and my real brother were switched at birth, because "Jay Desserts" means NO CHOCOLATE. I don't know how a brother of mine could NOT like chocolate!
Hmmm… now that I think about it, neither of my brothers likes chocolate. Maybe I was switched at birth!
Dee got the Rubber Duck Cupcake recipe from iVillage, and they were simply adorable – at first. For the head she attached a donut hole to the cupcake with a pretzel stick, and put a marshmallow opposite it for the tail. Then she frosted them, made chocolate chip eyes, and formed beaks from orange Flavor Rolls aka the grossest candy on the planet.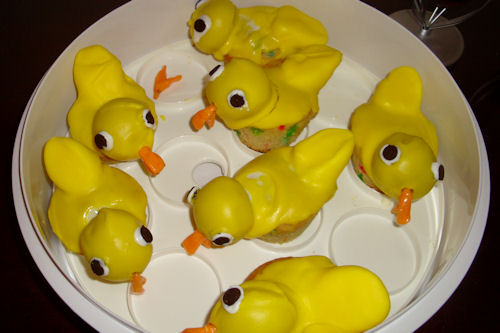 Unfortunately Jay's house was too warm for the poor little duckies because they quickly started to mutate – the one in the back is looking particularly unwell.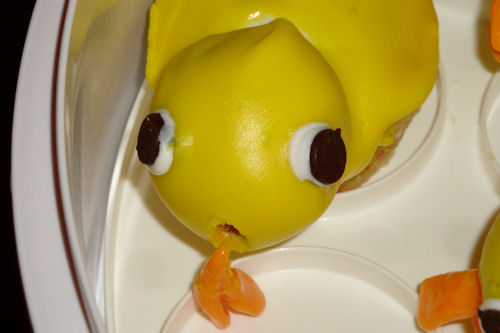 This one looks like he's puking.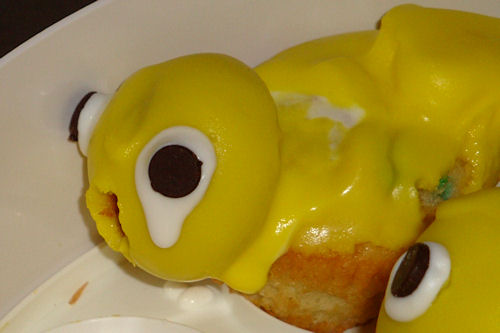 And this one has lost his beak entirely.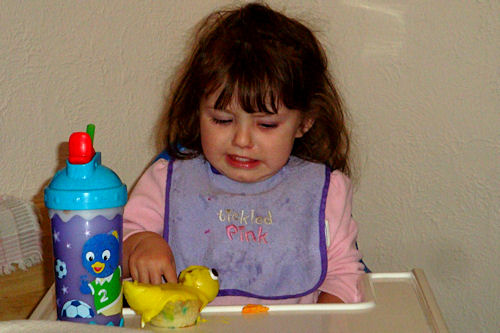 I don't know if it's the prospect of eating a rubber duck-shaped cupcake, or eating a mutant duck that upsets Peanut, but she's not too thrilled. She quacked at the duck, then poked it, saying "Ucky, ucky!"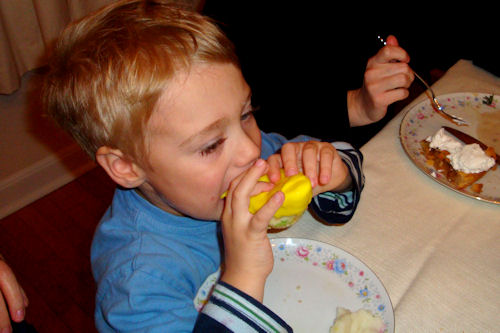 Little Guy has no qualms about eating it, and snarfed it down so quickly Dee was afraid he'd choke.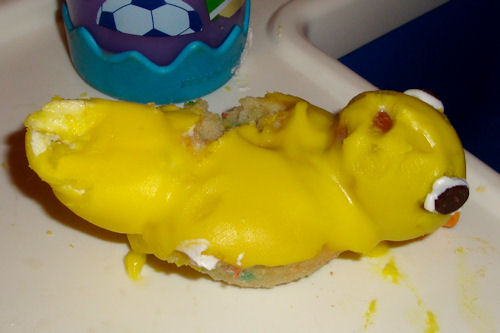 Poor, sad, Peanut-rejected duck.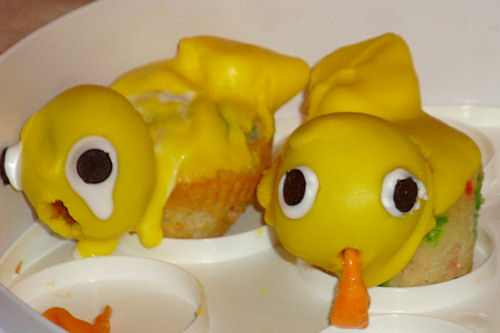 I'll bet I have nightmares about mutating ducks tonight.
Don't look now, but there's something creepy about the one on the right. Do you see how his eyes follow you, even when you move from side to side?
I didn't eat any of your friends, I swear – I had funfetti cake!
He's definitely coming after me tonight.
If I don't post again you'll know the duck got me.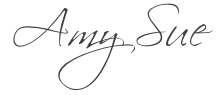 By the way, I'm in NO way criticizing Dee – she did an awesome job with the cupcakes! It was just so darned funny to watch them mutate from cute little duckies into misshapen zombie-ducks that I couldn't help sharing. Don't be upset, Dee, we love you despite the mutant-duck cupcakes!