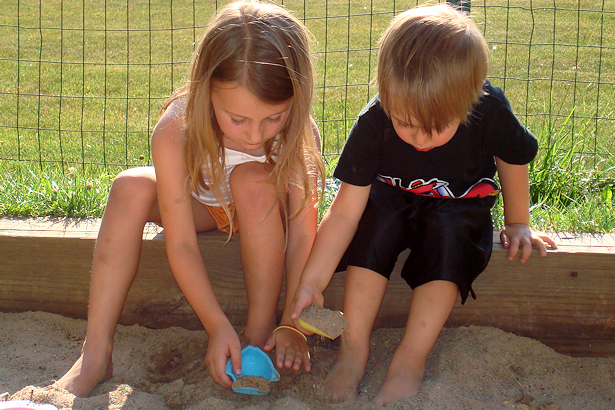 Children of all ages love to play in sand – take this crash course in sandbox basics and get ready for a summer full of fun!
Sandbox Safety
Set up some ground beforehand so children know what behavior is expected in the sandbox. Rules may include:
Sand should never be thrown.
Sand should stay in the sand box.
Put away sand toys when you're done with them.
Cover the sand box before going inside. (To keep friendly animals from using it as a litter box!)
Sandbox Cuisine
If your child hasn't discovered the wonder of mud pies yet, show her how to make them using sand, grass, flowers, sticks, etc. Be sure to let her know which yard materials are OK to use and which aren't! Provide dollar store measuring cups and spoons so she can practice measuring, and old bowls and wooden spoons so she can stir to her heart's delight.
Sandbox Games
Play tic-tac-toe with a stick or your fingers in damp sand. Hide "treasures" in the sand and invite your child to search for the treasure.
Sandbox Construction
Show your child how to make sand castles with damp sand and plastic molds. Dig a moat and fill it with the hose for messy fun. Make roads, tunnels and bridges for cars and trucks to travel; add streams, lakes and boats… given enough time you could create an entire sandy world!
Sandbox Art
Dribble glue on paper and sprinkle sand over the glue; shake off the excess. Add glitter to the sand for extra pizzaz. Fill a container with damp sand and make an imprint in the sand with your hand or another object. Fill with Plaster of Paris and let dry before unmolding. Paint if desired. Make sand candles the same way, but fill the imprint with paraffin, adding a wick before it hardens.
What are your child's favorite things to do in the sandbox?