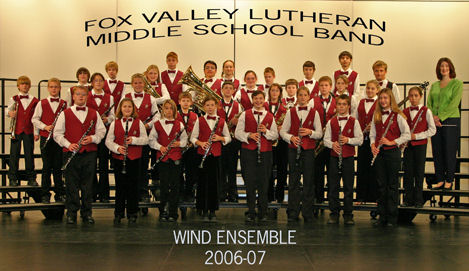 I am SO proud of "my" band!
I've directed one of the Fox Valley Lutheran Middle School Bands on Saturday mornings for the past 5 years. I started out with the beginners, but have had the intermediate band the past two years. Every May the band competes in a judged Festival, for a rating of I, II, or III. It's not a competition against other bands, just against a standard.
Directors can choose to be competitive or just receive comments from the judges. I've chosen to be judged each year that I've directed, and each year we've received a First rating. Today we were just 1 point short of a "Perfect" First rating! I am SO incredibly proud of my students! They worked so hard all year and gave 110% today.
Next year we'll start over with a new band – some students will move up to the advanced band, and students from this year's beginning band will be in "my" band. It's always exciting to see how the students grow and develop throughout the year. Hopefully next year we'll earn that "Perfect" First rating!