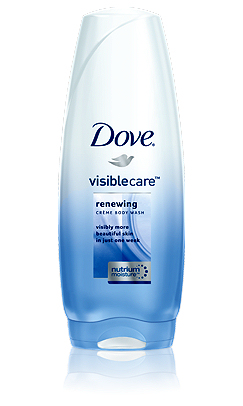 I was invited to try Dove® VisibleCare™ Renewing Crème Body Wash for a week, then share what I thought about it.
Four years in the "Show Me" state of Missouri obviously rubbed off on me; I'm automatically skeptical when it comes to commercials, marketing, and product claims. When I read "Visible skin improvement in just one week" on the bottle I thought "Yeah, right. Visibly more beautiful skin from a body wash? In just a week? I don't believe it: Show me!"
Apparently the new, revolutionary Visible Care line of body washes contain the highest concentration of NutriumMoisture technology compared to other products in Dove's extensive product line. They are designed to give you visibly more beautiful skin in just one week.
That's a pretty bold claim.
But that's not the only bold claim.
Dove® VisibleCare™ Renewing Crème Body Wash:
Is designed to nourish and replenish skin. Designed to, but does it really?
Features a rich, pearlescent crème format with luxurious lather and a clean rinse. I've heard that one before….
Contains a mild cleanser, glycerin and stearic acid. Hard to argue this one since they're listed on the ingredient label.
Has a fruity floral fragrance that includes a modern combination of pink mimosa and pomegranate.Mimosa and pomegranate together? Interesting… What does mimosa smell like anyway?
I was skeptical, but willing to keep an open mind, give it an fair try, and write my honest opinion.
The first day of my trial week I squirted some of the body wash on my shower poof and was immediately intrigued: Dove® VisibleCare™ Renewing Crème Body Wash really WAS rich and thick; something I'd definitely classify as a "crème."
The scent was strong and not as flowery as I'd feared it would be from the description; maybe the pomegranate balanced out the mimosa. Whatever the reason, it was pleasant and I liked it.
The lather was rich and thick too – I'd agree it was "luxurious" but would it really rinse clean? Other body washes that claimed to be "moisturizing" and "luxurious" left me feeling like I'd been dipped in oil.
As I rinsed I noticed that my skin felt smoother, but clean. I definitely felt like the product had rinsed completely off, leaving my skin soft but not oily.
OK, so I can't argue claim #2 or #3 but there's still #1 – was it really nourishing and replenishing? And to go back to the claim on the front of the bottle, would it really improve my skin in just a week?
I continued to use Dove® VisibleCare™ Renewing Crème Body Wash daily for a whole week but it was just a formality; by the third day I was convinced. My skin was soft and felt moisturized all day, even without my usual neck-to-toe application of body lotion.
To be perfectly honest; as I'm writing this post I keep rubbing my arms and legs to see if they really are as soft as I said… And they are!
Will I switch to Dove® VisibleCare™ Renewing Crème Body Wash? A week ago I would've said maybe, but after using it just a week I'm convinced! I'll be sticking to Dove VisibleCare™ Body Wash, but will probably try one of their other varieties. There are three to choose from:
Renewing Body Wash the one I tried, which nourishes and replenishes skin
Softening Body Wash, which softens skin and dry spots
Toning Body Wash, which is new and helps to promote skin's elasticity and strength
I'm leaning toward the Toning one, but the softening one is tempting too. Maybe I should get all three and rotate them day by day!
For more information about Dove® VisibleCare™ Body Washes and other Dove products, be sure to visit the Dove website. And visit Dove® VisibleCare® to get a coupon for $1 off!
Now for the fun stuff…
Enter to win one of two $500 Spafinder gift certificates!
NO PURCHASE NECESSARY
COMMENTS TO THIS POST ARE NOT SWEEPSTAKES ENTRIES. PLEASE SEE BELOW FOR ENTRY METHODS FOR THIS SWEEPSTAKES.
You may receive (2) total entries by selecting from the following entry methods:
a) Follow this link, and provide your email address and your response to the Promotion prompt
b) Tweet (public message) about this promotion; including exactly the following unique term in your tweet message: "#SweepstakesEntry"; and then visit this link to provide your email address and the URL to that Tweet.
c) Blog about this promotion, including a disclosure that you are receiving a sweepstakes entry in exchange for writing the blog post, and then visit this link to provide your email address and the URL to that post.
This giveaway is open to US Residents age
18 or older. Winners will be selected via random draw, and will be notified by e-mail. Winners will have 72 hours to claim the prize, or an alternative winner will be selected.
The Official Rules are available here.
This sweepstakes runs from 7/18/2012 – 8/22/2012
Be sure to visit the Dove® VisibleCare™ Crème Body Wash brand page on BlogHer.com where you can read other bloggers' reviews and find more chances to win!